I may not have mentioned this before, but I am a huge fan of music. Music helps me stay focused, helps relax me but above all, many of the messages in my favorite songs inspire me to keep working to create the change I want to see in the world. I'm very fortunate that my career as an educator and business leader has put me in touch with many powerhouse musicians and I love hearing from them about what message they hope to convey through their art.
Recently, I had an opportunity to chat it up with one of my favorite artists, singer Lalah Hathaway about one of her recent song, "Little Ghetto Boy" from her latest album "Lalah Hathaway Live" and what message she and the song have for all of us.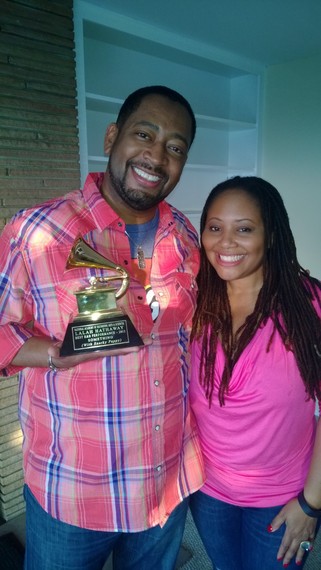 Byron Garrett: Thanks for taking the time to talk to me and share your thoughts, Lalah. I thought your latest song, "Little Ghetto Boy," might have some bigger messages for people today. The song was originally recorded by your father, soul singer Donny Hathaway back in the 1970s. What made you decide to bring this song to new audiences?
Lalah Hathaway: The inspiration was simple: a love for the song. My dad recorded it in 1970 or 1971 and it really spoke to his environment and the socioeconomic and political landscape that America was dealing with at that time. The crazy thing about the song is that it speaks to kids today just like it spoke to people all those years ago. And, actually, t will probably speak to kids the same way 40 years from now.
Lately, the zeitgeist with the news is unfortunately all about people missing, dead, or otherwise harmed every single day. It seems to be really prevalent. With the advent of Twitter and Facebook, it's really easy to see everything in one place and to connect the dots and see the same patterns playing out.
The song takes you through a day in the life but at the end it gives you a light to keep going. Everything is going to get better, I feel that every time I listen to the song- I am an optimist!
BG: Would you say you're just as socially conscious as your dad?
LH: I don't think so, because so many people before me did so much to make things easier for me. In some ways, I get to enjoy things and have a sense of relaxation. For my generation and those younger, our parents were really having to think about social change every day in so many aspects of their lives, rather than maybe something you only have to focus on in terms of social media. I doubt that I'm as active in struggles as they were.
BG: I recently visited a school in Watts and I was struck by how different things seemed there from the 1970s when your Dad was singing. We were talking about President Obama a lot and I thought that this generation with a Black president and First Lady sure does have a different reality than the generations before them. Have you seen a similar shift?
LH: It's interesting- I feel like having the Obamas in the White House is wonderful and has caused some shifts, but I don't know how drastic. Some days I have a wide-eyed optimism when I think things are changing, and other days I'm watching the news and see a 14-year-old devout racist and think that nothing has really changed. It's mostly about perspective and everyone listening through their own lens. I'm still hopeful that it will get better.
BG: You post on social media a lot about your nieces and have a passion for education. Do you think education is the solution?
LH: I think education is so important. I'm a childhood educator- my mom and grandparents were teachers and grades were a big deal when I was little. I was lucky to go to Boston University since a big question in my community growing up was "where are you going to college?" I am a total advocate for children learning. Period. Without education, we're lost as a society. I am also a huge proponent of music and art education for children- they're just as important as everything else- they make children smarter and better human beings. It's proven that music education improves kids' cognitive skills, which is why I'm constantly advocating for kids to have access to a well-rounded education.
BG: That's right. When I was in Watts, I was thinking a lot about the word "gap" and what kids learn in lower income areas compared to kids in middle and upper income areas. What's your experience in dealing with the learning "gap"?
LH: I really like to talk to and listen to little people, because sometimes, it's up to us adults to try and fill the gaps. And I learn a lot when I listen to them. There's greatness on the inside of all of us, and it's up to us adults to bring that out however we can, with whatever tools and abilities we have. That's the most important thing.
BG: The Grammys are coming up! What are your thoughts, hopes, aspirations? Will this be your third consecutive year taking home a trophy?
LH: My first two awards in 2014 and 2015 were the first time in history anyone won back to back. I'm excited, I just got a little stomach ache right now thinking about it. If I don't win, I still have a chance to make history because if I win again, I go into a category with Bey and Aretha and it's an honor to be in their company. I'm excited just to be a part of the process. As a NARAS member, I vote for the Grammy winners and I like being active in the community. I think it's really important to just be involved.
BG: What's the significance of you recording your latest album which is your first live recording in the same spot that your father sang and recorded so many of his greatest hits...at the Troubadour?
LH: "Donny Hathaway Live" was my favorite recording of my father and it was recorded partly in that room and on that stage that I recorded my live album. It's an amazing room just to begin with and the fact that I had the opportunity to go there and play a live show, much less record my live album was amazing. Every few minutes it would cross my mind that "daddy was right there," such a surreal and full circle feeling. Just wonderful. I was honored and would love to play there again and hope to do another live record. And, to make that live recording in that room after so many hundreds of hours I spent listening to my Dad's record as a kid and thinking to myself, "what does it look like in that room?" "What did the dust look like filtering through the light?" "What were the ladies wearing?" All of those visuals were cycling through my head.
BG: Any plans to head out on the road any time soon?
LH: I have some show dates coming up in March. I'm going to chill out after the Grammys for a bit then I'll be on the road, actually heading near year in Maryland.
BG: What words of hope or optimism would you give to families dealing with various challenges? What do you hope they take away from "Little Ghetto Boy"?
LH: That's a hard question to answer, since I don't have children myself. I do, as you mentioned, spend a lot of time with my nieces, so for me, it's about spending time with them and being present with the little people in my life. Whether it's reading, listening to music, even playing video games or teaching them how to crochet or bake cookies - it's all a teaching moment. That's what it's all about- your presence and being there for kids, that can give you and the little ones hope and optimism.
Calling all HuffPost superfans!
Sign up for membership to become a founding member and help shape HuffPost's next chapter