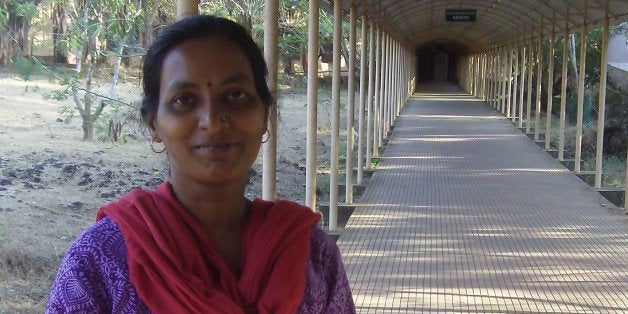 The first time I got my periods I was really scared. The first thing I had to learn was how to use a sanitary napkin. I bombarded my mother with a million questions -- would it happen each month? How would I keep track of it? Why is this happening? This was followed by many instructions about how I should take care of myself. Most Importantly I had to learn about all the things I was not supposed to do when on my period -- I couldn't enter the family shrine; I couldn't cook, touch food or take part in religious activities and festivals.
What is a perfectly natural cycle has also taken up cultural connotations and in India, as well as other parts of the world it comes with a unique set of restrictions and taboos. Menstruation is seen as a sort of dirty and shameful thing so not too many women want to talk about this openly; not even to other women. This combined with prevalent myths often result in serious health complications.
In my school in Goa, none of my girl friends wanted to talk about it directly. Even today they use code words like 'it's my happy birthday' or 'it's my lucky day' or a 'crow touched me'. There is a Konkani word people use called 'afad,' which indicates that something shouldn't be touched.
Like many Indian women, I also started with the traditional method of using napkins made of cotton sari cloth, which my mother made for me. Many women face problems when they can't wash off such napkins hygienically. I too faced many challenges while using these especially when I had to wait in the school for extra classes. I often missed these classes. At least 23 percent of girls in India leave school when they start menstruating and the rest miss an average of five days during each monthly menstrual period between the ages of 12 and 18, according to experts at the Geneva-based Water Supply & Sanitation Collaborative Council (WSSCC).
When I reached college, other girls told me about disposable sanitary napkins but I could not afford them every month. I used these sparingly when I had to go for camps or travel and increasingly when I started working. Disposable napkins made life a little easier and better but when it came to the disposal part, I was stuck again. Apart from women's rights, another project I am really working on is garbage disposal in Goa. So it bothered me when I moved to a more urban area of Goa and found that sanitary pads choked landfills and littered toilets with no dustbins. I tried to find eco-friendly and hygienic options. Now, things like Diva-cups and eco-friendly cloth napkins like Eco-femme are available in the market. Each comes with its own set of advantages and disadvantages depending on access to water, toilets and affordability.
According to a Global Policy Forum research by Julie Mollins, more than 300 million women and girls in India do not have access to safe menstrual hygiene products, endangering their health, curtailing their education and putting their livelihoods at risk.
I was involved in a study conducted between 2001 and 2005 in Goa called " Stree Arogya Shodh." The respondents were women in the age group of 18 to 45. Of the 2,494 women who participated in the study, 72% used cloth napkins and 19% used disposable sanitary pads. Like in my case, accessibility and affordability do matter in terms of the method of protection used by women.
There were other things we found in terms of taboos -- some women were not allowed to bathe for the first two days of the cycle and could wash their hair only on the third or fourth day depending on the restrictions laid by their mothers-in-law. Women have to keep their plates, glasses, clothes and bedding separately during the cycle. In many cases women are asked to sleep outside or sleep in the same room, using mat on the floor. They are not allowed to pay their respects if there is a death. One can imagine how traumatic it is for women. These cultural taboos often lead to stress and depression in women during periods. It leaves a life long impact on her mind and body. The taboos extend to a woman's husband too in some cases, which leads to further antagonizing.
It was this research and my own experiences that made me want to do something to change the situation, I didn't want to be ashamed about this and didn't want others to be. About four years ago I made an educational film on menstruation for young girls, answering many of the questions I had as a teenager. My long-term goal is to conduct workshops in schools and colleges talking about myths, providing information on different problems faced like heavy bleeding, complications like pain and irregular cycles, the importance of consulting a gynecologist when there are problems.
We currently have adolescent clinics in Primary health centers in Goa but they aren't affective. These clinics have to be adolescent friendly and educate them in a manner they do not feel ashamed of their bodies. Health care services have to be delivered in a women friendly approach and women gynecologist to be available in primary health centers.
I feel it is important that women have the freedom to live their lives without constraints. They must have access to information and services in this regard. There is no place for shame in what is a perfectly natural and normal part of the lives of half the world's population. And I am committed to ensuring that in Goa and hopefully, the rest of India as well.
This blog post is part of a series produced by The Huffington Post and Video Volunteers, in conjunction with the launch of HuffPost India (December 8, 2014). Video Volunteers equips women and men from India's most marginalized communities with skills in video journalism and advocacy, enabling them to expose under-reported stories from their communities and take action to right the wrongs of poverty, injustice and inequality. For more information about Video Volunteers, visit here.
Popular in the Community