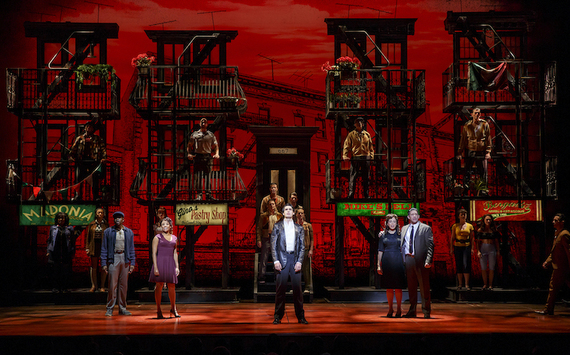 By Sheila Kogan, ZEALnyc Contributing Writer, December 13, 2016
There are some stories that are so specific and yet also so universal that we want to hear them told over and over. Such a story is A Bronx Tale. Based on a true incident in the life of Chazz Palminteri, he first told audiences the story in a one-man show. Then the actor Robert De Niro hired him to tell the story in a screenplay which became a successful movie version; and now a Broadway musical.
From the first moment that we hear the harmonies of a DooWop group and the narrator announces that "This is a Bronx tale," we are caught up in another time and place. It is the 60s in the Bronx, New York, where life includes Italian-American Wise Guys, neighborhood racial turf wars, and issues of decency versus crime. It is serious stuff; but in this musical universe, it's leavened with humor, music, dance and good fun.
Briskly paced by co-directors Robert De Niro and Jerry Zaks, A Bronx Tale is an old-fashioned book musical that takes us along for the ride. You don't need to do any research beforehand.
The music is by Alan Menken with lyrics by Glenn Slater (who are well-known for their work on Broadway in The Little Mermaid, Sister Act and Leap of Faith). Whether it's the harmonies of the DooWop guys or the girl group, or a ballad that Frank Sinatra might have sung, the songs sound familiar - not just the styles, but the tunes seem familiar as well. Although not wildly imaginative nor ground-breaking, they are evocative and enjoyable as sung by the talented performers.
The choreography by Sergio Trujillo (On Your Feet, Memphis, Jersey Boys) is energetic and hits the right balance between street dancing of the time with a bright Broadway-entertainment style. The opening number pulls you in immediately.
The beautifully sculptural stage set by Beowulf Borritt is erected with towers that suggest city fire escapes which move and slide around, allowing for a variety of playing areas and locations. Howell Binkley's creative lighting delineates space, provides drama or just clearly shows off the actors.
Even though this is a musical, all the characters feel three-dimensional, and the performers are all first-rate. Bobby Conte Thornton makes his Broadway debut as the narrator of the tale. (The character's unusual name is Calogero). It is his story, and so Thornton's likeability is an essential quality that makes the show work. He displays so much apparent potential that the audience cares and hopes for a positive outcome. Amusingly, at one point, Calogero is upstaged by his younger self, played by Hudson Loverro. Loverro is also making his Broadway debut, although he already has a long list of stage credits for his age. Self-possessed and polished, his song-and-dance routine ("I Like It") is a highlight of the musical.
Nick Cordero, nominated for a Tony Award for his role as a gangster in Bullets Over Broadway, plays the pivotal role of this other gangster, Sonny. (Coincidentally both gangsters were played by Chazz Palminteri in the respective movie versions.) Wearing a shiny suit (costumes designed by William Ivy Long), he sings about his philosophy, which was influenced by "Nicky Machiavelli". Ariana DeBose (Jane) is the love interest and a cause of conflict. She has a "diva" voice, can dance, and projects an intelligence and sweetness; so it's understandable why Calogero would be attracted to her. Richard H. Blake and Lucia Giannetta are Calogero's solid and decent parents, Lorenzo and Rosina. The drama hinges on the question: Will Calogero follow the lifestyle of the flamboyant criminal Sonny or his father, the regular guy Lorenzo?
There is a list of characters with colorful nicknames, all of whom distinguish themselves, and who can put across some of the broad humor. Strong musical actors/singers/dancers who are entertaining to watch comprise the ensemble.
A Bronx Tale provides a fun night in the theater, while also giving you something to discuss after you leave. Times have changed, but maybe not that much. So it remains ever fascinating to see how an innocent grapples with right versus wrong - at least as told so well (again) in a different format by Chazz Palminteri and this production team.
____________________________
A Bronx Tale at the Longacre Theatre (220 West 48th Street) opened on December 1, 2016 for an open run. Previously produced in its World Premiere by the Paper Mill Playhouse (Millburn, NJ) in February 2016. Book by Chazz Palminteri; Music by Alan Menken; Lyrics by Glenn Slater. Co-direction by Robert De Niro and Jerry Zaks; choreography by Sergio Trujillo; scenic design by Beowulf Boritt; costume design by William Ivy Long; lighting design by Howell Binkley. Cast: Nick Cordero (Sonny); Richard H. Blake (Lorenzo); Bobby Conte Thornton (Calogero); Ariana DeBose (Jane); Lucia Giannetta (Rosina); Bradley Gibson (Tyrone); Hudson Loverra (young Calogero) with Gilbert L. Bailey II, Joe Barbara, Michael Barra, Jonathan Brody, Ted Brunetti, Brittany Conigatti, Kaleigh Cronin, Trista Dollison, David Michael Garry, Rory Max Kaplan, Dominic Nolfi, Christiani Pitts, Paul Salvatoriello, Joey Sorge, Athan Sporek, Cary Tedder, Kirstin Tucker and Keith White. Swings: Michelle Aravena, Gerald Caesar, Charlie Marcus, Wonu Ogunfowora and Joseph J. Simeone.
Cover: (l. to r.) Bradley Gibson and Ariana DeBose; Bobby Conte Thornton; Lucia Gianetta and Richard H. Blake; photo: Joan Marcus
____________________________
Sheila Kogan is a Contributing Writer for ZEALnyc and writes frequently on theater, dance and other cultural events.
For all the news on New York City arts and culture, visit ZEALnyc Front Page.