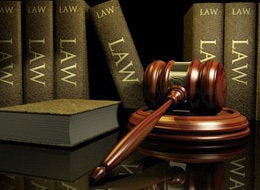 This past weekend, the world lost one of the great criminal lawyers of the past half century. Jack Litman began his career as a prosecutor in New York where he never lost a murder case. He then made the transition to becoming a defense attorney, a role in which he specialized in defending murder cases, rarely losing them. Not surprisingly, he was more popular with the general public in his first role than in his second role, but he brought the same zealous advocacy and high level of professionalism equally to both roles.
As a defense attorney, he represented unpopular, often despised clients, and he did not shrink from doing whatever it took, within the bounds of ethics, to defend them vigorously. Among his most infamous clients were Robert Chambers, the so-called "preppy killer" and Richard Herrin, who was accused of bludgeoning Bonnie Garland, a fellow Yale student to death. He represented some clients without charge and others for a reduced fee. He was one heck of a lawyer.
I've known Jack for 45 years, since he came to Harvard the same year that I did -- he as a first year student, me as a first year assistant professor. He was one of my best students and among those I am most proud of. After he graduated, we met in Paris, in 1968 during the student demonstrations, and traveled back to the United States on the same ship. I had the privilege of working as his co-counsel in several cases, beginning with the Bernard Bergman ("king of the nursing homes") appeal in the early 1970s and culminating most recently with the case of the elderly Jewish engineer who was accused of spying for Israel a quarter of a century ago. We also worked together on Israeli matters and on law reform. He was as brilliant an advocate as I've ever had the pleasure of working with. He understood the importance of zealous advocacy for even the most despised as essential to the preservation of liberty and the rule of law.
He was also a great mensch, always remembering his roots, his near escape from the Holocaust and the discrimination his family and he faced. He was a strong man in many different ways, overcoming significant visual handicaps and fighting cancer for a decade. His greatest pride, however, was not in his numerous professional accomplishments, but rather in his two sons, Sacha and Benjamin. Every time he called me he began his conversation by telling me about them. I will always remember Jack. There will never be quite another like him. Liberty has lost a great champion with his untimely passing.
Popular in the Community