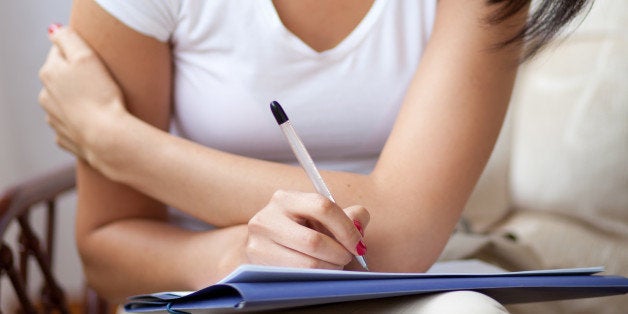 My daughter is 17, almost 18 now, and has been part of the Special Olympics for nearly 10 years. She has an amazing heart, an unbreakable spirit and autism. As I think about the Special Olympics organization and what being a part of it has done for us, there is so much I want to say to them... but so much more I want to say to my daughter.
Dear Ashlyn,

Do you remember the day you decided you should not use a Cars lunchbox anymore? You were devastated and so was I. You were starting middle school and you noticed that no one else, especially the girls, were carrying one. My heart broke a little, because I knew you loved that lunch box and until then, you didn't care about everyone else and their brown paper lunch bags. Ever since that day, I have cherished the times when you can be exactly who you want.

It is tough for you to be a teenager, I know it is, but not in the dating, gossiping, stereotypical sort of way. I know that the flash of a camera drives you nuts. I know that a squeaky grocery cart makes you want to beeline for the door and that your dream outfit is one with no seams and no tags and no buttons and zippers to wrestle with. The truth is, I wish I could just follow you around with an embarrassing mom bag of sunglasses and earplugs and sensory toys but you don't want those things anymore. You want to brave it on your own and I am so proud of you for that.

I know that being a part of the Special Olympics gives you something that I cannot. You have a place there that I've never been able to create for you anywhere else outside our home. You have friends, true friends who cheer for you whether you score a goal or not and can talk you down from a meltdown faster than I've ever been able.

I don't think I, or anyone else besides your teammates, will ever truly understand what that amazing brain of yours has to do to manage a high school hallway or a trip to the mall in December. You are a tough cookie but I wish you didn't have to be.

What you have found in your Special Olympics teammates is what we all look for, people who love us for exactly who we are. We are lucky, you and I, to have found a place where differences melt away. Our dreams were rearranged a little bit but we managed to land in a place where the parents on the opposing team are just as excited for you as those sitting next to me.

I know there are days when you want autism to leave you alone and it doesn't, and I wish there was something I could do about that. All I have ever wanted for you is happiness. That and a place where you and your teammates can carry your favorite lunch boxes until you are 80 and no one will bat an eye.

With love from your biggest fan,

Mom

Calling all HuffPost superfans!
Sign up for membership to become a founding member and help shape HuffPost's next chapter