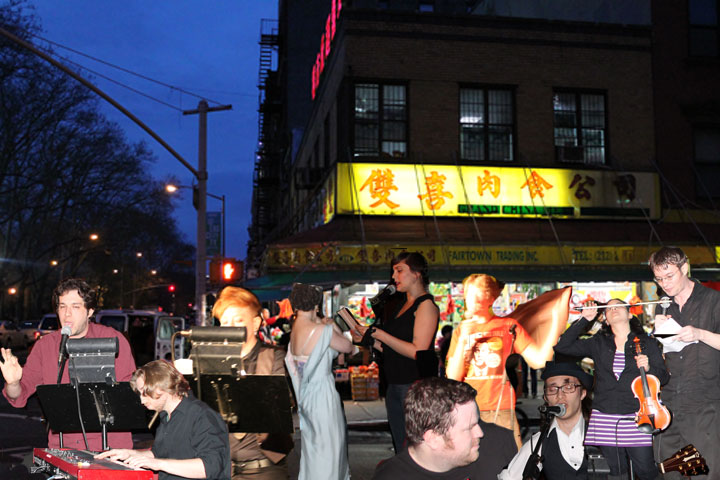 Chinatown, New York City.
The show was filled with music, poetry, burlesque and The Bachelor fan fiction.
As with all of their shows, The Fiction Circus strives to bring the art of storytelling to the public in multi-media, genre busting forms.
A Derangement show is the perfect intro to a New York evening. Starting at 7:30 and running until around 10, there's no cover, a good bar, and plenty of places to sit, lean, or sway around to get caught up in the show.
With the world of publishing being questioned in every tweet, the questions are always about what sells and who's the darling of the industry at the moment. However, what's often missed when people try to pass judgement by existing on a Facebook timeline, is the work that goes in to becoming an artist who can tell a compelling story.
Going to a Derangement of the Senses show always brings me back to the roots of what it means to create a narrative. Experimental, fun, sexy and shots directly to the heart all take place in a space that captures the value that New York has for both artists and people looking to feel something deeper.
The performers are all accomplished in their own fields (Intros being read before the show talk of publications and victories in writing contests), but it's here, at ground level, that the performance takes shape and wraps around the audience.
Walking out and into the city after a show, you feel somehow more connected. You've just seen through the eyes of New York's emerging talent, and the shapes of buildings and streets that you've passed by each day on the mad dash towards survival take on a different form.
New dimensions come from the ability for humans to communicate their stories to each other. If you'd like to experience the soul of the city, block off the 3rd Wednesday of each month and give yourself a Happy Ending to your work week.
After all, a little derangement is good for the mind.
REAL LIFE. REAL NEWS. REAL VOICES.
Help us tell more of the stories that matter from voices that too often remain unheard.