It's something in the way he moves. Vitor Luiz joined San Francisco Ballet as a principal dancer in 2009. His gift is about connection - a high spirited rapport that is all at once intimate and mutually engaging. A couple of days before we spoke, I saw Vitor dance the role of "Franz" at the opening night presentation of Balanchine's Coppélia. The plot is simple: Young man falls for lifesize mechanical, female in appearance, perched high on a balcony. Totally convincing is the best way to describe and cheer Vitor's performance. Set in the tiny and now timeless kingdom of Galicia, the basic lesson in this crusty folktale is all about eligible guys figuring out the difference between "a doll" and a real live woman. Franz is the naive native who will walk the line. Within moments of his entrance, Vitor Luiz suspended all weary skepticism and ushered us into the creamy realm of Once upon a time....
"Coppélia was my first full-length role," said Vitor. "I had a hard time understanding the ballet as well. Like, 'Oh? Really?' I was just eighteen. The role has a lot of responsibility. As you're training, you always want to be very prince-like. When I was doing the pantomime, I was trying to stay in perfect position - doing a lot of tendus, things like that. They said, 'No! You're just a boy, just a guy coming in.' And I was a boy! It was hard for me to accept that all I had to do was be myself."
In other words, "We hired you to play You."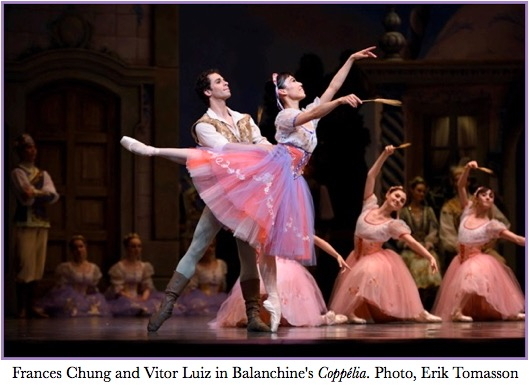 "Yes! All that classical technique I had learned - save it for Act III. That was the first step toward my development as an artist. At that time, I was still in Rio. Then I went to England, to the Royal Ballet School. My eyes started opening up as to what would be expected of me as a professional dancer. I saw premier dancers such as Carlos Acosta and Irek Mukhamedov - artists from a generation that I believe were just the best. If you're a young artist, imagine seeing these celebrities walking by. That was huge for me! It's a fine line between being amongst them and being a schoolboy. It's not easy to understand when you're just a kid. When I got to do Coppélia, I wanted to be all those stars. But I was told to keep it down to earth and just be a village guy. That's when Life helped me out. As a Brazilian artist, I don't think anyone can imagine how difficult it is to be in a country where, when you say, 'I'm a professional ballet dancer' - some don't know that ballet can be a profession. They don't realize the many obstacles I had to overcome. In Rio, I had to travel five hours a day on a bus to get back and forth to ballet class. Sometimes I would do my regular schoolwork or just sleep from being exhausted. I would go from seven in the morning until eleven in the evening. By the time I did ballet class in the morning, came back home, ate something, then went to actual school - I was trashed. But it was what I wanted to do."
Vitor's early home life was packed with cultural variety. His mother, writer Eliane Maciel, had created a huge stir in Brazil with her first publication, an autobiography, Com Licença, Eu Vou à Luta (Excuse Me, I'm Going to Fight). The book was later adapted into a film and is currently available on YouTube. Vitor describes her literary output as polemic. At fifteen, she had fallen in love with his father who was thirty-one. Her parents did not want to deal with the situation. The conflict was so big she went to a judge to appeal for her rights.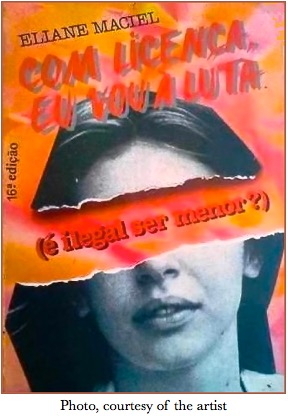 "She realized that in Brazil - during the '80s and under the dictatorship - she had no rights at all. Her parents were pretty much able to do anything they wanted with her. So, she took off. She had to get a fake ID and everything. She was pregnant with me at sixteen. I couldn't be born in a hospital, otherwise she would get caught and my father would be up for kidnapping. She wrote this book about it. That started up a conversation in Brazil that was so big in '88 that - when they were working on the new laws - it had to be taken into consideration. Now we have laws that support young people in having a say on what they want to do with their lives. My mother did not want her freedom taken away. She really loved my father and they had four kids. They separated later for many reasons, but then - they really had something. That thing they wanted to be able to express, they just did it. And made it work. She remarried, he's the one I call 'Dad' now."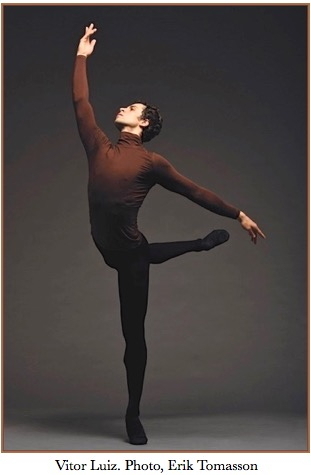 "When I was about ten - my sisters and I were just dancing around the house - like all kids do. He could see the difference in what I was doing and said, 'You know what? I think you should be a ballet dancer.' And I said, 'I don't think that's for men!' We were in a small city and as with the other kids - I had this small mentality. Right away he says, 'Don't say that. You don't know what you're talking about, you've never seen a ballet. Take one class. If you don't like it, you don't have to go back.' I went and, of course, fell in love with it. They had a performance the following weekend. From that moment, I knew my life was changed forever."
Part of the idea that we can know Vitor personally through his performance art is his relationship with principal dancer Lorena Feijóo and their many pairings throughout the seasons - the latest being a passionate take on Carmen, choreographed by Yuri Possokhov and premiered at the company's Opening Gala. Before joining SF Ballet, Vitor had danced with Lorena in a Miami production of Le Corsaire. He knew then he needed to leave Rio. (If the state goes down, the state-run ballet company goes down.) San Francisco was always at the top of his list. With a week off, he came here to audition. I asked Vitor if there was anything in the wind about expanding Carmen into a full production.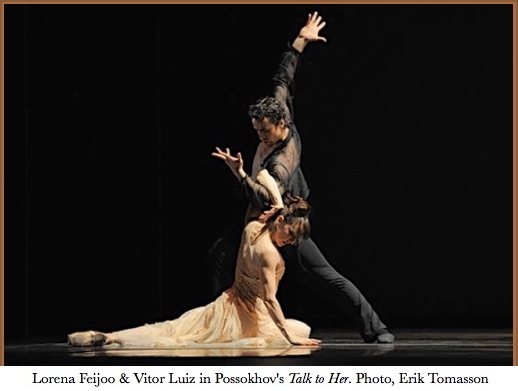 "We hope so. We're poking Yuri, 'You should do this!' He was kind-of getting into it. I remember him saying, 'There is no Carmen better than Alonso's [the Carmen Suite, choreographed by Alberto Alonso in 1967]. He's already done it. Why would I try?' But he has and the results are fascinating. Yuri is so incredibly talented in creating new steps. He had Lorena do a turn over my back - I'm not using my hands - it's crazy! She is a great artist. We have a beautiful child. It's a good thing when you admire your partner."
A stand-out among Vitor's story ballets is the title role in Cranko's Onegin, coming up in April on Program 8. From his playfulness as Mercutio in Tomasson's classic Romeo and Juliet and the repentant Albrecht in Tomasson's Giselle, to the more abstract persona in Possokhov's Swimmer - Vitor knows that the successful development of a role is absolutely dependent on how much you are willing to dig into it.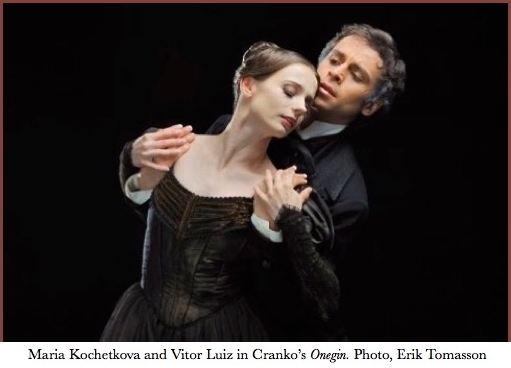 "Richard Cragun, one of my directors in Rio, taught me a lot about this. Together with Marcia Haydée, he was one of Cranko's most acclaimed artists and who danced Onegin many times. Jane Bourne, who sets the ballet for us here and all over the world, is also extremely good at this. When I was younger, I did the role of Lensky and got to watch all the Onegins and learn from them. I eventually performed the role in Brazil. When I got to do it in San Francisco - and with more maturity - I knew how to become this character. It's fascinating. I think the arrangement of Tchaikovsky's music is really good. In Onegin's last pas de deux with Tatiana, the orchestra is huge and powerful. It's where all points of the story meet, this moment when he is asking for her forgiveness. She throws his letter at him, as if saying, 'Get lost!' Cranko gets the very idea of it. There aren't a lot of roles where the man is the principal character in the story. So, when you get to do one, you'd better value that. Onegin brings Tchaikovsky and Cranko completely together. Brilliance with brilliance."
REAL LIFE. REAL NEWS. REAL VOICES.
Help us tell more of the stories that matter from voices that too often remain unheard.