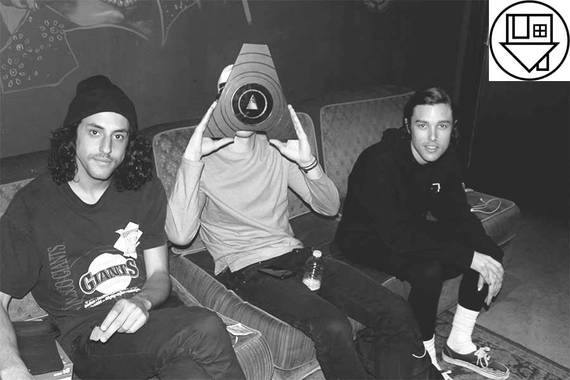 It's a Pumpkin Spice world, and we're just living in it. Each fall anyway. Speaking of which, as we approach "sweater weather," it seems appropriate to profile a band who scored a double platinum song two years ago with a song of the same name. The Neighbourhood's "Sweater Weather" was that rare track that expanded its reach well beyond alt-rock radio, and helped propel the California band's debut full-length album I Love You. to such great heights. Case in point: "Female Robbery" and "Weather" follow-up single "Afraid" both killed on alt-radio. And now they're back...
Jesse Rutherford, Jeremy Freedman, Zach Abels, Mikey Margott and Brandon Fried will drop their highly anticipated sophomore album Wiped Out! this Friday (Oct. 30), and if the first single "R.I.P. 2 My Youth" is any indication, it's going to be the cats' pajamas. That expression, by the way, has never made sense to me but you get it. Moments before they took the stage at the House of Blues in Boston, we chatted with a trio from the band on their past success, new record, and The Expendables for no reason at all. Check out the music video for "R.I.P." here, and their exclusive A-Sides interview right here. Indeed, it's a beautiful day in The Neighbourhood. Oh, and thanks to the A-Sides Beantown crew for filming.
Anyone who says rock is dead isn't paying attention. The Neighbourhood prove that, and so does Jamie N Commons in a blues, rock and folk kind of way. The British singer/songwriter is arguably best known for his 2013 single "Jungle" along with former tour mates X Ambassadors (haven't quite the break out year by the way) but he's more than just an infectious song that has lasted long after its release.
Commons, who's currently on the road with the stellar Catfish and the Bottlemen, just dropped new single "Marathon" - his first new song since last year's "Karma." That song, by the way, was the official theme song of the Battlefield Hardline video game. Keeping with Commons' trend of scoring song placements (You may remember Beats by Dre has selected "Jungle" as a jingle), "Marathon" is featured in Timberland's "Made for the Modern Trail" campaign.
Commons has released two EPs, and is currently in the studio finishing up on his full-length debut. The album is sure to capture his gritty, pop-rock and soul hybrid sound. A-Sides caught up with the breakout artist, and asked him about running his latest "Marathon."
I realize you just dropped "Marathon," and it's an insanely awesome song, but tell us when we can expect your full-length album?
It's in finalization mode at the moment and It should be "dropping" as they say in the hip-hop world, about February.
Fresh. Catfish and the Bottlemen are among the best bands out there right now - according to me anyway - how do you think your distinctly different voices somehow come together on tour?

It's good. I mean we both play our own versions of rock and roll. I'm more towards the "blues rock" side of it. You don't want to hear the the same sounding band play twice in a row, or a "better sounding" of the band, when you go see a band play. It's really good for us, a really good atmosphere... really nice guys. It good, a really good feel.
X-Ambassadors have had a solid year, are you surprised you still get a lot of mileage off the track "Jungle?"
Yea... no its bananas the way the publishing and sync world for that. It definitely was designed for that purpose when I wrote it with X Ambassadors and Alex Kidd. It certainly was designed with that in mind.To be this big, loud song that would work with visuals very well. Its really cool and its one of those things where you still need to coincide with the record release for people to put the face to it for it to work with you in a career sense, you know? We're playing it in the shows with Catfish and people are still like "oh shit, you're those guys! "Oh Right, okay!" I get that.
Your song on The Walking Dead soundtrack was extremely poignant - how'd that come together if you don't mind me asking you a question I'd wanted to ask three years ago...
Haha... um, well the music supervisor savaged a song I did called "The Preacher" and really liked the vibe of it, but it wasn't quite what he had in mind. So they contacted and asked me to write a song for the show. I was a big fan of the show already so, it's really a dream come true, and basically trying to write a zombie song is quite difficult.
I guess all of those shows are about trying to get back to a home. So, that's a phrase that came and I had this blues-finger picking idea Ive been working on for a while and the two worked together. The song was written in probably about ten minutes. So, that's when you know its a good one, when it takes you ten minutes to write the whole thing. They are always the best ones, in theory! Not even coming from a place of bragging because I understand the toil of trying to get the lyric right and blah,blah, blah.
But there is just this amazed joy that comes when it happens, it just happened! It never happens! I've only written a few songs that come like that... its a blue moon, but it's the best moon! Not that it makes any sense, which it doesn't.
The interview continues here.
About A-Sides with Jon Chattman: Jon Chattman's music series features celebrities and artists (established or not) from all genres performing a track, and discussing what it means to them. This informal series focuses on the artist making art in a low-threatening, extremely informal (sometime humorous) way. No bells, no whistles -- just the music performed in a random, low-key setting followed by an unrehearsed chat. In an industry where everything often gets overblown and over manufactured, Jon strives for a refreshing change. Artists featured on the series include Imagine Dragons, Melissa Etheridge, Air Supply, Joe Perry, Alice Cooper, fun, Bleachers, Charli XCX, Marina and the Diamonds and Bastille.
Calling all HuffPost superfans!
Sign up for membership to become a founding member and help shape HuffPost's next chapter