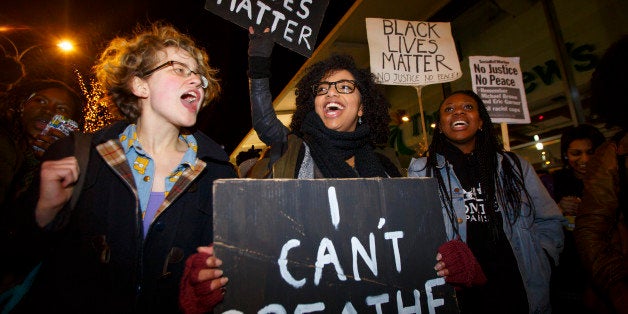 One year ago today, Staten Island resident Eric Garner was killed by a New York police officer who put him in a chokehold. In a cell phone video of the incident that went viral, you can see and hear Eric Garner yelling "I can't breathe." Three weeks later on August 9th, 2014, an unarmed black teenager named Michael Brown was shot by a police officer in Ferguson, Missouri. In what became a nationwide breaking point, these incidents sparked widespread unrest, with tens of thousands of people gathering to protest the long history of police brutality that has led to the deaths of countless black men and women. A year after Eric Garner's death, we continue to seek justice for those who have been lost, and we also seek to connect the dots between immigrant and black struggles against brutality and violence.
In this past year, the #BlackLivesMatter movement has continued to grow in size and scope in a remarkable public outcry from black communities and allies. Across the country, protesters have blocked traffic, conducted "die-ins," and organized on the ground and through social media calling attention to the hundreds of cases of unarmed black people dying at the hands of police and underlining the urgency that this cannot continue.
In this critical moment for justice and accountability, it is essential that we eradicate the false dichotomy made between immigrant and black communities. The immigrant rights movement must stand with black communities facing violence, and recognize that black and immigrant lives are often one and the same. Take the historic 1999 case of 23-year old Amadou Diallo, a West African immigrant from Guinea, who was shot at 41 times and killed in the South Bronx despite being unarmed. Or Ousmane Zongo, a 43 year old West African immigrant from Burkina Faso who was fatally shot in a 2003 raid of a counterfeit CD ring he was not involved in. Or Mohamed Bah, a mentally ill immigrant who in 2012 was shot after his mother called an ambulance to help her son - but two police officers showed up instead, using excessive force leading to Bah's untimely death. These are just a few of the dozens of stories of black immigrants and children of immigrants plagued by violence and racial profiling, and given little to no accountability.
These tragic examples of excessive force and violence extends to other immigrant communities as well. Between 2010 and March 2015, over 39 individuals have died as a result of an encounter with Customs and Border Patrol. In May 2010, Mexican immigrant Anastasio Hernández-Rojas, undocumented father to 5 U.S citizen children, who was brutally killed in the process of being deported by several border patrol agents in San Diego. Video footage shows Hernández-Rojas hogtied and handcuffed on the ground suffering kicks, punches, tasering, and beatings for 30 minutes before he died. None of the border patrol agents were held accountable for his death. On February 10th of this year, three police officers shot 17 bullets killing Mexican immigrant Antonio Zambrano-Montes. Mr. Zambrano-Montes was an undocumented orchard worker in Pasco, Washington, who had a wife and U.S citizen children. He was experiencing distress after injuring his hands and being unable to work and send money home. Instead of exercising professionalism and de-escalating the situation, police shot an unarmed man.
We have an epidemic on our hands. The excessive use of force by police and enforcement agencies against communities of color, and their systematic use of racial profiling (Federal agents continue to be allowed to consider race and ethnicity to stop people at border and immigration checkpoints) must be addressed. Immigrant communities and advocates must work with the #blacklivesmatter movement in order call for full transparency and accountability of these institutions.
Together, we can call for change - a radical revamp of the internal cultures within enforcement agencies that wrongfully train officers to turn too quickly to use of force, and prioritize numbers of arrest over actual lives. By linking the suffering of all our communities, we can push together for an end to these practices by police departments from Ferguson to San Diego to New York City, and by border patrol agents at our nation's borders.
As the immigrant rights movement, we must join the call for a national end to use-of-force policies that do more harm than good. Together we can help build a more just and moral society, free of corrupt policing practices and racial profiling, and that protects the lives of our communities instead of endangering them. .
Popular in the Community