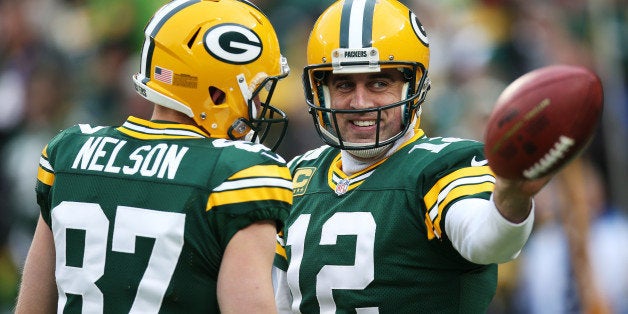 You may have seen the latest headline about Green Bay Packers QB Aaron Rodgers giving his offensive lineman and backup QB's impressive gifts this Christmas. Apparently Rodgers gave them each a 55 inch Samsung TV, Beats headphones and a tablet of some sort. He was not required to do it, he just did it out of the goodness of his heart.
The 55 inch curved smart TV is roughly $1500 at Walmart, the tablet about $300-ish and the Beats sell for about $270 at the Apple Store. So we'll say he's in for about $2100 each...maybe a bit more or less. If you count up all the lineman on the team and practice squad and add in the QBs, it's apparently about 14(?) players who got the gifts. $28 grand! Wow! Very generous of him indeed.
One thing we probably should do with such an elaborate gift is to break it down to what an apples to apples gift might look like if a similar "boss" or leader wanted to show holiday generosity to his employees out of his or her pocket.
The $110 million deal Rodgers signed in 2013 made him the highest paid player in the NFL on a yearly basis and now marks him (deservedly) as one of the top two highest paid QBs. If you add it all up, it averages out to about $20 million a year. In addition, he is also reportedly one of the highest paid players in the Nike stable and has a very public deal with State Farm as well, causing Forbes to estimate his annual income at about $49 million.
If you make $49 million a year, that's $134,246.58 a day. So in effect, he spent about 1/5 of a day's salary on the 14 guys who play some role in keeping him from being a tackling dummy for JJ Watt.
Back to our everyday boss or manager of people who has people protecting him or her from JJ- Watt-ish type problems every day. If that leader made $100,000, he or she would make $273.97 a day and would need to spend about $60 on his 14 best people to match Aaron Rodgers dollar for dollar. If you went for cheap chocolates you could get each person a box. If you went high end, you could get them each a holiday drink at Starbucks.
The gift was not publicized at all by Rodgers or the Packers, it leaked out on Twitter as those who got the gifts genuinely shared their delight and surprise. The linemen subsequently interviewed for the stories have been uniformly glowing in their praise of Rodgers as a leader and teammate. They were surprised and thankful, just as anyone should be who looks in his locker and sees it unexpectedly packed with high-end gifts. Or any gift for that matter.
The ones who should take note are not those who were involved in what appears to have been intended to be private gift-giving, but those of us who seem so wowed by such unexpected generosity. The zeros and the dollar values confuse the subject for every day Joes like the rest of us and we miss the point. Are we as generous as Aaron? Or less?
I know for me this year the answer is sadly LESS. I have about 35 or so people who work with me in a small company that makes RUTF, a peanut butter concoction for malnourished children. It takes all 35 of us to make our effort click and work seamlessly, just as it takes every guy on the Packers Roster to make a winning team. As the CEO of the company I am likely the most easily compared to a QB and as such, like Aaron Rodgers, I have about 14 or so people, who really cover my butt every single day. They make sure our product is safe, they ship it on time, they deal with vendors, arrange contracts, negotiate our terms and sales with big entities like UNICEF and USAID. The jobs they do protect us from problems every bit as devastating and daunting as JJ Watt is to opposing QBs.
While our company managed a Christmas bonus, I did not reach into my pocket and get anyone anything! Nothing! Not a chocolate bar, not a latte! When I compared my personal generosity towards my teammates who protect me and save me from getting "sacked" with that of Aaron Rodgers it shamed me. I don't expect you'll be impressed that I just went online and got them all a box of chocolates as a New Year's gift. My belated gift should not make headlines, it is quite literally the least I could do. Um, other than what I did originally... which was to forget.
I'm still not sure after doing the math that I am impressed with Aaron Rodgers generosity, but I am impressed that a busy guy who people look to as a leader stopped to make a kind gesture. While my guys and gals would be way more happy with the TV and the tablet, maybe the box of chocolates is a start towards being a more generous and thoughtful leader. Maybe the old saying "its the thought that counts" is more true than trite. Thanks for the reminder Aaron. You beat me (and maybe many of us) this year with your generosity. Here is hoping that next year we'll up the ante for leaders being more gracious with those who quietly make their teams so successful. And no matter what Aaron does for his linemen, hopefully many of us will out-give him.
Calling all HuffPost superfans!
Sign up for membership to become a founding member and help shape HuffPost's next chapter