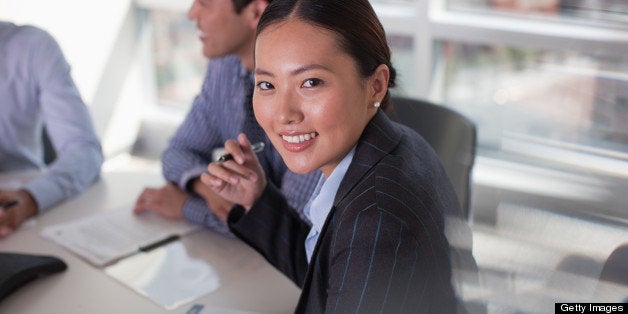 The Abe government's platform includes "Niimaru, Sanmaru (20,30)": a proposition to increase the percentage of women in leadership positions in the workforce to more than 30 percent by 2020. To be honest, I was very surprised when I saw this in their platform. Aside from Prime Minister Abe, with all due respect, I hadn't seen any other politicians with this idea.
It might be insulting to say that this is just bait for those who oppose the Liberal Democratic Party, but I thought it might be. I was thinking that this could be a situation where the government does not follow through on its promises, but later, the prime minister nominated Sanae Takaichi and myself for three top party positions. With that decision, the Liberal Democratic Party's "Niimaru, Sanmaru" became a reality.
Then, the announcement of a strategy for growth that utilizes the female workforce was made. Of all the policies laid out within Abenomics, I believed that the growth strategy was the most difficult goal to accomplish. The government wants to utilize the female workforce, so it matches my idea perfectly. When I think about our nation in the next hundred years, the best growth strategy is to have diversity -- to utilize more women, the elderly and people with disabilities.
However, there are people who are hesitant to move in this direction. The controversial point in this debate is the "three years of childcare leave" that this plan would offer.
For corporations, it is a major obstacle to create a working environment where employees can take three years of childcare leave. It is especially hard for short-staffed, small and medium-sized enterprises to accommodate this. It is a way of setting the goal at the highest level, reminiscent of the style of former prime minister Junichiro Koizumi.
Additionally, this three years is based on the "the three-years-old myth": the idea that mothers should raise their children until the child is three years old. Although this notion is debunked in official reports on health and welfare, this idea is still the object of debate.
Prime Minister Abe says "both men and women should be able to dedicate themselves raising their child until the age of three" and men should participate in childcare and should take childcare leave as well. I would greatly hope the government would encourage this system so that men can take childcare leave more easily.
It has been 20 years since I started my work with the Liberal Democratic Party, but in 19 of those 20 years, a strategy for a female workforce has never been a topic in the spotlight. Times have changed and I hope that the government will strongly support this strategy to utilize the female workforce, and I would like to support it as well.