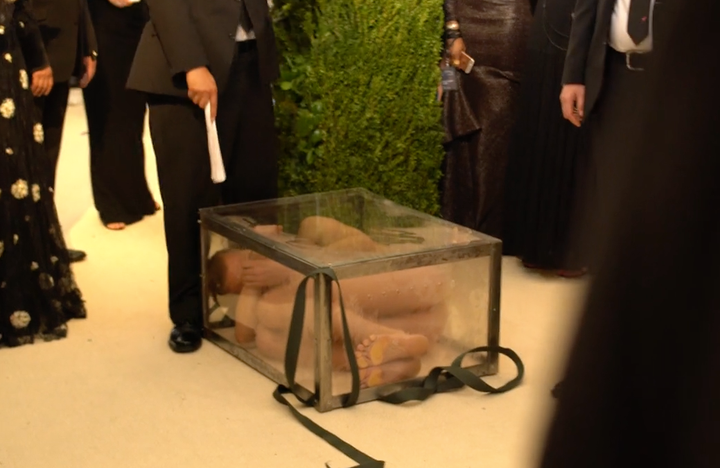 The best Met Gala ensembles every year fuse fashion with art to create looks that would borderline extra in any other situation. There are legendary looks, like Rihanna's Comme des Garçons moment this year, and without fail, there are boring looks—Gisele basically wore a shiny prom dress. (Although, it was Stella McCartney so, there's that.)
But the one 2017 Met Gala look that nobody should forget is the naked white dude in a box. In the fifth installation of his Foundling series, Russian performance artist Fyodor Pavlov-Andreevich had himself dropped in a transparent box on the steps of the Metropolitan Museum of Art, completely nude.
From the video posted to the artist's Vimeo account, it looks like he made it about three seconds before security covered the box and dragged him out. Still, onlookers stared in seeming confusion, horror, and ultimately amusement as laughing security guards pulled the box out of view.
According to the Pavlov-Andreevich's Facebook page, Foundling targets high-profile art events to "see how the institution reacts to the passive harmless box with an artist inside." Arrested for public lewdness, obstructing governmental administration, criminal trespass, and disorderly conduct, clearly the answer is: not well!
But hey, if Anna Wintour is going to let Jaden Smith accessorize with his own clipped dreads, I feel like a cute Russian guy curled up in a box is the least of our worries.
Calling all HuffPost superfans!
Sign up for membership to become a founding member and help shape HuffPost's next chapter