In honor of today's strangest performance art endeavors, we present Abraham Poincheval, the French artist who has spent much of the past two weeks in the tight living quarters of a dead bear. Yup, Mr. Poincheval is boldly going where few living people have gone before, into the lawless realm of performance art... and a hollowed-out bear stomach.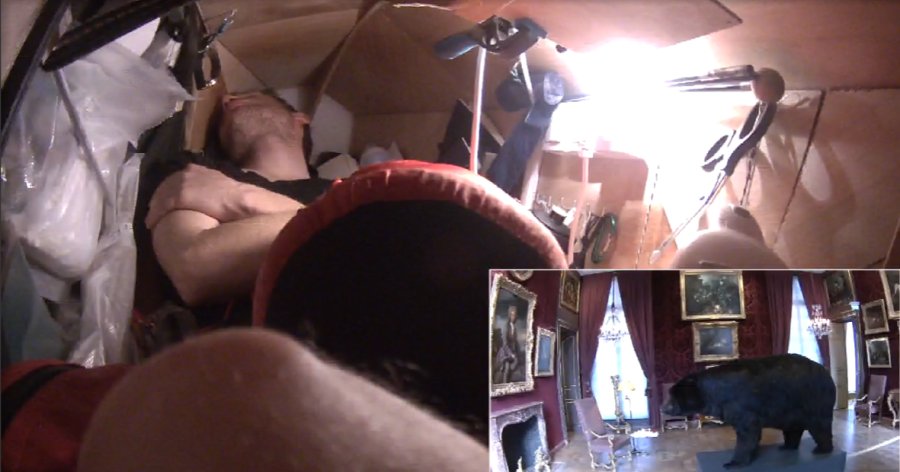 From the live feed of the performance
Since April 1, Poincheval has been partaking in the interactive exhibition at the Musée de la Chasse et de la Nature, essentially chilling inside a taxidermy bear with a sparse amount of food and water. He has some additional survival materials in there, including a light, cushion, kettle and toilet of some kind. The piece is meant to test Poincheval's physical limits while allowing the artist to get in touch with his animal instincts. DesignBoom called the project a "symbolic image of the 'inside out' of a bear during hibernation."
You can watch everything Poincheval and his furry friend do on a live feed here, though -- spoiler alert -- he's mostly just reclining in there. What do you think of Poincheval's bold adventure? Check out some snapshots of the bizarre performance below and let us know your thoughts on whether this unconventional living situation (which ends on April 13) constitutes true art or a lackluster Bear Grylls stunt.
Calling all HuffPost superfans!
Sign up for membership to become a founding member and help shape HuffPost's next chapter