Police in Mesa, Arizona are investigating a horrific case of alleged child abuse, in which a malnourished three-year-old girl was found inside a trash bag, surrounded by feces.
"This case is one of the most disturbing incidents that we've seen in quite a while," Mesa Police Chief John Meza said during a Tuesday news conference. "This is one of those cases that really just shocks the soul."
Warning: This story contains graphic details of alleged child neglect and sex abuse.
Police rescued the little girl from a Mesa apartment on Monday after a tipster alerted them of her condition. Responding officers reported finding the child inside a closet. According to the probable cause statement, the child, who was wearing a diaper and T-shirt, was bound, gagged and "inside a black trash bag with only the top of her head exposed. The victim was covered in human feces."
Authorities' attempts to interview the child have been unsuccessful.
"It is unknown at this time if she is unable to speak or will not speak due to the emotional and physical trauma she has sustained," reads the probable cause statement.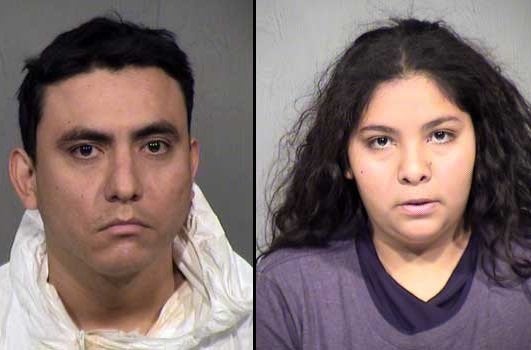 The child's babysitter, Francisco Javier Rios-Covarrubias, 30, faces charges of sexual conduct with a minor and felony child abuse. The child's mother, Mayra Yomali Solis, 22, is facing a single charge of child abuse.
According to police, the tipster said he met Rios-Covarrubias online and went to his apartment for a sexual encounter early Monday morning.
"When he entered the apartment, [Rios-Covarrubias] was dressed in a pink dress and a blonde wig," reads the probable cause statement. "[Rios-Covarrubias] performed oral sex on the witness, and the witness smoked some methamphetamine that was provided by [Rios-Covarrubias]."
At some point during the meeting, Rios-Covarrubias allegedly brought the child out and asked the witness, who has not been identified, "if he wanted to have sex with the child," Meza said.
The witness told police the child's mouth was taped shut and her hands were bound.
The witness said he argued with Rios-Covarrubias and left the residence, but returned later and the two had sex. It was after that second visit, police said, that the witness contacted investigators and alerted them to the condition of the child.
The child was examined by a pediatric forensic doctor and then transferred to Phoenix Children's Hospital, where she was admitted for her injuries. Those injuries, police said, include several scrapes and scratches, a "severe blistering rash" and evidence that indicates she may have been the victim of sexual assault.
Questioned by police, Rios-Covarrubias allegedly confessed to placing tape around the child's arms and mouth, but he denied sexually assaulting her.
Rios-Covarrubias told investigators he had been babysitting the child for Solis, who is homeless and had left her daughter there for several days at a time during the past month, police said.
Questioned by investigators, Solis allegedly admitted knowing about her daughter's injuries and acknowledged she had not sought treatment for her, and said she thought the girl had been injured during a fall, but she denied knowledge of a sexual assault.
Solis also allegedly admitted to shaving her daughter's head and claiming she had cancer so that she could collect money from shoppers at a local Walmart, police said.
"That's some of the sickest stuff that I ever heard in my life," Rios-Covarrubias' neighbor told Phoenix's KPHO News. "That's sad that would actually go down. That's just horrifying. Nothing like that should ever happen to anybody."
Solis is being held in the county jail in lieu of a $15,000 bond. Rios-Covarrubias, who authorities said is in the U.S. illegally, is being held without bond.
"It brings to light the efforts we need to continue on sex trafficking. It's a problem that exists," Meza said.
PHOTO GALLERY
Infamous Serial Killers
Calling all HuffPost superfans!
Sign up for membership to become a founding member and help shape HuffPost's next chapter