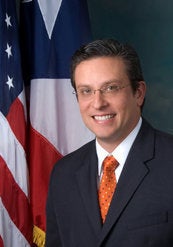 Even after his election win, many of us in the United States still know very little about Alejandro Javier García Padilla, the new governor-elect of the Commonwealth of Puerto Rico, a self-governing territory of the U.S. Here is what is known: He is a Puerto Rican senator-at-large and the president of the Popular Democratic Party of Puerto Rico (PPD). We also know he was the successful gubernatorial candidate for the 2012 election, defeating incumbent Luis Fortuño by a margin of mere percentage points.
Perhaps I can offer some insight. I met Gov.-elect Padilla when he visited the LEAP Academy University charter school in Camden, N.J., this past summer. During my time with him, I was impressed with his commitment to making education a priority in working to overcome the state of poverty on the island. Having education as a key part of his platform was welcome news in our U.S. city, where many of the children who attend LEAP live in impoverished conditions like many children in the island. In fact, as many of 50 percent of the LEAP students are of Puerto Rican descent.
Gov.-elect Padilla has his work cut out for him. According to the most recent U.S. Census, Puerto Rico has become an incredibly poor place. A quarter of the population lives in poverty, and the level of education is 22 percent, which suggests that the poverty rate has increased as a direct result of an underperforming education system. For example, 80 percent of teachers in the public school system do not speak English, while 63 percent of university students do not graduate. Sixty percent of public school students do not master basic skills in Spanish. Consider that only one in five Puerto Ricans has mastered English skills, thus reducing the bilingual labor market. Furthermore, the dropout rate in Puerto Rico is jaw-dropping. Twenty percent of Puerto Rico's population has less than a ninth-grade education. Only 25 percent have completed four years of high school.
Puerto Rico's unemployment rate is almost double the U.S. mainland's rate. The labor force participation rate in Puerto Rico is one of the lowest in the world, with about four out of 10 people employed or seeking employment. This is an indication that a high percentage of Puerto Ricans find it better to depend on government benefits than to work. Even the businesses that thrive are doing very little to help the people who live in Puerto Rico. For example, U.S.-based businesses reap tax benefits as foreign investors, but their profits haven't been invested locally to fuel the infrastructure, growth and job development that were envisioned.
Gov.-elect Padilla has many challenges and barriers to overcome if he is to be successful as leader of Puerto Rico, an island that remains split on the issue of statehood. Getting past these barriers will require a well-liked, trusted, strong leader with the courage to make the tough decisions to clean government and begin to reconstruction process.
As an educator and native of Puerto Rico, I find Governor-elect Padilla's focus on transforming schools refreshing. My advice to him is this:
Stand firm on your agenda to transform the island's educational system, and don't compromise.
Identify a few trusted advisors who will tell you what you need to hear not what you want to hear.
Remember, first impressions matter. Establish credibility and develop a reputation for getting things done.
Know your job and take time to understand the mission, roles and work of the people who surround you.
Gov.-elect Padilla, helping Puerto Rico's economy in the long term means keeping your eye focused on lifting the education system from its current state of disappointing underperformance. Puerto Rican children need your leadership!
Popular in the Community