Civilian casualties in Afghanistan reached a record high last year and were especially staggering among Afghan children, a United Nations report released on Monday found. 
Armed conflict was responsible for 11,418 civilian casualties  ― 3,498 deaths and 7,920 injuries ― in the war-torn nation in 2016, the U.N. Assistance Mission in Afghanistan said in its annual report.
That marks a 3 percent increase in civilian casualties from 2015, the previous record holder. While the number of deaths decreased 2 percent last year, the number of injuries went up 6 percent.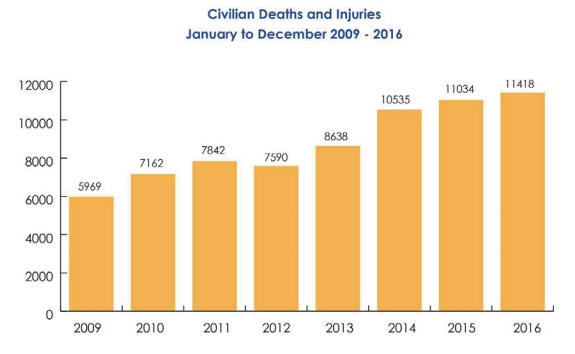 Much of that harm was caused by "disproportionate and indiscriminate" attacks and by violence carried out by anti-government groups, the U.N. Secretary-General's special representative for Afghanistan, Tadamichi Yamamoto, said at a press conference Monday. 
"[I] strongly condemn the deliberate and indiscriminate targeting of civilians on a sectarian basis by Daesh," he said, using another term for the Islamic State.
"They claimed the lives and maimed scores of civilians in 2016. Such acts are aimed at compounding the conflict and are directed at dividing the resilient Afghan society," said Yamamoto.
The latest tally brings total civilian deaths to 24,841 and total civilian injuries to 45,347 between 2009, when the U.N. first began releasing this report, and the end of last year.
Perhaps the greatest horror lies in the increasing number of children affected by the ongoing violence in Afghanistan. The U.N. mission recorded 3,512 child casualties in 2016 ― 923 deaths and 2,589 injuries ― which represents a terrible 24 percent increase from 2015.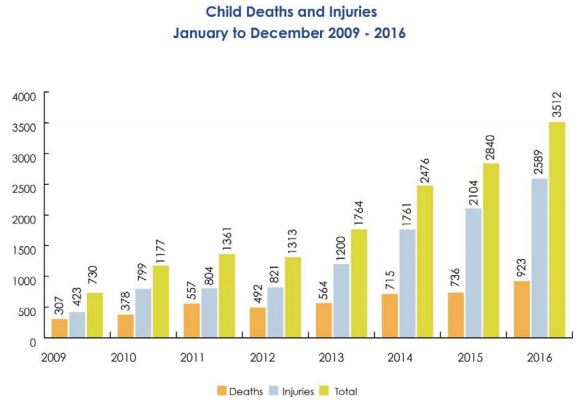 The report includes heartbreaking stories from families who lost children, such as this one from a mother injured in a June attack: 
It was the day before Ramadan when a number of Taliban entered my village. My husband decided that we had to leave the village before they attacked the Afghan National Army nearby. I had delivered a baby seven days earlier and had been too sick to walk which is why we remained there. My husband, mother-in-law, three children, my baby, and I started to walk to a neighbouring village. While we were walking to my husband's tricycle, a mortar shell landed nearby. My mother-in-law and I hit the ground injured and my newborn baby was hit by shrapnel in the chest. He died after a few minutes.
Many children were killed by unexploded ordnance left over from decades of war. 
"The disproportionate rise in child casualties resulted mainly from an overall 66 percent increase in civilian casualties from unexploded remnants of war – 86 percent of those victims were children," Danielle Bell, human rights director of the U.N. mission, said at the press conference. "Ground engagements and unexploded ordnance remain the leading causes of child casualties."
REAL LIFE. REAL NEWS. REAL VOICES.
Help us tell more of the stories that matter from voices that too often remain unheard.
BEFORE YOU GO
PHOTO GALLERY
October 2015 Afghan Hospital Bombing