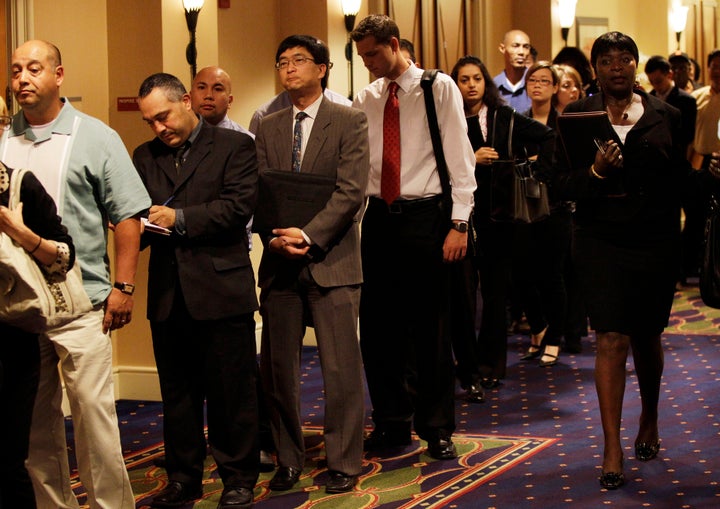 WASHINGTON -- The nation's largest federation of labor unions is already skeptical of a jobs scheme President Obama may propose in his address to Congress next week.
The administration has hinted it is interested in replicating a Georgia program that lets businesses train jobless workers for eight weeks without having to pay them on a national scale. The program, called Georgia Works, is voluntary for businesses and workers and is only open to recipients of unemployment insurance.
"I am also requesting that the Department investigate the Georgia Works program to determine whether it is in compliance with federal law and conduct a full audit and evaluation of the program's operations to determine its impact on workers and their communities," Trumka continued.
Representatives from the AFL-CIO expressed their concerns to the administration in a meeting earlier this week. The White House did not immediately respond to a request for comment on the letter. The administration has declined to provide any details about its forthcoming jobs plan, though it has not denied that it is open to looking at Georgia Works as a model.
The National Employment Law Project, a worker advocacy group, asked the Labor Department in 2009 whether Georgia Works complied with federal labor laws, which require workers to be paid the minimum wage with a narrow exception for trainees. The administration subsequently issued guidance to state labor departments on requirements programs must meet to classify participants as trainees instead of employees. One of the six requirements is that an employer "derives no immediate advantage from the activities of the trainees, and on occasion the employer's operations may actually be impeded."
NELP has told HuffPost that it has interviewed Georgia workers who said their eight weeks were more like work than training. A trainee who got her job through the program said that during her training, "We were actually working for six weeks." The Georgia Department of Labor previously told HuffPost that the federal government has vetted the program and that it complies with federal standards.
Labor advocates worry that even though the program is voluntary, attaching it to the unemployment insurance system could eventually lead to a worst-case scenario in which jobless workers are forced to work for free as a condition of receiving unemployment benefits.
Economists haven't studied Georgia Works and there is little data to recommend it. Though the Georgia Department of Labor has said 60 percent of trainees who go through the program wind up with job within 90 days, the statistic is hollow; it doesn't mean 60 percent of the workers actually had jobs at the 90-day mark (a worker could have worked for just one of those 90 days to become part of the stat, for example).
In his letter, Trumka provided a set of nearly two-dozen questions about the program. "Have any UI claimants been steered into the Georgia Works program, even though the program purports to be voluntary?" Trumka wrote. "Has there been a control group study to determine whether Georgia Works has been more effective than no intervention at all?"
The U.S. Labor Department did not respond to a request for comment. The Georgia Labor Department declined to comment.
Popular in the Community