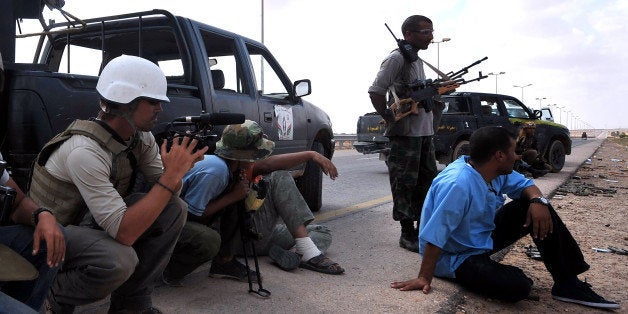 With the horrific killings of American freelance journalists James Foley and Steven Sotloff by the Islamic State militant group in recent weeks, news organizations are faced with the difficult task of re-evaluating their relationship with freelancers and the high-risk work that they do. One news agency is now responding by firmly stating that it will not accept any work given to them by freelance journalists traveling in Syria and other dangerous regions.
Agence France-Presse said Thursday that it will "no longer accept work from freelance journalists who travel to places where we ourselves would not venture." The organization said that it hopes the new regulation will help to protect its reporters and prevent AFP staffers from "being used as a vehicle for hateful, ultra-violent propaganda" in the wake of the violent killings of journalists in Iraq, Syria and Africa.
"If someone travels to Syria and offers us images or information when they return, we will not use it," Michèle Léridon, the AFP's global news director, stressed. "Freelancers have paid a high price in the Syrian conflict. High enough. We will not encourage people to take that kind of risk."
Read the full post from AFP here.
For the AFP, that "high price" has been felt first-hand. James Foley, the US journalist who was beheaded by the Islamic State after he went missing in Syria, was a regular contributor for AFP. Weeks later, a second American journalist, Steven Sotloff, was also beheaded in a video released by ISIS. Both men were working as freelancers in Syria when they were taken hostage, a position that now comes with increased risks and life-threatening dangers. Nearly half of the some 70 journalists who have been killed in Syria as a result of the ongoing crisis have been freelance journalists, according to the Committee to Protect Journalists. Journalists and media organizations are now strongly urging news outlets to reconsider their policies regarding freelancers and the work that they publish.
The AFP is not the first outlet to refuse freelance work altogether. In February 2013, the Sunday Times also rejected war images given to them by a British photographer in Syria, emphasizing that they did "not wish to encourage freelancers to take exceptional risks."
In its post on Thursday, the AFP also addressed the issue of violent or terrorist-related images, and the ethics of releasing and sharing those images with the public. AFP said that although the images can undoubtedly be "atrocious" and "inhuman," it is its duty as a news organization to use them if they contain helpful information.
Popular in the Community