Akaninyene Umoh is a description of intelligence, brilliance and drive. After recovering from a leg surgery last year after almost losing his legs to a rare bone condition, he came back more purposed to live his life and leave legacy. He started playing the drums again in less than proposed medical recovery time and took his first steps.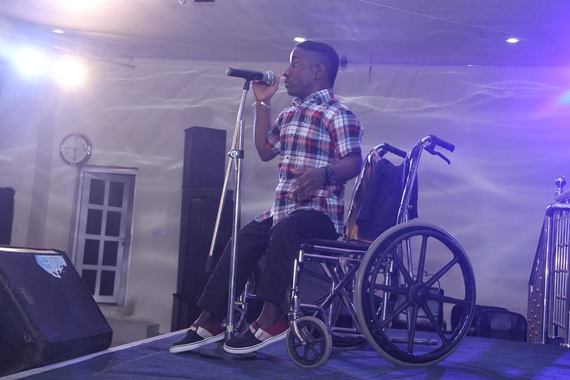 A teenager from Nigeria, Akaninyene Umoh has studied and completed 17 Yali Online Courses in record breaking time. The course work set in YALI.Gov on average takes an adult a minimum of 1 - 3 Months to fully study and certify but it Akaninyene 2 weeks of Study and 3 (Power Interrupted) days with intensive study and focus to certify for the following; "Going Green for Social Entrepreneurs, Going Green for Business Entrepreneurs, Understanding the Rights of Women and Girls, Understanding Elections and Civic Responsibility, Understanding Climate Change, Creating and Maintaining Social Enterprises, Community Organizing for Action, Management Strategies for People and Resources, Strategies for Personal Growth and Development, Workforce Collaboration and Development, Fundamentals of Starting and Running a Business, Fundamentals of Business Expansion, Basics of Public-Private Partnerships, Strengthening Public Sector Service, Fundraising Concepts, Design Driven Entrepreneurship, Servant Leadership - The Deciding Difference.
Asked what his aspirations are, he says "To learn, to know, to conquer using knowledge" "I do not believe in impossibilities, I am determined not to allow sitting on the wheelchair be an excuse to not succeed to the heights God has provided me. People say Nigerian teenagers are restive, but I am productive. I am a few meters away from where I started, it will be a journey to where I need to go but I am focused because I believe that I have what it takes to contribute my quota if only I can reach my full potential".
Why he chose to do the Yali Courses when he hopes to settle into Music as a career? "No knowledge is invaluable, I am a step away from my contemporaries with the knowledge I have acquired from each of these courses and better situated to acquire my music knowledge. Teenagers need to be given opportunity to explore their creativity and intuition, music is of many components. I want to run a music school at par with Julliard in Africa I have learnt from Yali how to sell my ideas, raise funding, manage my time, meet a need while solving problems and get community engaged to achieve my goals. I have understood my place in keeping the earth for other inhabitants indeed each course is significant and unique. We simply need to be able to thing outside the curriculum to function".
What if you do not make it to The Juilliard School | Dance, Drama, and Music? He smiles "Julliard will have to make it to me then, I am doing all that is required to be considered fit however I am doing more to work on me and my abilities. Drumming and curation are just a few of my talents, I write, I develop ideas and teach teenagers how to sell their visions" I intend to run Yali Learns programs for teenagers in Africa and someday be allowed to qualify for the Mandela Washington Fellowship so i can make a difference in Africa.
What else does Akaninyene Umoh do? I am a creative designer, drummer and chuckles consultant. I do everything i put my heart to do...well. He remains undeterred in his decision to study music and make a career out of his talents.
Calling all HuffPost superfans!
Sign up for membership to become a founding member and help shape HuffPost's next chapter