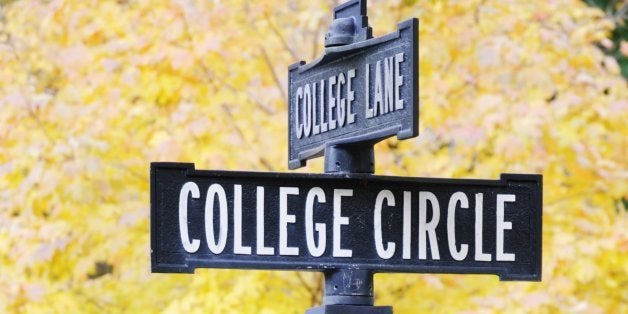 I attended my own orientation last week. Strange.
For the past 20 years, I've been directing orientation programs for incoming college freshmen. All of a sudden, I am the on the other side of the equation -- I am the new face -- a little nervous, but eager to get started. The start of school is in sight. As I transition from the role of dean of first-year students to that of director of guidance and college counseling, I've been pondering many of the same questions of a new college student. Do I know enough? Can I be successful in my first year? Who will eat lunch with me? Is there enough time between classes to use the restroom? Where do I park my car? Will I make friends right away?
Two of the most obvious similarities between moving onto a college campus and starting a new job at a public high school are language and culture. The lingo. The acronyms. The nicknames. The systems. The policies. I seriously wish that someone would write a translation guide for me. I get SAT, ACT, MCAS, Common App, etc., but with any school setting, there's a boatload of committees and teams with abbreviated titles. It's like I've stepped into a foreign land -- I'm trying to quickly learn the language and customs. I'm regularly smiling and nodding my head, then stealthily writing down the questions in a small notebook. Please do not ask me to explain the block system of Manchester Essex Regional High School (MERHS) for a few weeks. I'll catch on eventually.
As I embark on my new adventure, it's worth mentioning that I am returning to the familiar landscape of Cape Ann -- it's where I grew up. It's my home. Just like the MERHS ninth graders moving over from the middle school to high school this fall, I am ready for the next chapter in my career. Like them, it is very comforting to have the support of my friends and family nearby. When going through a transition, it's important to have a strong network. The single most difficult aspect of departing Colgate University this summer was accepting the fact that I would not be with my peer mentor staff of Links to welcome the Class of 2018 to campus. The transition to college is significant. To every new student entering college this fall: congratulations! Find your network. In the meantime, I leave you with some tips, tactics, and points to ponder from a seasoned dean who's pretty much seen it all. Best wishes!
Accept that you are no longer the smartest person in the classroom. Embrace it and learn from your peers.
You are absolutely supposed to be there. Admission officers are gifted.
Get out of bed.
Be true to yourself.
Advocate for yourself -- do not let others speak for you.
Intervene. If you see something, do something.
Surround yourself with people who will challenge you intellectually, socially, and personally.
Choose what is right rather than what is easy or comfortable (loosely borrowed from Albus Dumbledore in Harry Potter and the Goblet of Fire).
Tell the truth. Always. College administrators and faculty have highly sensitive bull crap detectors.
Ask a bazillion questions.
Seek information. Do not wait for it to land in your lap. It won't.
Be on time.
Go to every class, even if you are not fully prepared.
Your life is not over if you receive a C on an exam or paper. Meet with the professor.
Stand firm, but allow your mind/view/perspective to change.
If you start whining or complaining, stop. Then do something about the situation.
Build sleep into your schedule. You will not function in college without it.
The all-nighter, while a rite of passage, is stupid. Do it once and move on.
Filter the advice you get from others (teammates, roommates, etc.).
Fulfill your obligations.
Apologize, when needed. Mistakes are expected. Learning from them is mandatory.
Take an 8 am course. Really.
Do not disappear. Ask for help. Never again in your life will you have so many individuals genuinely interested in your well-being and success. Speak up.
Be kind.
Stay positive.
Be great.
REAL LIFE. REAL NEWS. REAL VOICES.
Help us tell more of the stories that matter from voices that too often remain unheard.