Ralph Duquette, 64, will never forget the feeling of holding his newborn baby girl for the first time. He knew one day Heather Duquette, his only daughter, would grow up and he'd eventually have to "give her up" on her wedding day, if she chose to get married.
That moment came in August 2014, when Heather, a 33-year-old French teacher, got engaged to 29-year-old Daniel Casoria. Following the news, Duquette feared he would not be able to accomplish the task he very much looked forward to -- walking her down the aisle.
Duquette was diagnosed with Leukemia in October 2012. He suffered a number of complications that left him partially paralyzed. Duqeutte, a former adjunct professor and long-time employee of Maine Medical Center, uses a wheelchair and is blind in his left eye.
"After chemo, my heart stopped for about 10 minutes," he told The Huffington Post. "They weren't quite sure if it was the chemo or the heart stopping that caused the paralysis -- I am completely weightless."
With his dream of walking Heather down the aisle in jeopardy, Duqeutte asked his doctor if there was anything he could do to make it possible.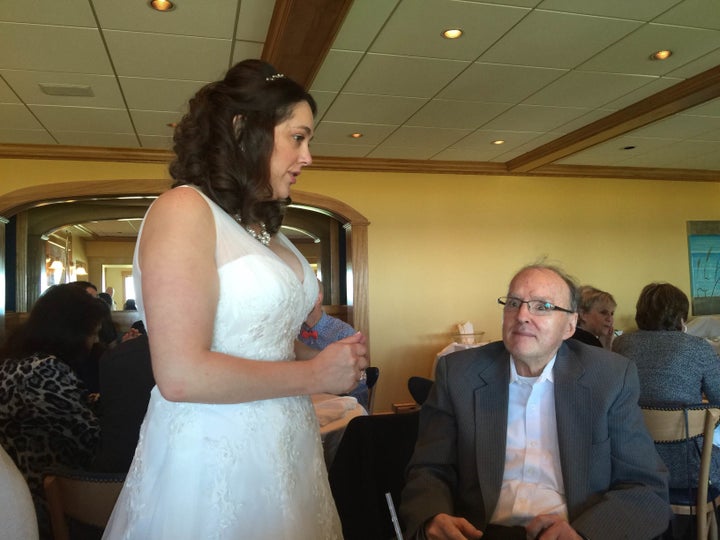 His doctor arranged a number of home visits with occupational therapists and nurses. They came over three days a week, working through the process of walking, one step at a time.
First, they practiced standing up and maintaining balance -- a task especially difficult given Duquette's blindness in his left eye. Then they worked on walking 10 feet, then 30, working their way up to 60 -- the length of the aisle.
Duquette managed to hide the private sessions from his entire family -- all while Heather and Casoria were practically living at Duquette's home throughout the summer.
"Scheduling was horrific," he said.
On the day of the wedding in Old Orchard Beach, ME, Duquette realized he had to tell the DJ about his secret in order to pull it off. Admittedly, he kept his hard work to himself for fear he wouldn't be able to walk on the big day.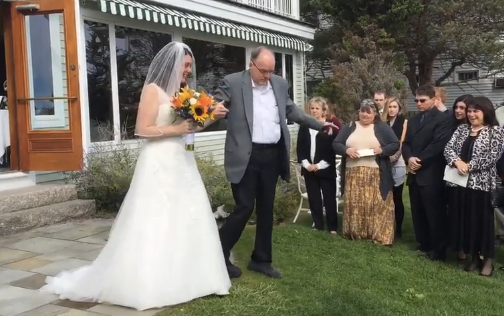 In coordination with the DJ, as the music stopped, Duquette got out of his wheelchair with assistance and walked towards his daughter and said, "Just grab my hand, let's do this."
Duquette walked his daughter down the 60-foot aisle and Heather cried every step of the way.
"It was one of the most emotional moments of my life. Not a single person knew what he had planned," Heather told The Huffington Post.
Duquette officiated his daughter's wedding and with help standing up, managed to have a father-daughter dance as well.
"If someone would've told me a couple of years ago that I would be walking my daughter down the aisle, I would've said 'you're crazy.'"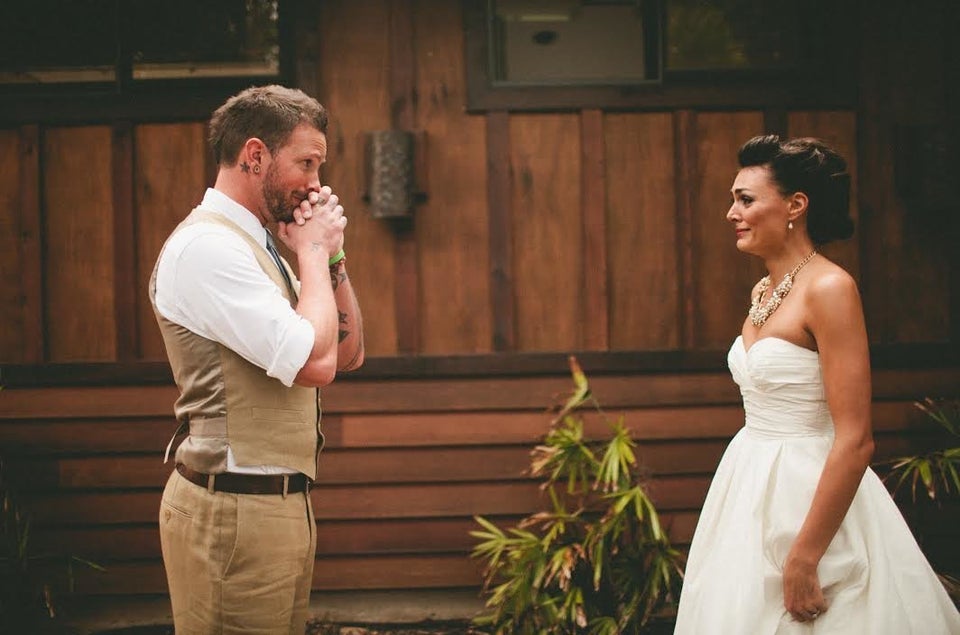 Emotional Wedding Moments