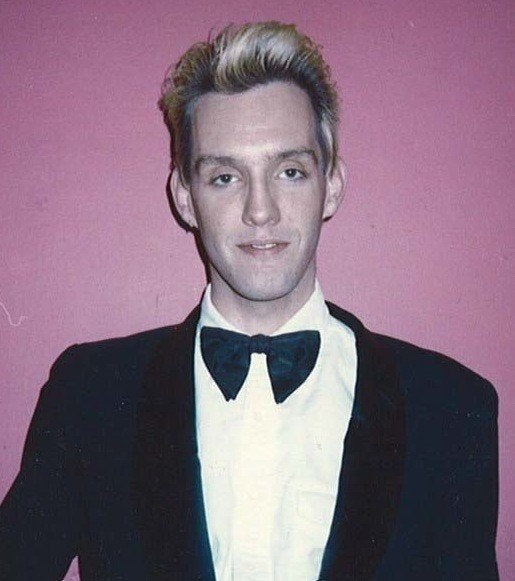 I met John Lewis on Halloween 1984 at a "sweater bar" across from the Museum of Natural History. He was dressed as Gene Kelly in On the Town.
"Hello, sailor," I said, pleased with my repartee.
He yawned. "That's the third time I've heard that tonight." He inspected me. "What are you supposed to be?"
In lieu of a costume, I had smeared chartreuse oil paint from the middle of my forehead to the tip of my nose. "Matisse's Green Stripe?" I proposed.
He rolled his eyes. After that night we were inseparable.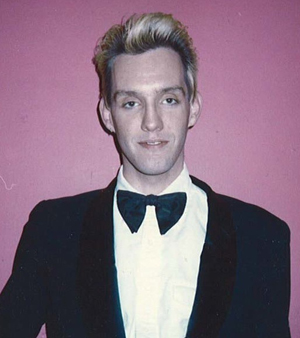 John was so much more than my boyfriend: He was my mentor, my hero, my big brother, my Gay 101 professor. The librarian at the American Academy of Dramatic Arts, he'd pilfer videos of "homosexually significant" movies from its collection, and we'd stay up all night in our Upper West Side sublet viewing Female Trouble and Mildred Pierce and Carrie. We watched the "Think Pink" scene from Funny Face so many times that the tape wore out.
Thanks to AADA freebies, we saw every show on Broadway one season, including Octette Bridge Club, an innocuous play that New York theater critic John Simon denounced as "faggot nonsense." John got all his friends to write letters to the editor; mine even got published. It was one incident behind the founding of GLAAD.
John's projects overtook the lives of everyone he knew. There was the first X-rated safe-sex video for GMHC (I was not cast), and the holiday cards with photos of him dressed as Holly Golightly in front of the windows at Tiffany's. One all-consuming frenzy evolved into the first annual New York Gay Film Festival, which John programmed and directed.
In 1986, at Beth Israel Hospital near Stuyvesant Town, John had a lymph node biopsy, a clumsy diagnostic tool for a poorly understood disease. While we waited for the results that week, John engaged in "wig therapy." He returned from a trip to 14th Street with several long, blond wigs, two industrial-sized cans of hairspray and four kinds of hairbrushes. I found him in our living room, a cigarette hanging out of his mouth, spraying ozone thinner and teasing synthetic hair into a towering bouffant.
The doctors told him he was fine. But there would be more hospital visits: St. Vincent's in the West Village, and St. Luke's in Morningside Heights. He died in 1992; he was not yet 40. In retrospect, it's remarkable that he lived that long.
I recently spent a mild February night in the ER at Beth Israel with my pal Kyle.
On Saturday, Kyle and his boyfriend had smoked some crystal meth. Two buddies joined them. The weekend spilled into Monday morning.
On Wednesday, Kyle confided that he'd had unsafe sex. But he wasn't concerned: The guy who had fucked him bareback said he'd tested negative just a few months before. The guy said he'd exclusively topped since then. The guy wasn't a stranger; in fact, he'd had sex with Kyle's boyfriend -- raw -- several times. Besides, the guy was really hot.
That the guy regularly had unprotected sex while high, making him more likely to seroconvert and less likely to know he had, had not been lost on Kyle, who nonetheless let desire and vigilance fatigue and curly plumes of meth prevail.
I love Kyle like a little brother. He's smart but not arrogant, good-looking but not self-involved, a gym rat but not a muscle queen, gentle and kind but not wimpy and saccharine. And he's savvy, if not about love then certainly about sex. He knows all about condoms and post-exposure prophylaxis, the month-long HIV treatment originally developed for health care providers -- and now also used for gay men and rape survivors -- who may have been exposed to HIV. He's been on it once before, after a similar weekend. But this time he had decided not to take it. The PEP had made him sick last time. "Besides," he said, looking down, "I didn't want to ruin a whole day at the doctor."
"But I don't have time to be ill," I mused. Bette Davis. Dark Victory. A favorite John Lewis one-liner.
I looked at my watch and counted the hours since the weekend: PEP is more effective the sooner after exposure it is taken. We argued. Finally, he allowed me to take him to the hospital.
Despite my best ACT UP-learned tactics, the ER staff dragged their feet. The attending physician was uninterested; we waited for results of unnecessary blood tests; questions that could have been answered after dosing him dragged on and on: "Do you regularly have unsafe sex?" (No.) "Do you feel safe at home?" (Yes.) "Do you drink alcohol?" (Moderately.) "What drugs do you use?"
"Just X... sometimes," Kyle lied. I let it go and watched the physician's assistant spell "ecstasy" wrong on her pad.
"Broadway doesn't go for booze and dope" came to mind. The line from Valley of the Dolls was apt -- we were there for pills, after all -- but it would have been lost on Kyle (as well as the 20-something PA).
At 1 a.m., Kyle started putting on his clothes. He was tired of waiting, he said, and he had a 9 a.m. business meeting. I was about to hide his shoes when the nurse arrived with an initial dose of anti-retrovirals, enough pills for three more days, and instructions to see his doctor for a prescription. I felt relieved. But the meds made him sick again, and he stopped taking them. On Wednesday I had been empathetic. Now I had trouble disguising my irritation.
"Please don't be angry with me," he said.
"I'm not mad at you," I thought. "I'm mad at the virus." The reference to Mommie Dearest would have sailed over his head too.
Intellectually I understand why guys have risky sex. But even when my weekends had begun with North Fork Riesling and hydroponic hash and ended with cheap beer and speedballs, I kept the sex barrier-inclusive, no matter how hot the guys were. The irony that I was being "safe" while on enough drugs to kill me then and there was lost on me; that's how ingrained my fear of HIV was.
But I also never had the life I'd imagined. At 15, I read Andrew Holleran's Dancer From the Dance as a treasure map. But the trail to Eros snaked through Henry James' Daisy Miller instead; sex was promisingly prurient but ultimately metaphorical, guilt-ridden and lethal.
Twenty years after John's death, thanks in large part to ACT UP, we have anti-retroviral drugs. Kyle relented and began taking them again, albeit ambivalently; John would have gulped them down. It's hard to know whether Kyle's late start and noncompliance even made enduring their side effects worthwhile. But convincing him to take them was more about me than about him, anyway: I know that. If not curable, HIV is no longer the slasher film it once was. But I was infected by fear 30 years ago, and I still believe I must try to save him and every other Kyle out there from what happened to John.
REAL LIFE. REAL NEWS. REAL VOICES.
Help us tell more of the stories that matter from voices that too often remain unheard.