Lynn Nottage--author of the Pulitzer-winner Ruined and the Pulitzer-worthy Intimate Apparel--returns to town with her new play Sweat, which is every bit as powerful and accomplished. This time, Nottage is not exploring the Congolese jungle or the New York garment world of 1905. Sweat takes place in the recent past, the scenes jumping back and forth between 2000 and 2008. With a set of gripping characters, Nottage illuminates just how we the people got to where we are today.
Nottage has apparently been working on this play for several years, so her focus seems not to have been on the current election. Even so, the conversation centers on factory closings, NAFTA, weakened trade unions, and hatred of foreigners. This helps make Sweat, in spite of itself, pretty much an explanatory and illustrated primer of what we have been seeing in the battleground states these past months. And Nottage--being a dramatist and a MacArthur Foundation grant "genius"--knows how to write a compelling story. So while Sweat seems not to be intended as an overtly political play, it exposes nerves and offers audiences outside the Rust Belt an emotional link to the characters and the issues. (If the MacArthur money--$625,000 nowadays--provides the freedom and the resources to dig into an idea and come up with something like Sweat, then Nottage has been a worthy recipient.)

Reading, PA, is a factory town. Tracey (Johanna Day, well-remembered for her Tony-nominated performance as Mary-Louise Parker's sister in Proof) and Cynthia (Michelle Wilson) are the best of friends, on the line together at the steel tube factory from back before their twenty-year-old sons Jason (Will Pullen) and Chris (Khris Davis) were born; in this world, skin color is not nearly so important as the color of your union card. Until race inevitably bursts into the narrative and explodes, although it is mostly natives against "outsiders." In this case, the outsider--Oscar (Carlo Albán)--is Reading-born, but that doesn't mean much to America Firsters.
Stan (James Colby) oversees the tavern where the characters congregate, with the regulars including Tracey and Cynthia's factory mate Jessie (Miriam Shor, from the original Hedwig and the Angry Inch) and Cynthia's junkie husband Brucie (John Earl Jelks, a Tony-nominated regular from the works of A. Wilson). The current day scenes feature parole officer Evan (Lance Coadie Williams, from Bootycandy).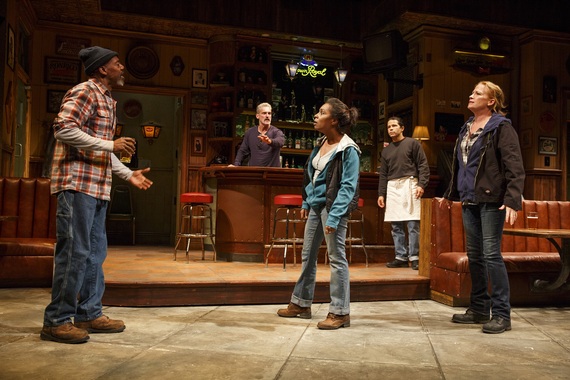 John Earl Jelks, James Colby, Michelle Wilson,
Carlo Albán and Johanna Day in Sweat
Photo: Joan Marcus
Sweat is mostly a barroom play, in the tradition of William Saroyan's The Time of Your Life and Charles Gordone's No Place to Be Somebody; both winners of the Pulitzer, the latter being Public Theater-born. It also is a family/community play, in the manner of the best of August Wilson. But Nottage is writing in a different manner in a different world, and in a different century. As for the barroom itself, it is steeped with character; you can almost smell the staleness of spilled beer. (Nottage comes up with an enormous laugh, as it happens, courtesy of the draft on tap). The set comes from the erstwhile John Lee Beatty, who has been giving us stunning and fitting scenery since 1974; Peter Kaczorowski has done the lights, Jennifer Moeller the costumes.
Kate Whoriskey, of Ruined and the recent Aubergine, is well in tune with Nottage; the play moves briskly and the actors are so directed that scene after scene impactfully lands. But it is the writing which gets us. Nottage spins her tale and her characters' lives, and wraps everything up superbly. After which she provides a final scene that grabs you by the heart and leaves you gasping at the curtain. Beautiful writing, and a beautiful play.
Those of you who were fortunate enough to see Ruined at Manhattan Theatre Club and Intimate Apparel at the Roundabout well know that you will deeply regret it if you miss Sweat. If the earlier plays provided star-making roles for Condola Rashad (in the one) and Viola Davis (in the other), Sweat is more of an ensemble piece. That said, Ms. Day shows great strength as Tracey, especially when the character becomes unstable. She is in fine company with Wilson, Davis, Colby and the others. Let credit for Sweat be shared by the Oregon Shakespeare Festival and the Arena Stage, which co-commissioned the play with the Public.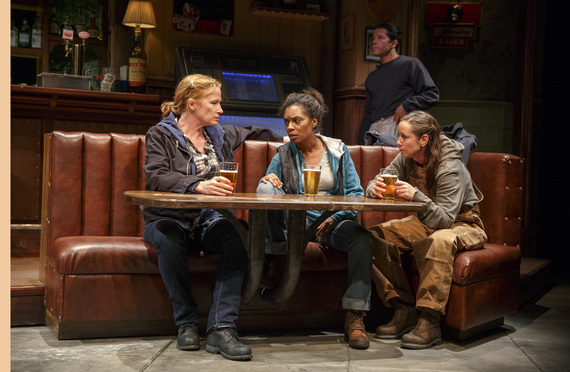 Johanna Day, Michelle Wilson and Miriam Shor in Sweat
Photo: Joan Marcus

"That's not supposed to happen to folks like us," one of the characters wryly notes, as century-old factories close and lifetime employees drift into puzzlement and despair. Nottage's words might well serve as a slogan for a goodly portion of the blue collar downtrodden of today.
.
The Public Theater's production of Lynn Nottage's Sweat opened November 3, 2016 and continues through December 4, 2017 at the Public Theater
REAL LIFE. REAL NEWS. REAL VOICES.
Help us tell more of the stories that matter from voices that too often remain unheard.