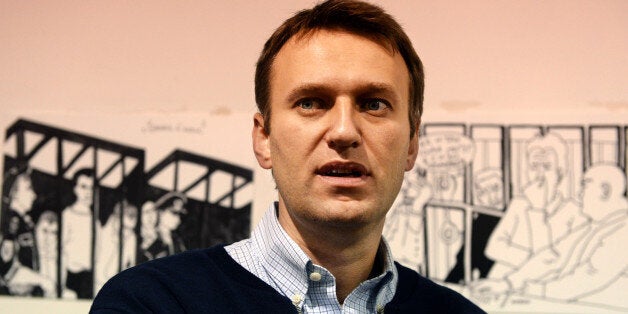 WASHINGTON -- The chief opponent of Russian President Vladimir Putin has set his sights on a new target -- the Sochi Winter Olympics.
In a wide-ranging interview with The Huffington Post, Alexei Navalny, a lawyer, prominent anti-corruption blogger and 2013 Moscow mayoral candidate, described his latest project: a report detailing the cost of the games, which are by many estimates the most expensive in modern history. The website for the report, a sort of Wikipedia and Google Maps hybrid, launches on Monday.
"In an interview not long ago Putin and [Prime Minister Dimitry] Medvedev claimed there are no facts about corruption. And if there are facts of corruption that you know you must report them." Navalny said, speaking in Russian from Moscow. "Our report is valuable in that situation, when we say, if you want these facts of corruption, we bring these facts of corruption and they are very obvious and they concern the close friends of Vladimir Putin."
Navalny, 37, became well-known for using the Internet to expose corruption, in a country where it is almost impossible to overstate its pervasiveness and where critics are often murdered or tortured. He launched a website, RosPil, designed to uncover corruption in state contracts. Soon after, he followed up with sites enabling residents to file government complaints over potholes and apartment conditions, and to press authorities to complete repairs.
He led much of the mass-scale protests of 2011 and 2012, which were the most significant since Putin came to power but have since fizzled out. But in July 2013, Navalny was convicted of embezzling $500,000 from a timber firm in Kirov, after a trial that many observers viewed as rigged. He won nearly thirty percent of the vote in the September Moscow mayoral elections, narrowly missing a runoff with the Kremlin-backed Sergei Sobyanin. In an unusual move, an appellate judge suspended Navalny's five-year prison sentence in October.
The Sochi project marks a return to anti-corruption blogging for Navalny. His Internet reach is now massive: he has around 524,000 Twitter followers, and his LiveJournal -- a platform still widely used in Russia -- receives over 2 million unique visitors a month.
In addition to the $25.1 billion in public funding, the group estimated that the regional government kicked in $1.0 billion, state companies kicked in $10.5 billion, the state-owned bank Vnesheconombank provided $7.6 billion in loans, and private investment totaled a mere $1.6 billion.
In all, the games will cost about $45.8 billion, according to the report.
Corruption in Sochi is almost banal in its excess, so much so that Russian Esquire quipped that a 30-mile road in the city would have been cheaper had it been paved with an eight-inch layer of foie gras. Navalny's figures are largely in line with the $50 billion-plus price tag cited by multiple media outlets as the full cost of the games.
Navalny's report notes that Putin friend Arkady Rotenberg received $7.4 billion in Olympic contracts, in line with Bloomberg's March estimate. It also claims that Olympstroi, the state corporation in charge of Olympic construction, spent 82 percent of its budget on salaries averaging 137,500 rubles per month in 2012, or almost $4,000. Russia's average monthly wage is 30,000 rubles, or about $869, according to state figures.
Navalny said that while he admired the work of the other authors, his report was particularly valuable because of his group's past work in exposing corruption in state contracts. "We see that authorities do not pay attention to those critics because they claim that they are not reliable sources, that all their figures are not checked, and people who write them are not professionals," he said. "Especially with our report, the thing is that a group of people work at the Fighting Against Corruption Foundation who understand very well how government money and finances work."
He acknowledged, though, that much had been written about Sochi. "I would say that there is no new sensational information of magnitude in our report, but it fully confirms other efforts and could be used for formal probes and charges against people."
While many of Navalny's investigations have stalled in the bowels of the state, his allegations did bring down a senior official close to Putin. Vladimir Pekhtin, a senior Duma member from his party, resigned after Navalny revealed that he owned property in Miami Beach, Fla., that was not disclosed on official forms. And in the Russian political system, it is quite possible that charges will be brought to placate public outrage over the cost of the Olympics after the games end.
Navalny's assessment of the games was not limited to their cost. He dismissed Putin's move to grant amnesty to top political prisoners, which was widely seen as timed to take advantage of the international spotlight currently trained on Russia because of the Olympics. Mikhail Khodorkovsky, Platon Lebedev and the members of the band Pussy Riot were all scheduled to be released in a few months anyway, Navalny noted.
"Of course, this is no kind of thaw, no kind of real change," he said. "I think that Putin is very frustrated."
That frustration extends, Navalny said, to the new law banning gay propaganda in Russia, which played well domestically but has caused problems for Putin abroad.
"When they constantly tell these fairy tales –- about how in Holland there is a party of pedophiles, or how in the USA people are in prison for gay marriages or homosexual relationships -– it works well inside the country," he said. "But outside the country, he has a big problem. I think that Putin strongly is irritated when he gives an interview about the Olympics, everyone asks not about how great he is, but about how Russia is violating gay rights."
Navalny said it was difficult to predict what he would do next, but he said that getting nearly 30 percent of the mayoral vote last year frightened the authorities. "It very strongly scared the Kremlin," he said, "and that means now I personally may not take part in elections. The party that I head had its registration denied."
"Nevertheless, my supporters and I, we will continue our fight against corruption because we don't have another country," he added, "and we believe in what we are doing and we will continue because we think we are right."
Popular in the Community