The biggest online shopping day of our time is "Singles Day," a Chinese holiday on Nov. 11. (Formerly a minor holiday, it gets its name from its date in numerals ― 11/11). Chinese online marketplace Alibaba first promoted the holiday as a sales event in 2009; the day has since grown to become an online behemoth. 
Last year, Alibaba did $14.3 billion worth of sales on Singles Day alone. Shoppers spent $5 billion in the first 90 minutes; its peak, Alibaba handled 86,000 transactions per second. 
By comparison, online sales in the U.S. spanning the five-day period from Thanksgiving to Cyber Monday amounted to $11.1 billion. Cyber Monday ― the U.S.' single biggest online shopping day ― looks downright anemic by comparison: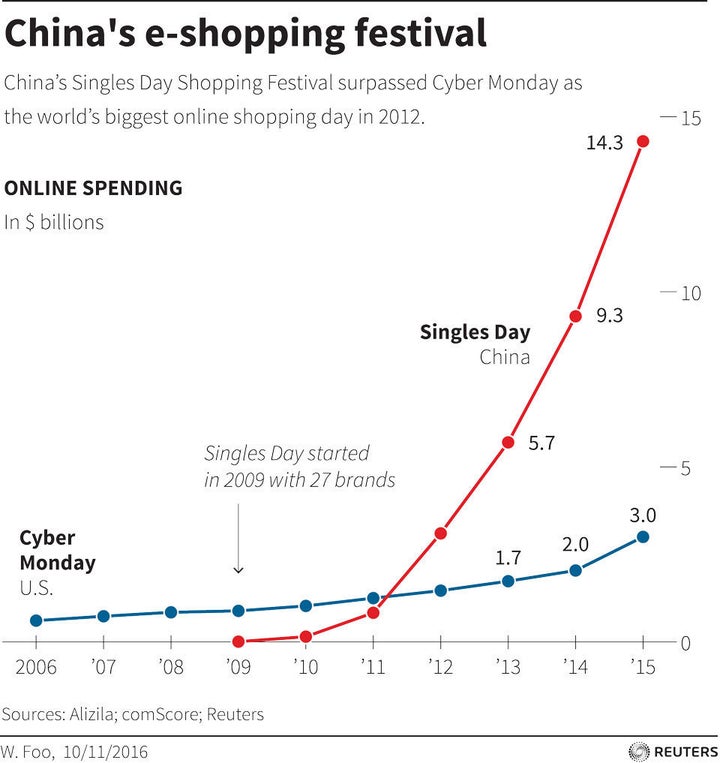 For 2016, Alibaba is going bigger. Kobe Bryant is scheduled to make an appearance. Katy Perry had signed on to perform (though she canceled at the last minute, citing a family emergency). A live fashion show is planned, which aims to entice spectators to click the "buy" button for clothes featured on the catwalk. And ― perhaps most critically from a profit standpoint ― some consumers outside of China will be able to buy through Alibaba for the first time this year.
"We are bringing [the platform] to consumers in Hong Kong and Taiwan for the first time this year, and next it will be Southeast Asia and the rest of the world," Alibaba Chief Executive Daniel Zhang told Reuters last month. 
Some of last year's hottest selling imports include: milk from the German supermarket Metro, which sold two million liters to Chinese consumers, baffling its own executives; thermometers from Braun, also a German brand; sanitary napkins from Japan and Dior lipstick.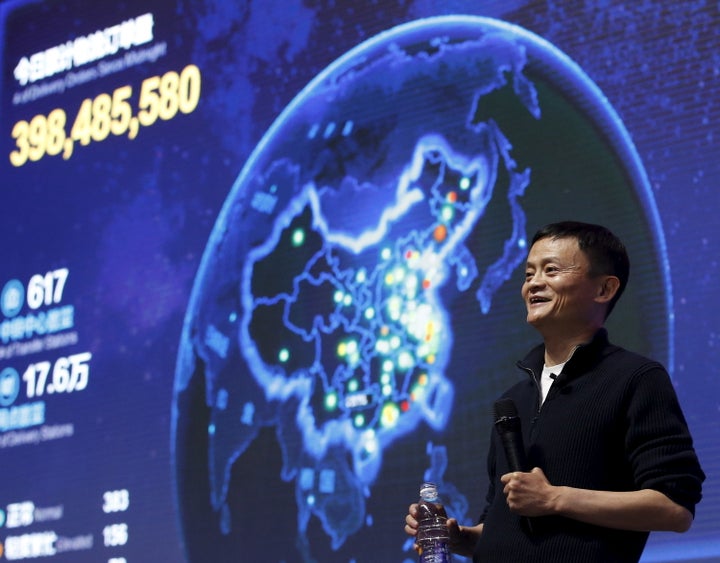 It isn't all good news for the massive retailer, however.
The Securities and Exchange Commission has opened an investigation into the company's accounting methods, with a particular eye to how it calculates its Singles Day sales.
The BBC suggests strong Singles Day sales could be fueled by a slowing Chinese economy, as consumers looking to save money put off their purchases until Singles Day.
But there's no denying it's an absolutely massive event. And Alibaba knows it. Zhang painted it in almost prophetic terms last year: "The whole world will witness the power of Chinese consumption this Nov. 11."
Calling all HuffPost superfans!
Sign up for membership to become a founding member and help shape HuffPost's next chapter
BEFORE YOU GO
PHOTO GALLERY
A Look Inside China's Steel Industry