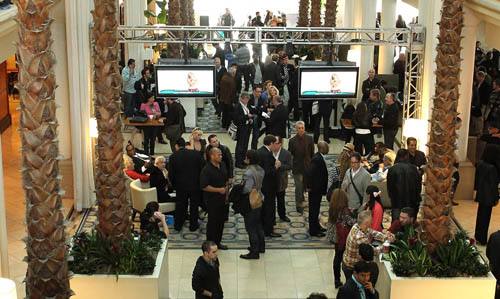 Lobby at American Film Market, courtesy AFM
Take heart all ye hopeful, dreaming toilers in the fields of feature film production. Hearing a no from a studio doesn't mean you're dead in the water. Even George Clooney is told no. But when Warner Bros. took a pass on his latest film, The Ides of March, Clooney refused to give up. Instead of jumping off a bridge or the dock at his home on Lake Como, he sauntered down to the annual American Film Market (AFM) and started to pitch his project to an endless succession of buyers from around the world.
Within a short time he and his writing partner had cobbled together $12.5-million in presales from international distributors which was enough to pay for his film.
Clooney's is only one of the success stories that keep people coming back to the Loews Santa Monica hotel every year for the AFM. This nine-day event attracts attendees from over 35 countries who have brought over 415 films to screen and numerous other projects in various stages of development to this year's market. They hope to entice some of the 8,000-plus buyers, distributors, exhibitors, financiers, sales agents and DVD companies to take their projects to the next level. The AFM was once the home of B grade movies designed solely for the Asian and South American markets. But today, it's attracting a range of films including "Best Picture" Academy Award winners that come here to test the waters and move their projects forward.
Much of the sales action takes place in the hotel suites that are booked by companies and used for a continuous stream of meetings with buyers. But there's also a lively secondary market in the hotel lobby that's conducive to informal chance encounters and a great place to compare notes with your colleagues.
The organizers suggest that first time attendees map out a strategy for navigating the AFM. The first step is to grab copies of the free trade publications that print special AFM editions. These list the companies that are attending and what films they've brought. You want to create a "list of target companies" that seem to be "best suited for your project."
They recommend that this list be about 30-50 companies and then make an A and B list. Figure out who the right executives are at each of these companies, usually someone who's responsible for acquisitions, development and production. Then using the AFM directory, available at the Loews information desk, contact the company and try to set up a 15-minute meeting with those executives. You'll probably get a meeting during the latter part of the event when things are winding down. You want to make sure you use an executive's name and not just say, you'd like a meeting with someone in development, otherwise you might sound like you're too lazy to do your homework.
Once you have your meetings set up, it's time to refine your pitch. You may want to bring someone with you to do the pitch if you don't feel you're quite up to it. Unless you're George Clooney, it's unlikely you'll get a sale out of this first meeting. What you want is for them to be interested enough in both you and your project to set up a follow up meeting.
Make sure you have business cards, a project synopsis, a budget overview, a list of any investors, ideas about production incentives, any actors or other creatives who have signed on and a script, if you have one. But they caution you not to leave that behind without first discussing this with your lawyers.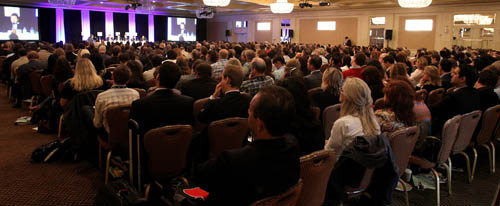 Conferences at the AFM, courtesy AFM
The AFM also offers an orientation session for first times. Once you register you'll be invited.
In addition to the market there are a number of professional seminars at a parallel conference that delve into financing, marketing, the art of the pitch, producing and getting distribution.
The good news from the finance conference was that there is plenty of money available for quality projects like The King's Speech and not just the blockbuster studio pictures. But the key is "you still have to make a good movie at the end of the day," said Jared Underwood, Senior Vice President of Entertainment at Comerica Bank.
Robert Hayward, chief operating officer of Summit Entertainment summed it up, "if it's a really good project, then it gets done."