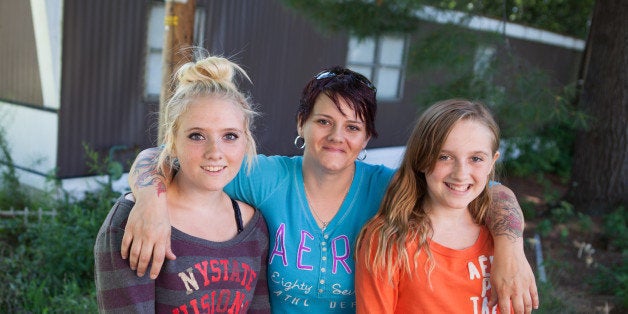 On a recent night last week, dinner for Jill Taormina and her family was Totino's Pizza Rolls with a side of canned pears. There was no other food on the table.
"I'd rather make a roast with potatoes in the Crock-Pot. My kids like to eat healthy," said Taormina, who lives with her daughters, Angela, 12, and Madeline, 16. "But the price of meat and produce is outrageous."
Money has been tight lately for the 34-year-old single mom, who lives in Atwater, Ohio. She supports her family on a fixed income of $1,700 a month, the combined total of her disability insurance and child support. After paying her electric, gas and cell phone bills and making payments on her car, her car insurance and her homeowner's insurance, Taormina said, there's scant cash left over for groceries.
"I can only afford to spend about $100 a month on groceries," Taormina said. "I coupon as much as I can, but it's just not enough."
More than five years into an economic recovery, with unemployment falling and the stock market at record highs, millions of Americans like Taormina still can't afford basic nutrition, according to a blockbuster study released Monday by the relief charity Feeding America. The 160-page report, titled Hunger in America 2014, claims to be the largest, most comprehensive study of hunger in the U.S. ever conducted. It took four years to produce and involved interviews with 60,000 people whose households are served by the charity.
The group's report is full of shocking statistics:
Feeding America provides food for 15.5 million households, or 46.5 million people nationwide.
More than 12 million households are forced to eat unhealthy food because they can't afford better-quality groceries. They risk adverse health effects that can make their financial plight worse.
66 percent of households said they've had to choose between paying for food and paying for medicine or medical care. Thirty-one percent said they had to make that choice every month.
69 percent of households that rely on food charities to survive have been forced to choose between paying for utilities and paying for food.
JoAnne Schielzo's family falls into the last category. The 46-year-old mother supports her five children and her husband on the $1,200 monthly paychecks from her job at the New Jersey Motor Vehicle Commission. Even though Schielzo is already borrowing against her pension to be able to afford groceries and utilities, it's not always enough. Once, her family's electricity was shut off when she defaulted on the payment.
"I'll take a pension loan and hang onto it as long as I can, just paying the bare minimum," said Schielzo, who lives in Bergen County, New Jersey. "But it's not always enough to pay the bills."
Feeding America did not interview people who use food programs outside of its own network. The USDA said last year there were 49 million Americans who lack consistent access to enough food, suggesting there are millions in the U.S. experiencing hunger who aren't using food pantries or soup kitchens served by the organization.
The USDA since 1995 has been measuring food insecurity, which means not always being able to eat enough nutritious food to support a healthy life. Over the years there have been small dips and rises in the number of people in the U.S. who are food insecure, but it has stayed fairly steady from 1995 to 2008, hovering between 10 and 12 percent of Americans.
The figure spiked when the recession hit, however, rising from 11.1 percent in 2007 to 14.6 percent in 2008. Since that jump, the number of hungry Americans nationwide has stayed at about the same level, even though unemployment recently dropped.
Rising employment is supposed to be an indicator that food insecurity will fall. But a June report from the USDA may have the answer for why so many people in the U.S. still struggle to eat three healthy meals a day: Higher-than-average inflation and the rising cost of food relative to other goods and services offset the changes lower unemployment would have made.
In other words, even when more people get jobs, those jobs don't always pay enough for them to afford to eat.
"If food prices go up, families are more constrained, and they're more likely to be food insecure," said USDA economist Christian Gregory, who co-authored the report.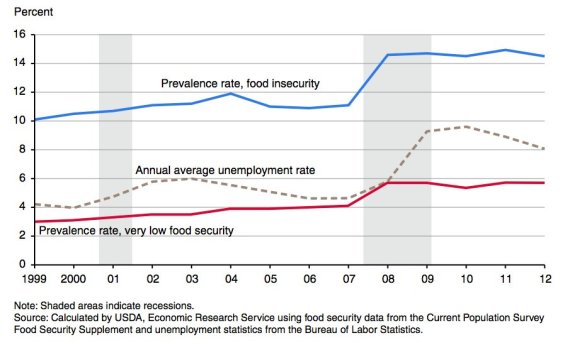 The number of people struggling to eat in the U.S. has stayed high since the recession ended, even as unemployment has gone down. (Credit: USDA)
Since 2007, the price of food has increased by an average of 2.8 percent every year, according to USDA data. The agency projects it will increase as much as 3.5 percent this year. That's higher than normal inflation, which has gone up an average of 2.1 percent a year over the same period (2007-2013), according to data provided to HuffPost by the U.S. Bureau of Labor Statistics.
Meanwhile, wages have stagnated. According to a recent report from the Economic Policy Institute, a labor-focused think tank, wages fell during the recession and the recovery for workers toiling in the bottom 70 percent of the wage distribution, despite increases in productivity.
And even though the number of employed Americans has increased in recent months, new jobs aren't showing up everywhere in the country.
"Unemployment is still a huge issue down here," said Susan Fuller of Brother's Keeper Ministries, a food pantry in Poplarville, Mississippi. Fuller said the pantry's client base has more than tripled since 2009.
Among the 60,000 people who responded to Feeding America's survey, the median household income was just $9,175 a year. That's far below the federal poverty threshold, which is $18,222 for a family of three, according to the U.S. Census Bureau data for 2013.
Of the 15.5 million households served by Feeding America, just over half receive monthly food stamps. Of those, about 54 percent say their food stamps only last two weeks or less. Congress recently cut $800 million per year in funding for the program, which millions of Americans rely on to help them afford food. The Congressional Budget Office has estimated those cuts, which were signed into law by President Obama in February, will reduce benefits for 850,000 households across the country.
"This report clearly makes a case for the importance of federal nutrition programs," Feeding America spokesman Ross Fraser said. "They are the first line of defense for someone who lives at risk of hunger."
Support HuffPost
The Stakes Have Never Been Higher
Related
Popular in the Community