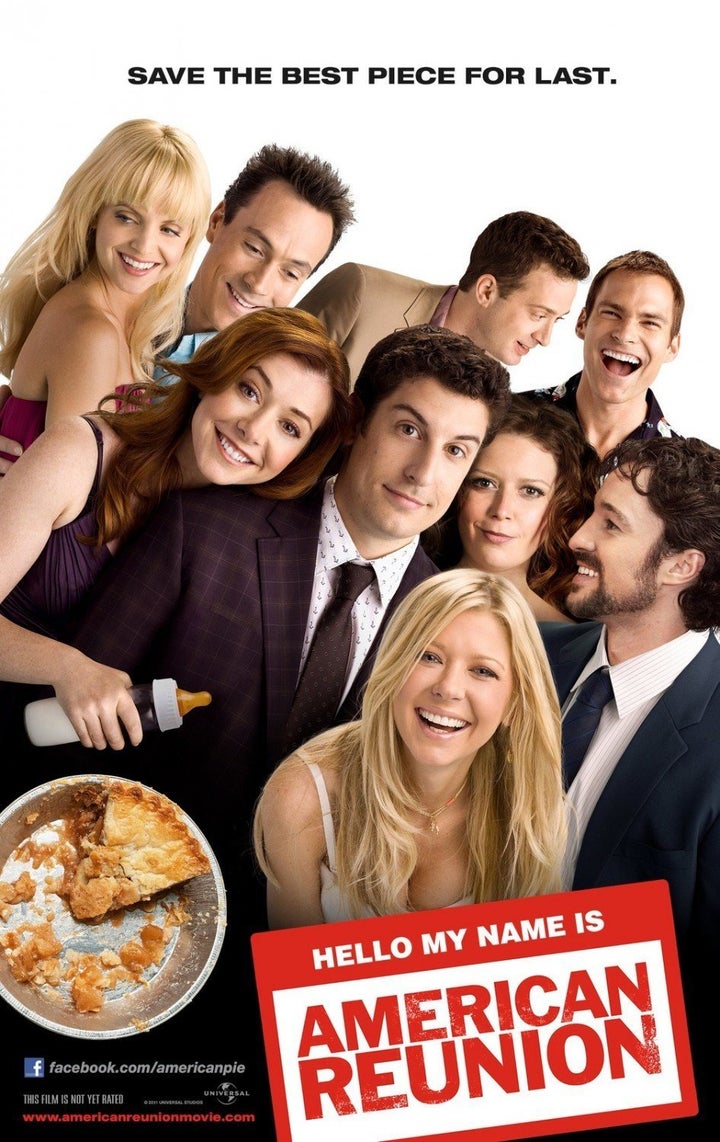 A smart way for studio executives to market their latest film is through social media. (That's why every new flick coming out has its own Facebook page, Twitter account, etc.) However, what filmmakers should probably avoid doing is openly complaining about their movie's box office returns on said Facebook page and calling fans of the film "jaded."
Unfortunately, that's what "American Reunion" producer Chris Moore decided to do last night.
First, the exec posted, "Hey fans. Chris Moore here. The producer of these films. Now I came on here a few months back and asked for support for 2 things. How do we get people to see this in theaters? how dow e [sic] get people to go with friends?"
"I been reading your comments, Most of you are so jaded. Blow jobs and free beer. F*** you. We made a funny heartfelt movie and it delivers. Isn't that enough? More ads, really? There are almost 6 million of you liking this [movie on Facebook]. hell if each of you went to the movie at 7 bones apiece that is $42 mil. Imagine if you brought a friend. All my jaded bastard friends here in hollywood get jacked about $30 mil openings now. We want to break $50."
Obviously, fans didn't react well to this.
"After the second one i [sic] stopped watching this childish bs...I hope you guys get back on form though or you wont make 10mil lol. Good luck," said Earl Anthony. Mallory Maraccini asked, "Is it just me or is this guy a douche?"
"I do not want $50 mil I do not want teen age girls owning the boxoffice. No ofense [sic] to them, I am rasing [sic] a beautiful one myself, but if the only movies that make any dough are twilight and hunger games than that is all you are going to see ... Now I am pandering purposely because I want to win."
By the end of the evening, the producer had (sort of) apologized for all the ranting.
"On my last trip thru the facebook I was warned that it is not for long posts like this and I was showing my age. Well yes I am middle aged and the father of three kids and I use facebook to reach people and push projects. I only push things I really believe in. And I only try to find people I really know. And I ramble on. So I apologize for taking up too many posts or notifiations [sic] this Tuesday night. Just trust me this movie will make you laugh. And then tell a friend. good night all."
Moviefone got in touch with Moore earlier today to discuss his Facebook posts. After apologizing for having offended anyone with his language, he reiterated that his main goal was to just speak with the fans and try something different.
"I did not in any way mean that to be mean-spirited... I really just wanted to talk to the fans directly, and the way things -- particularly in the film business and the media business -- are marketed, it's very difficult to get a direct conversation with [them]," said Moore. "The truth of the matter is, I am very proud of the movie."
Although some commenters speculated that Moore's posts were completely spur-of-the-moment, that apparently wasn't the case; according to the studio, giving the "Pie" producer control of the Facebook account was the plan all along.
"The very nature of the [social media] format itself should lead to some honest interactions," Michael Moses, Co-President of Marketing at Universal, told Moviefone. "Early on in the process, as we were heading into 'American Reunion,' Chris [said], Look, I have been with this project since the beginning, I know it's a little unorthodox, but would you guys ever consider allowing me from time to time posting in my voice as a real person who's involved with this?"
Universal gave Chris the go-ahead, as he began posting on the Facebook account with no restrictions.
Although things may have appeared to go south for Moore last night, Moses stood behind him and the unusual marketing method.
"We are always willing to take some experiments in social, and totally recognize it as a platform where you should have a dialogue with your fans. I think people can argue the way in which he said what he said, but in essence, I think what he was doing is what we're all trying to do, which is to figure out what's it going to take for people to see the film."
If you want to read all of Moore's postings, head over to the "American Pie" Facebook page. (And just in case these posts get deleted, you can see a screenshot of Moore's ramblings below.)
"American Reunion" hits theaters nationwide on April 6.
Popular in the Community