WASHINGTON ― When 29-year-old Egyptian-American Mohamed Soltan tells his story, he says Egyptian authorities first shot him in the arm, and then beat him with batons and belts. Locking him in a windowless room, they encouraged him to commit suicide, occasionally slipping razor blades inside his cell. The authoritarian Arab government still has at least seven other Americans in their prisons, he says.
But President Donald Trump's "America First" administration hasn't punished the boss of Egypt's security forces, President Abdel-Fattah el-Sissi. Instead, Trump this week hosted el-Sissi at the White House, effectively rewarding him, American victims' families and rights activists say.
"I'm very disappointed," Soltan told the Huffington Post Tuesday, after Trump held a congenial Monday summit with el-Sissi. "Honestly, el-Sissi got more PR out of this White House visit than any PR or lobbying contract he could have gotten."
Up to 20 Americans have been jailed as part of the Egyptian president's surge of repression since he seized power in a 2013 military coup. They share the prisons with an estimated 60,000 political prisoners and dozens of journalists.
The Trump team has embraced el-Sissi ― granting him the White House photo-ops that President Barack Obama never did and classifying humans rights concerns as a matter for private talks. Advocates believe an increasingly warm U.S. approach to Egypt will only encourage el-Sissi to continue or even worsen his crackdown.
"I can only imagine what folks in prison in Egypt are bracing themselves for and the level of repression that will happen in the upcoming months. This has a real human cost," Soltan said.
Soltan's father remains in prison, sentenced to death for his role in the opposition Muslim Brotherhood movement. (Soltan said he does not share his father's views; he rejects the idea that Egyptians must be classified in binary terms, as either as pro-Sissi or pro-Brotherhood.)
Soltan was first arrested for live-tweeting a 2013 protest. He was released in May 2015, and he told HuffPost he is using media attention around el-Sissi's ongoing U.S. tour to boost public outrage over those in jail.
"People don't know... that tax dollars are going to an authoritarian regime holding our American citizens," Soltan said. Working with fellow activists, he arranged for 2,500 posters to be plastered around the capital and created a display van that would advertise statements from groups like Human Rights Watch.
Other Americans with imprisoned loved ones are more circumspect, hoping that staying quiet will encourage the regime to soften.
Aya Hijazi, an aid worker who created the non-profit Baladi, has been in jail for nearly three years. Her case has gained a high profile since lawmakers and the Obama administration began publicly speaking of her detention last year. But her family does not currently want to talk to the media.
"Right now, the family's primary concern is Aya and her well-being, and they remain optimistic, as Aya remains optimistic, that given the lack of evidence presented against her, that she will be acquitted on [April 16]," said Wade McMullen, an attorney with the nonprofit Robert F. Kennedy Human Rights who is representing the family.
The family already experienced a setback last month, when a Cairo court unexpectedly postponed its verdict. Some in the rights community worried that Egyptian authorities were delaying Hijazi's release, so they could use her as a bargaining chip in the meeting with Trump.
For them, it's important to avoid alienating Trump's team or pressing the Egyptian regime so intensely that it finds it embarrassing to offer any clemency.
"We have confidence that Aya's case is being prioritized at the highest levels of the U.S. government," McMullen said Tuesday. "President el-Sissi received a very warm welcome here at the White House yesterday, and I would suspect that for a warm relationship to continue, he could not keep jailing American citizens."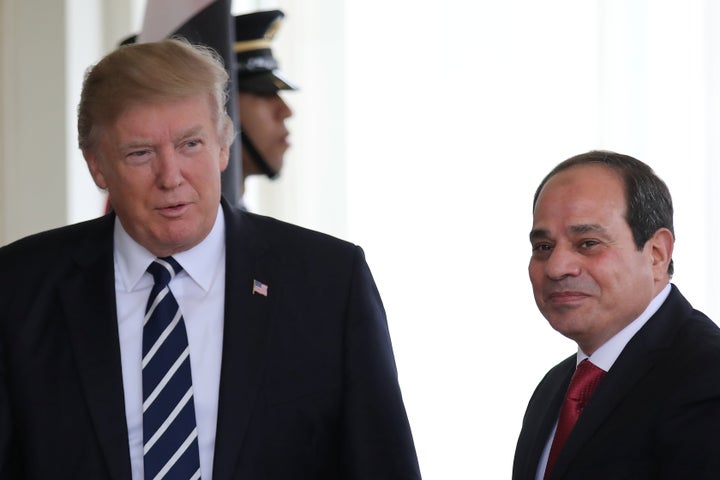 Relatives of three other prisoners who have previously avoided publicity are becoming more vocal, avoiding direct critique of el-Sissi while placing a great deal of hope in Trump. They made a joint appeal to him prior to the visit, echoing his campaign trail rhetoric. "Egypt is counting on America to be weak. We are counting on you to show America's strength," they wrote, according to a copy of the letter provided to HuffPost.
The White House did not respond to a request for comment on the letter, potential communications with the three families or a Reuters report saying that Trump avoided speaking on Hejazi's case to el-Sissi.
"Trump could simply ask Egypt to release him," Dr. Nagwa El Kordy, a signatory to the letter, told HuffPost. Her son, 26-year-old Ahmed Etwiy, has been imprisoned since August 2013. He was arrested and is being tried along with several hundred other defendants. Once a student at the German University in Cairo, Etwiy is now being denied due process, his family said.
Eman Kassim, another signatory, said her 52-year-old brother Mustafa is becoming weak and ill in jail.
"They gave him the worst food… not healthy for him, not healthy for anybody. Imagine, if somebody has a health problem," she told HuffPost. Her brother is a diabetes and heart disease patient. He was arrested on Aug. 14, 2013 while he was participating in sit-in protests against the coup at Rabaa Square in Cairo. More than 1,150 demonstrators died that day after police and army forces began to attack them, Human Rights Watch later reported.
"He has the rights of any American," Kassim said. "There's no response, nothing on Capitol Hill. Everything stays the same. We wish that President Trump does something for him, as an American citizen and as a human being. He didn't do anything wrong. He didn't harm anyone."
Seventeen-year-old Ahmed Hassan is in Egypt's jails too. He was arrested in December 2016 for protesting his uncle's arrest and placed in a jail cell with more than 20 adults, the letter stated.
Soltan, who lives in Virginia, believes vocal, visible pressure is essential for any relief.
"With the el-Sissi regime, only public and private negative pressure works. I am living proof of that," he said, citing social media campaigns and frequent statements his supporters made while he was in jail.
Soltan criticized the idea of discussing human rights behind closed doors, something he said former Secretary of State John Kerry has tried since the coup to little effect. In addition to his Washington campaign highlighting el-Sissi's repression, he has launched a video project about the prison issue and written extensively about his own experience, most recently in the Washington Post.
"We're using me as a success story that has worked in the past," Soltan said. "How can we do that for thousands of others who are unjustly detained, to give a voice to them?"
A bipartisan group of powerful lawmakers shares his view. Sens. John McCain (R-Ariz.) and Lindsey Graham (R-S.C.) have criticized el-Sissi's crackdown on civil society, and Sen. Marco Rubio (R-Fla.) joined five Democrats in signing an April 3 letter organized by Sen. Tim Kaine (D-Va.) that calls for Hijazi's release and questions el-Sissi's behavior. El-Sissi's reception in Congress on Tuesday was reportedly far cooler than what he received at the White House on Monday.
And on Wednesday evening, the night before the general-turned-president is scheduled to leave the Four Seasons Hotel in Georgetown, another rebuke awaits: Soltan is organizing a sit-in. He calls it his "send-off."
CORRECTION: An earlier version of this article misstated the ages of two of the Americans held in Egyptian jails. Ahmed Etwiy, Dr. Nagwa El Kordy's son who was arrested in 2013, is 26. Ahmed Hassan, who was arrested in 2016, is 17.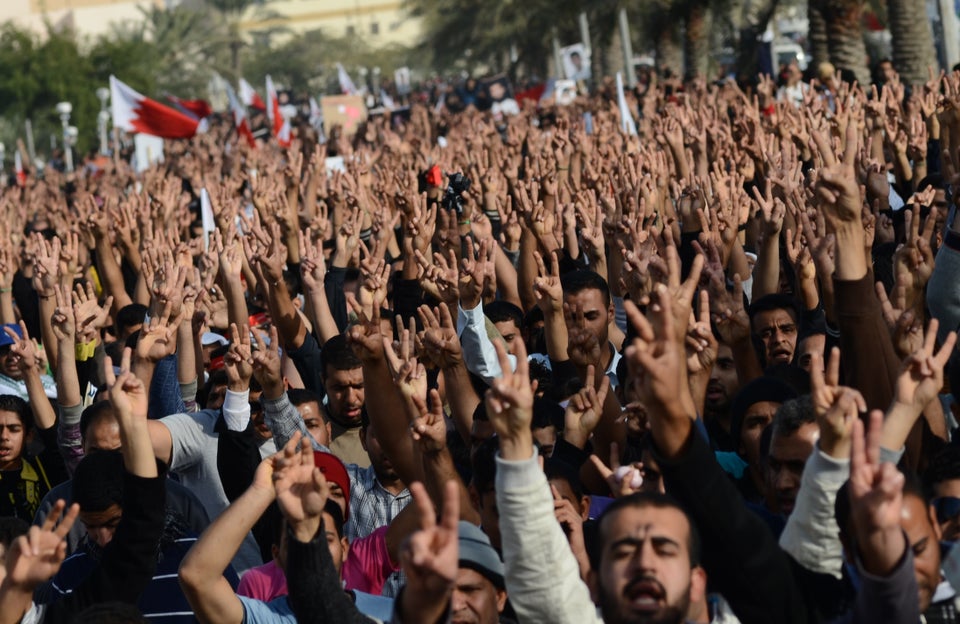 Remembering The Arab Spring
Popular in the Community