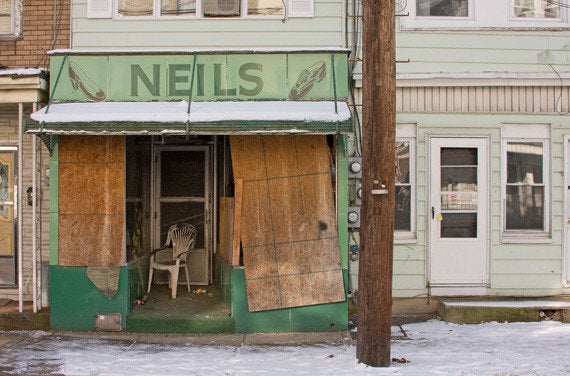 I had big plans for the last few days of this past week: A middle of the night departure that would take me through Central Pennsylvania coal country on Friday; a stop to cover the urban sadness of Newburgh, NY and an artist reception for the Fabricated exhibition at the Tremaine Gallery at the Hotchkiss School in Lakeville, CT, which included three of my photographs; and then a through-the-night haul back to Western PA on Saturday. The plans may have been slightly ambitious, but I've become comfortable with no sleep and lots of driving for photo trips in recent years. And even though a statewide winter storm changed my trip home from a seven-and-a-half-hour through the night jaunt, into a 10-hour, white-knuckled, lost in the twilight zone marathon, all was well when the dust, or in this case, hellacious snow and ice, settled.
The Coal Mining Towns of Central PA
The towns visited in this region, such as Shenandoah, Ashland and Frackville, all seemed to have had their population peak between 1920 and 1940. Shenandoah actually had around 30,000 people in 1920, but now hovers around the 5,000 mark. Shenandoah made the biggest impression. The town's housing architecture was different than the other nearby towns, and its place within the mountains gave it the look of a down on its luck Swiss village. There were ample empty storefronts and some seem to have dated back to that 1940s boom era. While some of the store frontages were more well-preserved than one would expect, their appearance belied the notion that things, as well as people, change, and that now drifters and squatters had made make-shift residences in some of these former community businesses.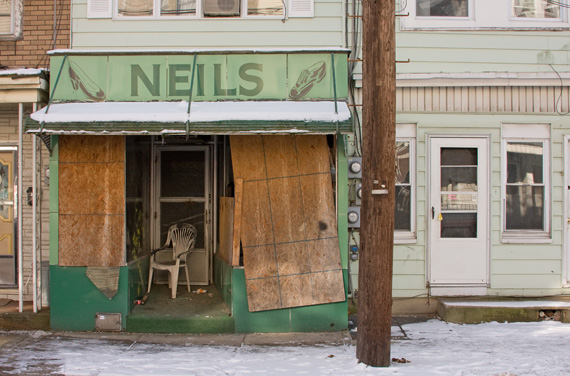 I was taking a photo of a long-abandoned market situated in the middle of a city housing block, when a man pulled up behind me to park. He looked at me as I was shooting and sarcastically asked if I was going to buy that building. I asked him if he knew how long the market had been empty and he went on to tell me that the house next to the market was his mother's home and that she had given birth to him there. He then added that now it's just "scumbags" moving in and out in the middle of the night. At once, I felt alternately sorry for this guy, as well as the "scumbags."
Newburgh, NY
Fleeing industry, haphazard urban renewal and race riots crippled Newburgh, New York in the mid-to-late 20th century. Many of the traces of mid-20th commerce seem to have been wiped away, and the inner city shows many signs of gang activity and poverty. Usually, even when walking through an old neighborhood in Detroit, Pittsburgh or Cleveland, I can muster up a sense of nostalgia imagining what the neighborhood once meant to its inhabitants, but that was difficult during my Newburgh visit. So much simply seemed gone.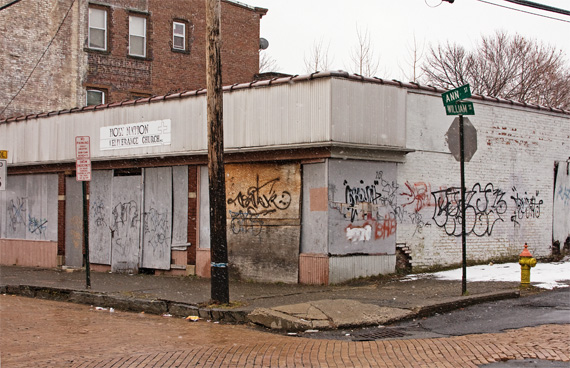 As someone who enjoys the occasional cigarette (and yes, I realize I should be beaten and ostracized), I'm used to paying the already ridiculous amount of $6 or so a pack in the state of PA. Upon entering New York, I could only sympathize with my fellow miscreants, seeing the prices were $8 and above. I thought of the scene in David Simon's brilliant series "The Corner" that shows T.K. Carter's Gary trying to buy a single cigarette from a Korean woman behind the glass at the corner bodega. Gary slides a quarter through, but the woman coldly states that a single smoke is now 30 cents. And that was nearly a decade ago. I imagine this scene takes place on a regular basis in Newburgh.

Fabricated at the Tremaine Gallery, Hotchkiss School
We made it to Connecticut mid-Saturday afternoon. That area of Connecticut and Upstate New York is, of course, beautiful, though a vastly different world than the factory belt lands that I call home -- and that have been so inspirational to me and to my work.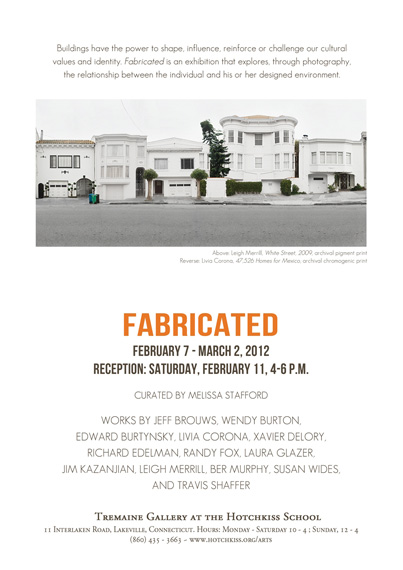 Fabricated is an exhibit curated by Melissa Stafford and is taking place at the Tremaine Gallery at the Hotchkiss School in Lakeville, Connecticut. The show "examines, through photography, the relationship between the individual and his or her designed environment" and features photographers Jeff Brouws, Wendy Burton, Edward Burtynsky, Livia Corona, Xavier Delory, Richard Edelman, Laura Glazer, Jim Kazanjian, Leigh Merrill, Ben Murphy, Susan Wides, Travis Shaffer and three of my storefront churches.
Aside from attending as a participant, it was a pleasure to meet some of the other photographers and view the work as it was put together conceptually by Ms. Stafford, who worked alongside with Director of Photography and Related Media, Greg Lock. The Tremaine Gallery itself is a beautiful exhibition space: Open, inviting and prime for such exhibitions. The quality of the show easily earns a recommendation.
Fabricated runs from February 7 through March 2 at the Tremaine Gallery at the Hotchkiss School, 11 Interlaken Road, Lakeville, CT. For more information, go to Tremaine Gallery at Hotchkiss School.
For more information or to see more of Randy Fox's photography, please visit Randy Fox Photography. Fox is also the administrator for the American Elegy website, which features the work and words of some of our finest established and emerging photographers.