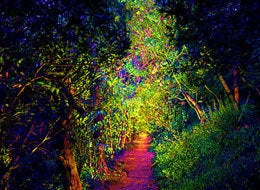 In the beginning
In 1972 my grandfather, grandmother and I visited the poorest country in the western hemisphere: Haiti. Much to my grandmother's dismay, my grandfather decided that our adventure for the day would be exploring the countryside with a Port Au Prince taxi cab driver as our guide. After an hour driving down a dusty rutted gravel road we stopped in at a rural marketplace to experience life in rural Haiti. It was along the side of that dirt road that we had our first personal philanthropic travel experience.
Soon after the dust from our cabbie's Toyota had settled, unclothed children, adults and their livestock emerged from the surrounding area, undoubtedly to closely examine my aqua and orange tailor made Miami Dolphins leisure suit with white leather loafers. We were surrounded by smiling faces wondering who we were and why we had stopped by to say bonjour. Ten minutes later, after just about everyone in the crowd had a chance to smile at us, touch us and make direct eye contact with us, a soccer ball flew through the air. I trapped it and quickly passed it back to my new teammate who received it effortlessly after it had flown right over the heads of several adults.
"When we are very young children we know how to feel. It's innate. But as we lead a lifetime, we pick up so many thoughts, impressions, feelings, and ideas, that our sensitivity goes away." -F.L. Ph.d
Connecting
I bonded with the local kids and my grandparents stood side-by-side with adults from the village while the cabbie lit a cigar. My grandmother, initially fearful of the unknown, was now smiling, calmly and communicating in sign language with local women, and enjoying her experience. We all seemed to connect for those brief moments. The spontaneous transcendent events of that morning's cross-cultural experience are still vivid today, as they were so many years before. Those few moments changed our lives.
Deja Vu
During my first trip to Africa while driving between Maun, Botswana and Windhoek, Namibia I was moved to pull over at a village in a remote area of the Kalahari Desert, much to my friend Linette's consternation. She declined my offer to join me for a walk into the center of the grass hut village and decided instead to stay in the car -with the doors locked. Ten minutes later I returned to the car with a crowd from the village: children running, mothers talking, fathers trailing the entourage, and once again soccer balls flying through the air. Linette gracefully emerged from the car with a smile and began to open the clothes intended as gifts.
Captivated by everyone's curiosity, kindness and easy laughter, Linette and I spoke of life in their village and life in our village in Switzerland and the USA. We felt our guests' humanity and warmth, we were welcomed and felt safe as guests of the community. And, an hour later after sharing gifts of Nike t-shirts and old Levis we had agreed to deliver, two men needed a ride to their cousins' funeral in a village 25 kilometers away. Sent off with with an open invitation to return completed with smiling faces, vigorous handshakes and waves we set off down the Trans-Kalahari Highway towards Namibia.
A New Journey
While driving I realized that the seed for Exquisite Safaris Philanthropic Travel, planted 27 years before in rural Haiti, had just bloomed in Africa. That afternoon as I drove through the Kalahari Desert with Linette and our two new acquaintances on their way to acknowledge an ending, I began again on a new journey: introducing travelers to locals with the intention of uplifting those local people and their communities through health, education and sustainable development.
If you're a traveler I encourage you to become a philanthropic traveler. Exquisite Safaris has developed partnerships with humanitarian outreach projects in Africa, Asia and South America: Orphanages, AIDS and medical clinics, schools, women's entrepreneurial initiatives, and clean water NGO's that will open their doors to you and connect you personally with the people they serve.