Frances Negrón-Muntaner is an award-winning filmmaker, writer, curator, scholar, and professor at Columbia University. Her latest project is The Latino Disconnect: Latinos in the Age of Media Mergers, for which she served as lead researcher. Chelsea Abbas, who co-authored the study, is a PhD candidate in applied anthropology at Teachers College, Columbia University.
The Latino Disconnect is the first study to take an in-depth look at the effects of media mergers on Latino representation in television, film, and online streaming content over the last seven years. The study was released by Columbia University's Media and Idea Lab, a program of the Center for the Study of Ethnicity and Race, and was co-commissioned by the National Hispanic Foundation for the Arts. You may access the full study here.
Negrón-Muntaner kindly agreed to answer a few questions for The Huffington Post about this important and groundbreaking study.
What was the goal of The Latino Disconnect?
NEGRÓN-MUNTANER: Our main goal was to better understand what we call the "Latino disconnect": While the number of Latino media consumers, content providers, and entrepreneurs grows exponentially, the availability of diverse media, affordable broadband, and leadership positions in merged companies does not. Specifically, we looked closely at several questions.
First, we investigated if there was more diversity before or after a major merger such as the Comcast-NBCUniversal transaction, and whether promises made by companies to diversify programming, employment, and procurement were honored.
Second, we examined how Latinos have organized against media market consolidation and why these efforts were so effective in the derailing of the Comcast-Time Warner Cable merger last year.
Third, to the extent that Latinos are migrating en masse to online content, we considered how do streaming companies compare in relation to traditional media regarding diversity.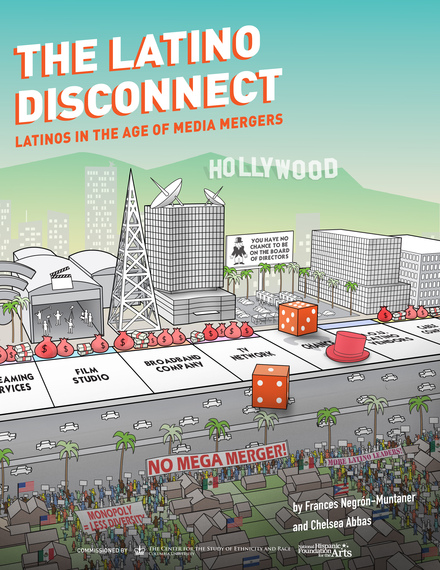 What are the study's primary findings?
NEGRÓN-MUNTANER: Despite promises, three years after the Comcast-NBCUniversal merger, Latinos were generally worse off. A partial exception was on-camera talent in television entertainment. Although this improvement came with a caveat that we had predicted in our 2014 report, The Latino Media Gap: a small increase in Latino actors brought a significant rise in stereotypes. The most common stereotypes were criminals, law enforcers, and blue-collar workers, or what we called "people in uniform": inmates, police officers, janitors, and maids. In film, stereotypical roles persisted, reaching an all-time high of 66.7% in 2013.
Another dramatic headline involved news. Not only did the number of producers decline after the merger across the main NBCUniversal shows, but in our analysis of NBC Nightly News from 2012 to 2014, we also found that only 3% of stories were about US Latinos and Latin America. Of these stories, a stunning 64% focused on crime or illegal immigration and the majority involved Mexicans and Puerto Ricans, the two groups most associated with lawlessness in news programming. Equally significant, although the Cold War ended decades ago, reports about Latin America continued to use a "red" lens: almost 40% of news coverage focused on leftist governments or leaders in Cuba and Venezuela. Overall, Latinos were largely represented as a threat to the United States in one of three ways: as criminals, "illegals" or communists.
Lastly, the comparison between Hulu and Netflix was surprising at various levels. For instance, one may assume that Hulu, which is owned by traditional companies like Disney and Fox, would be less diverse than Netflix, which is an independently owned streaming company. But that was not the case. In its original programming, Hulu was much more diverse and included considerably fewer stereotyped characters. At the same time, Hulu's greater diversity and more nuanced roles had to do with the existence of a single show, East Los High. Once you remove this program from the count, inclusion plummets and Hulu looks a lot like Netflix.
How can stereotyping and low Latino/a media presence be remedied?
NEGRÓN-MUNTANER: A growing number of people are working on this challenge and there are small victories every day. The diversity situation as a whole, however, will probably not drastically change until company heads see inclusion as an advantage rather than as a threat, and create truly diverse decision-making bodies in the C-suite, news studios, and writing rooms. At this point, the main mechanism that we have to bring change is to demand it through advocacy, consumer behavior, and alternative media. Our studies demonstrate that consumers and advocates have more power than they think and that when people connect to each other, power multiplies. This is one of the main reasons why it is so urgent to keep the communication pipes accessible, affordable, and open.
Popular in the Community