Legendary big wave surfer Andrew Cotton broke his back in a horrifying tumble from a 50-foot wave off Portugal.
The 36-year-old British athlete was pounded by the surf Wednesday as he careened down the wave off Nazaré, Portugal. Scores of fans watched, and a crew filmed the accident and his rescue.
"I pulled up over a lump. I knew it wasn't going to barrel or that I wasn't going to outrun it, so I just hit the eject button and thought, fuck, I gotta get out of this," Cotton said in an interview with the surfer blog Magicseaweed from his bed in a Portugal hospital. "Then a whole world of pain happened." He broke the L2 vertebra in his lower back. "Feeling pretty sore," he added.
Photos of Cotton on a stretcher after the tumble show the pain and tears in his eyes. But, despite the dramatic accident, doctors think Cotton has a good prognosis, according to his wife.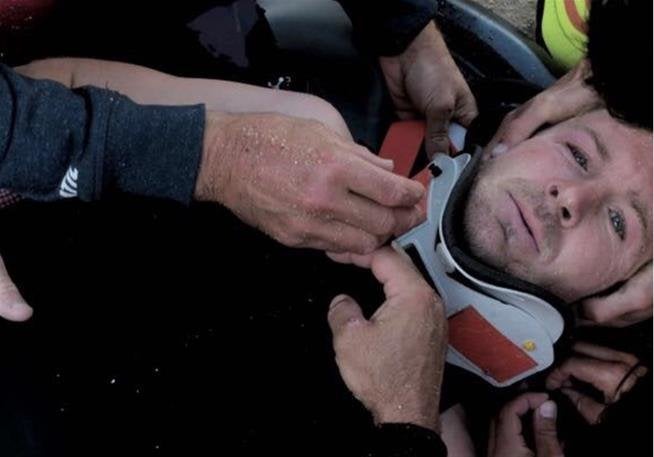 "What can I say, I got a little excited this morning and ending up having possibly the worst wipeout, impact-wise, of my life," Cotton posted on his Instagram after the accident. "Thank you to all the lifeguards and crew on the beach who helped stabilize me and do a great spinal recovery."
He's already dreaming of the next big wave.
"I have broken my back but I've been really lucky," said the indomitable surfer. "I'm already looking forward and focusing my energy to get fit and back out there on some more big rollers!"
The surfer's wife, Katie Cotton, 41, had been in Portugal with her husband and their two children but returned to their home in North Devon, England, last week before the accident.
"He's had an MRI scan and X-rays, he's got a break in his lower back. It seems like there is a good prognosis for a rapid recovery," Katie Cotton told The Telegraph.
"We have a really good team of support people, and we all feel like he's got good people and contact with him, but we just want to get him home. I know that all he will be thinking about is when he can get back in the water."
Cotton rode one of the five biggest waves in surfing history in 2014 off Praia do Norte near Nazaré. He was hitting the waves again during filming for a documentary on the return to surfing of Garrett McNamara of Hawaii, who successfully rode what was estimated to be a world-record 100-foot wave off Nazaré in 2013. McNamara also fell spectacularly riding a 50-foot at Mavericks in California in 2016, shattering his left arm.
Popular in the Community