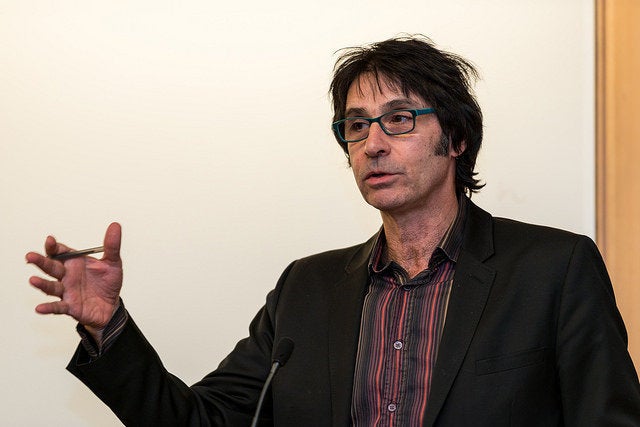 Andrew Ross is a tenured professor of social and cultural analysis at New York University who has authored a long list of respected works on debt, labor and social theory.
But the United Arab Emirates denied Ross entry to the country to study migrant labor conditions in March, and Ross believes the UAE's financial generosity to NYU has limited the university's willingness to advocate on his behalf. The UAE is home to, and chief funder of, a lush new NYU campus in Abu Dhabi.
The university argues that it has gone to great lengths to inquire about the reasons that the UAE barred Ross' entry -- going beyond what is required of it, since Ross' research in the UAE was not part of his work for NYU.
Regardless, Ross' case illustrates how the increasingly common donations of wealthy, autocratic Persian Gulf nations to Western academic and cultural institutions often come with a hidden price tag. Even when universities and museums that have benefited from Gulf largesse vehemently defend their commitment to intellectual freedom, these institutions' deep ties to the Gulf cast doubts on their integrity.
Is NYU Willing To "Bite The Hand That Feeds It"?
Ross was denied entry to the UAE while trying to do research on migrant labor conditions in the country as part of his work with the Gulf Labor Artist Coalition, a nonprofit devoted to securing humane labor conditions for workers building the predominantly Western academic and cultural institutions on Abu Dhabi's Saadiyat Island. Ross edited The Gulf: High Culture/Hard Labor, a forthcoming book of essays documenting the mistreatment of workers building Western museums on the island.
The UAE government did not provide the exact reason for barring Ross, though Ross told The New York Times it was apparently because of vague security concerns.
NYU spokesperson John Beckman told The Huffington Post in a statement that NYU "believes in the free movement of people and ideas." NYU cannot "know all the thinking that goes into an immigration authority's determination about who is or is not granted a visa," Beckman said, but the university believes that any denial of entry should be "justified by good cause."
Beckman said NYU has contacted both the U.S. State Department and the UAE government about Ross' case, and "we hope the matter will be resolved."
The statement is consistent with previous remarks by NYU about Ross' case. When Ross was denied entry to the UAE in March, the university told The New York Times that "regardless of where NYU or any other university operates, it is the government that controls visa and immigration policy, and not the university."
It is not immediately clear how the UAE would need to respond to convince NYU that denying Ross' visa was "justified by good cause." In any event, the UAE's ban on entry of an NYU faculty member has not prompted the university to reconsider any of its many collaborative efforts with the UAE.
Ross said he believes the school has been reluctant to speak out more forcefully against the ban, so as not to "bite the hand that feeds it." The ruling family of Abu Dhabi -- the wealthiest of the United Arab Emirates -- bankrolled the vast majority of the construction of NYU's new Abu Dhabi campus. The 21-building premises, completed in April 2014, are on Abu Dhabi's Saadiyat Island, not far from a cultural district that will house glimmering new outposts of Western institutions including the Louvre, the Guggenheim Museum and the British Museum.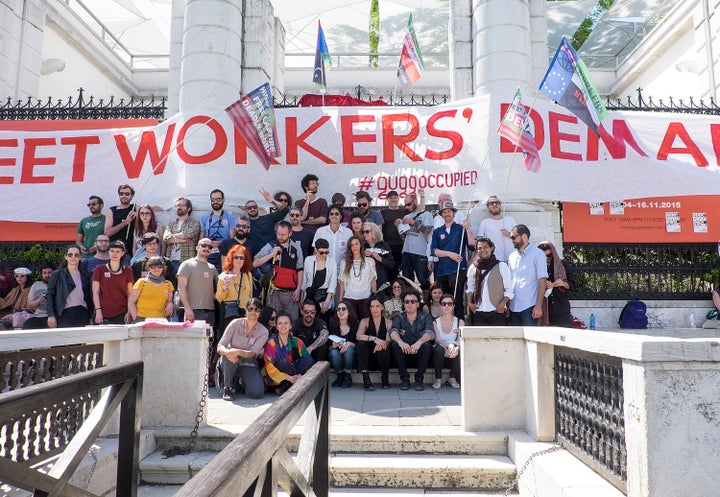 The American Association of University Professors, a national university faculty advocacy group that defends academic freedom and faculty rights, told HuffPost that NYU's administration had yet to respond to a letter the group sent regarding the barring of Ross from entering the UAE. Ross is president of NYU's chapter of the AAUP.
"We are disappointed in that failure to respond and hope it does not signify a lack of effort on their part to protect the academic freedom of a distinguished member of their faculty," Henry Reichman, chair of the AAUP's committee on academic freedom and tenure, said in a statement. "As long as members of the NYU faculty are barred from access to the UAE and to NYU's campus there, a pall of uncertainty will hang over that campus and over NYU's own commitment to defending academic freedom there, as the university has previously pledged."
If the AAUP continues to consider NYU's response to Ross' situation inadequate, it can investigate the university for violations of academic freedom. It sometimes chooses to censure universities it finds guilty of violating academic freedom or respect for faculty rights.
But Reichman insisted the AAUP is not considering an investigation of NYU "at this time."
Beckman said NYU had replied to a March letter from AAUP about Ross. He acknowledged that AAUP had written the university more recently about the matter, but did not agree that the university had not responded. "I believe we recently replied," he said.
More broadly, Beckman argued that the AAUP was not giving NYU credit for efforts it had made on Ross' behalf. Given the independent nature of Ross' research -- he was not traveling to UAE for university-related work, let alone to teach at the Abu Dhabi campus -- Beckman said NYU had gone beyond its obligations to inquire about his status.
"We believe it is worth noting the following: that NYU had nothing to do with Professor Ross' denial of entry, and that we were unaware of his plans to travel; that even though he was not traveling to our campus in Abu Dhabi, we have contacted the State Department and Emirati authorities about this incident; and we are unaware of any other instance when AAUP has sought place blame for a government's denial of a visa on a university that had nothing to do with the decision," Beckman said.
NYU also vehemently defends the academic integrity of its Abu Dhabi campus. Beckman notes that the "agreement that established our campus in Abu Dhabi enshrines the 1940 AAUP definition of academic freedom as one of its core principles.
"That agreement," he added, "has been abided by: faculty at NYU Abu Dhabi are free to pursue their scholarship and teach their students in accord with the principles of academic freedom."
Abu Dhabi Campus Tested NYU "Labor Values"
The construction of NYU Abu Dhabi has itself elicited harsh criticism for abuse of the migrant workers who constructed the campus. The New York Times reported in May 2014 that hundreds of the largely South Asian migrant workers who built the NYU campus were arrested, beaten and deported after going on strike for higher wages and better working conditions. The retaliation against the strike, as well as the squalid living accommodations, rampant wage theft and forced overtime hours, violated NYU's 2009 "statement of labor values" for the construction of the site.
Migrant workers in the extravagantly wealthy Gulf nations are uniquely vulnerable to abuse, human rights advocates say, because of the Gulf countries' "kafala" system of sponsorship, which places the workers at the mercy of the employers who sponsor their visas. Workers in the kafala system frequently pay exorbitant fees just to get their visas, working for months or years on end just to recoup their upfront costs.
In the UAE, if foreign workers -- who make up 95 percent of the country's population -- try to leave their current jobs, employers can have them arrested and jailed for "absconding." Bail is only available to workers who have their passports, which employers often have already confiscated from the workers.
Beckman pointed to a report released in April, which was commissioned by NYU and an Abu Dhabi government agency to investigate claims of abusive labor practices during the construction of the campus. The report, conducted by international investigative firm Nardello and Company, found that one-third of the migrant construction workers employed to build the facilities -- 10,000 people -- were excluded from the university's labor guidelines, covering pay, hours and living conditions. These workers were employed by subcontractors who were exempted from the university's standards.
Notably, the report also found said NYU did not know that a whole class of workers were excluded from the university's protections.
"NYU cannot dictate a nation's labor laws, and striking is illegal in the UAE," Beckman said. "However, we do believe that workers should have a means of having their concerns heard and labor disputes should be resolved in a peaceful manner, and – as we said previously -- the media reports regarding the treatment of strikers were disturbing in this regard."
NYU and the Emirati companies with which it partnered have hired the consulting firm Currie and Brown to identify these workers and provide them with a one-time reimbursement payment to compensate for the disparity between what they were owed and what they received. It estimates that the process will take 18 months.
Ross acknowledged that NYU has pledged help for the wronged workers, but does not believe the efforts to identify and compensate the workers have been adequate. He said he has been using internal channels to lobby the university to do more to help those workers.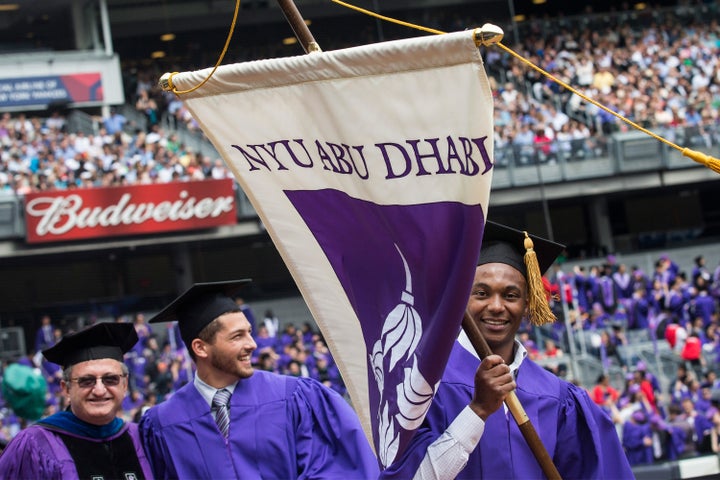 Western Scholars, Gulf State Dollars
Ross said the dilemmas facing NYU over its Abu Dhabi campus reveal the cost of working with "autocratic leaders who want to create room in their societies for a liberal educational and cultural pocket without the freedoms that go along with it."
NYU believes that its presence in Abu Dhabi is mutually beneficial. "We believe the values of the liberal arts and free inquiry are hardy; they have withstood many challenges -- even within our own nation -- and can succeed in other settings, too," Beckman said. "And, finally, we believe our presence in these nations and societies brings more freedom of ideas, not less."
NYU is just one of many American universities poised to grapple with these challenges. Michigan State and Hult International Business School have campuses in Dubai, another one of the UAE's sultanates. Carnegie Mellon, Georgetown, Cornell and Northwestern are among the many American universities with branches in Qatar, a neighboring Gulf state with similar labor and human rights issues.
The wealth of NYU's Abu Dhabi campus has had a pernicious effect on the university's New York City campus, Ross believes. Faculty departments that send professors to teach in Abu Dhabi can reap significant financial rewards for doing so, while departments that refuse to send faculty there stand to lose out. "You have a very uneven map of resources in the New York City campus, which a lot of people feel is unfortunate," Ross said.
Responding to this point, Beckman said that any funding made available to academic departments in New York that send faculty members to the UAE is simply because the Abu Dhabi campus reimburses the departments for the cost of those faculty members' absence.
"It is amazing what money will do," Ross said. "It is not a whole lot different from Saudi Arabia in that regard. Abu Dhabi has the third-largest sovereign wealth fund in the world. With that kind of money you can buy the world's top cultural brands. What they are paying for these brands is nothing to [the UAE] -- so what is a few U.S. congressional representatives?"
Support HuffPost
The Stakes Have Never Been Higher
Popular in the Community