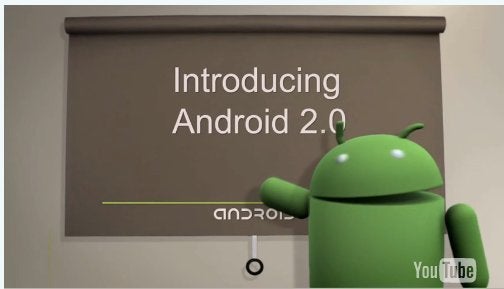 Google has officially unveiled the features of its new, highly-anticipated operating system: Android 2.0 (codename "Eclair").
Check out the video below for details on what to expect in the new platform.
Gizmodo says, "it's the Android we've been waiting for:"
Seriously, there's all kinds of improvements: Searchable SMS, Exchange support, more in-depth camera controls, a better keyboard with full multitouch, a revamped browser with a better UI and HTML5 support, and it goes on.
Here's a quick overview of some of the new features included in Android 2.0, from InformationWeek:
* Support for multiple Google and Exchange accounts
* Third-party "sync adapters" allow apps to tie in to the phone's sync services
* Quick contact menus for fast access to specific key pieces of contact information
* Unified email inbox
* SMS and MMS search
* Text message auto-delete after a user-defined thread size is reached
* Significantly improved camera controls with white balance, macro, effects, and more
* Improved keyboard layout, dictionary, and algorithm based on multi-touch support
* Double-tap zoom in browser, support for HTML5
* Bluetooth 2.1 support with addition of OPP and PBAP profiles
* "Better" graphics hardware acceleration
Follow people's reactions to the Android 2.0 news on the live Twitter feed below. Check out screenshots of Android 2.0 here.
WATCH:
Related
Popular in the Community