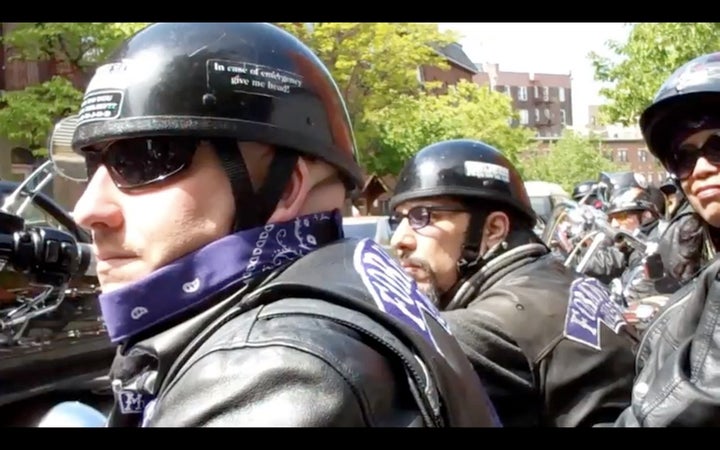 A Brooklyn landlord is being accused of employing the help of a biker gang to terrorize tenants out of their apartments.
The New York Post reports on the "bohemian tenants" of an East Williamsburg building who have hired a lawyer to represent their grievances. Attorney Thomas Hillgardner said, "The landlord has hired thugs to drive the tenants out of the building...It's like the 'Hotel Altamont' over there."
(Altamont, of course, being the 1969 music festival where the headlining Rolling Stones hired the Hell's Angels as security.)
What could landlord Andy Chau's motives be? Hillgardner says Chau hopes to kick out tenants and "have them surrender their statutory rights under the Loft Law," which protects tenants living in illegally converted loft spaces.
Back in January, Chau complained to police over supposed Occupy Wall Street "squatters" who he claimed kicked and pushed him when he tried to kick them out of the building. The alleged abuse led Chau to call NYPD, who subsequently arrested several Occupy Wall Street members.
But tenants who were arrested in January have blasted Chau's allegations and maintain they were illegally arrested. Vlad Teichberg of Global Revolution and a 13 Thames resident of 2 years prior to the eviction, explained the space may have been used for political organizing, but they had been occupying it legally and paying rent as due.
On January 2, police officials stormed into the building allegedly pointing guns into the faces of Teichberg and his pregnant wife, demanding Teichberg and the other Global Revolution workers leave the property.
Chau's attempts to drive out tenants comes after a recent ruling that propped up the Loft Law In that case, a judge ruled Brooklyn artist Maugenest Thursday didn't have to pay 9 years worth of rent because the landlord never properly set her apartment loft to residential standards.
Thursday's court battle marked a win for New York tenants, specifically Brooklynites living in East Williamsburg and known to dwell in such converted spaces.
This post has been updated to include more information on Global Revolution and 13 Thames Street.
Watch bikers of the Forbidden Ones partake in a lovely charity run (scary stuff) below:
Popular in the Community