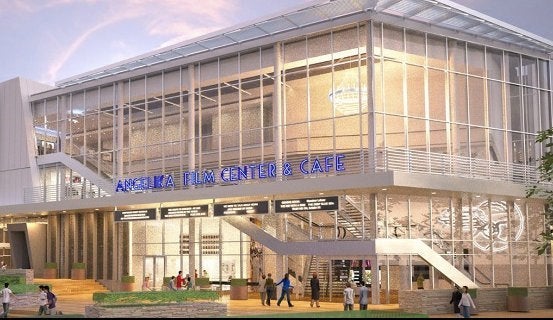 We've got great news for film lovers with cars.
New York City's legendary indie movie theater Angelika Film Center announced Monday that it will be opening its eight-screen art-house cinema in Northern Virginia this fall. For its lounge, cafe and concession stands, the theater -- to be located in the soon-to-open "Mosaic District" in Fairfax County -- will work in partnership with Lee Anne Wong, a finalist on the first season of Bravo's "Top Chef."
The Angelika Film Center & Café, a state-of-the-art boutique cinema, opens early fall 2012 at Mosaic in Fairfax County, Virginia. In the established Angelika tradition, the elegant and stylish eight screen cinema will exhibit the highest quality art, independent and specialty films in a cutting edge theatrical environment.

Each auditorium will feature the latest in digital projection and sound technology, which can be experienced from plush velour, stadium-designed seating. Additionally, guests can enjoy small plates and gourmet hors d'oeuvres in the lively Café and sophisticated Lounge. Creating a completely unique food and film experience, the Angelika has parnetered with Chef Lee Anne Wong to create a menu inspired by her signature modern global fusion cuisine.

The Angelika promises to become one of the most dynamic facilities in the Greater D.C. area and a vital part of the Northern Virginia arts community by playing the best in world cinema, hosting local film festivals, and offering interesting cultural events and programming. Committed to offering exceptional service and a superior movie-going experience, the Angelika looks forward to creating a new trend in cinema style at Mosaic.

While Fairfax might not seem like the most likely of destinations for an indie movie theater, it's possible the developers were put off by the prevalence of alternative movie theaters in DC and Maryland. Landmark has locations on E Street and Bethesda Row, while the Avalon in Friendship Heights and the West End Cinema downtown both offer documentaries, low-budget films, and foreign movies.
Popular in the Community