There's a lot of human error in beer.
Your buddy's home brew is never as good as he says it is. The market is awash with bad beer choices. And for the love of hops, Chad, stop leaving half-empties on the coffee table.
Then there's the problem of delivering your suds from farm to table. It's been a banner year for beer truck rollovers, meaning pallets of your favorite cold ones are kissing the pavement before kissing your lips. Not good.
Luckily, our friendly robot overlords are about to take control of the situation. Anheuser-Busch claims it completed the world's first commercial shipment of beer in a self-driving truck, partnering with Uber's startup Otto to deliver 2,000 cases of Budweiser about 120 miles in Colorado from Fort Collins to Colorado Springs.
"This was not only a historical moment for technology-wise, but also a historical moment business-wise: It was the first ever, as far as I know, paid commercial self-driving delivery," Lior Ron, co-founder of San Franciscso-based Otto, told Forbes.
The truck had a professional driver on board to correct any errors ― though the companies boast that he never had to. But the real win here was navigating Interstate 25 for 120 miles without ruining the precious cargo, like so many human drivers have done.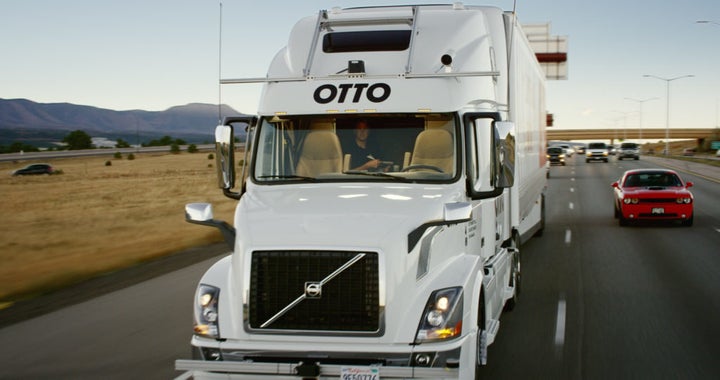 Anheuser-Busch and Otto ― which was bought by ride-hailing giant Uber for a reported $680 million in August ― stated in a press release that they wanted to deploy the technology across the brewer's fleet to reduce human error and give drivers a rest.
And they probably need it. Anheuser-Busch logs 453 million miles annually, Forbes reports, and delivers 1.2 million shipments.