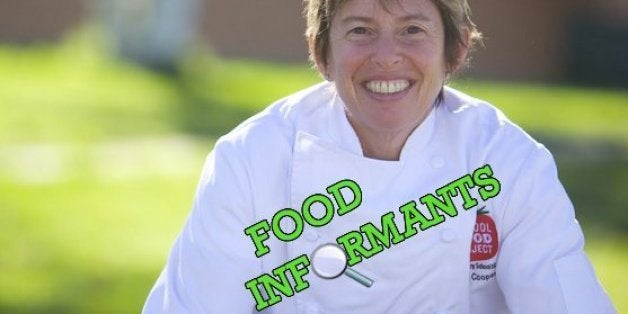 Food Informants is a week-in-the-life series profiling fascinating people in the food world. We hope it will give you a first-hand look at the many different corners of the food industry. Know someone who would make a great Food Informant? Tell us why.
A graduate of the Culinary Institute of America, Hyde Park, New York, Ann Cooper has been a chef for more than 30 years including positions with Holland America Cruises, Radisson Hotels, Telluride Ski Resort as well as serving as Executive Chef at the renowned Putney Inn in Vermont. She has been featured in The New Yorker, The New York Times, The Washington Post, The San Francisco Chronicle, The Chicago Tribune, Newsweek, and Time Magazine and has appeared on NPR's 'Living on Earth,' ABC's Nightline, CNN, PBS' To The Contrary and the CBS Morning Show and many other media outlets. Ann has shared her knowledge and experience by speaking at the Smithsonian Institute, the National Restaurant Association, the Heifer Foundation, Chefs Collaborative, the International Association of Culinary Professionals and numerous conferences. She has been honored by SLOW Food USA, selected as a Kellogg Food and Society Policy Fellow, and awarded an honorary doctorate from SUNY Cobleskill for her work on sustainable agriculture.
Chef Ann is happily working overtime as a chef, nutrition services director, consultant, author, public speaker and advocate because she sees a need for change and has the gifts to help. She envisions a time soon when being a chef working to feed children fresh, delicious, and nourishing food will no longer be considered "renegade."
Read about the amazing array of activities Ann has on her plate for a given week -- from dealing with dirty towels to making media appearances.
4:00am: Oolong tea & getting ready to go to Minneapolis for a meeting with the Nerdery staff about the new Lunchbox website. I dry my Scarlet Runner beans that I picked from the garden yesterday. It's raining again -- I'm hoping we get enough warmth & sunshine before the frost so that the rest of the garden veggies can ripen before they get frozen.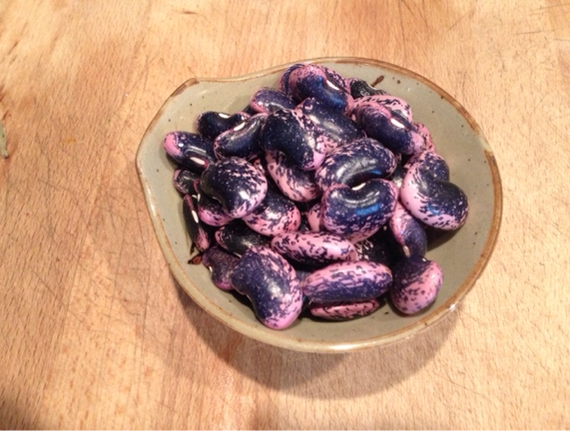 6:00am: Frontier Airlines takes my homemade granola & yogurt breakfast away. Pretty sure its not going to explode & now I'm starving.

10:00am: Meeting starting with the Nerdery to build our Foundation's new website. The Lunch Box is getting a total makeover. The day is spent sitting in a meeting ALL DAY. White boards, sticky notes, yucky food. I start to lose my mind!!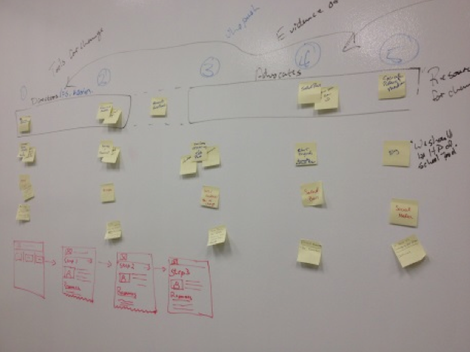 4:30pm: Back to the airport. The taxi driver leaves us at the wrong terminal & we have to walk & walk & walk, but finally find our way to the wine bar.

6:00pm: Working on the new logo for the Chef Ann Foundation.

9:00pm: Finally home & drop into bed.
8:30am: Meeting of Making Local Food Work Committee. Kitchen tour of Boulder Valley School District's production kitchen at Casey Middle School, the District's only Platinum LEED Certified building. The committee members see chicken being cooked, all natural -- hormone & antibiotic free as well as potatoes being cooked for fresh mashed potatoes and salad bar production. We have salad bars in every school!

10:00am: Working on a blog post for US News & World Report, a seminar description for a conference in Calif. in October and paperwork for a Whole Foods Market event in November.
1:00pm: Meeting on new computer system, food quality meeting with sous chefs, HR meeting.
7:30pm: Dinner at the Black Cat a restaurant owned by my friend, Chef Eric Skokan. It is truly farm to table. He has his own farm that "feeds" the restaurant with fresh produce, chickens, eggs, pork and lamb. However, his farm like many others in Boulder has been severely impacted by the floods.

Wednesday, September 25
4:00am: Returning emails, working on some technical assistance for an East Coast school district as well as reading a business plan for a healthy meals website.
5:15am: Off to Spin class. Love the Colorado Athletic Club -– keeps me sane!
7:30am: Great news on a school food assessment in CA. Working with my team on some computer issues and finally digging out of the issues surrounding the flood. We still have 1 school closed, Crestview, which will re-open on the 30th, although without a kitchen, which will take over two months to rebuild.
11:30am: Headed to a food tasting at one of our schools. We do tastings to help us market new menu items and gauge student interested in potential menu items. Today: Raviolis.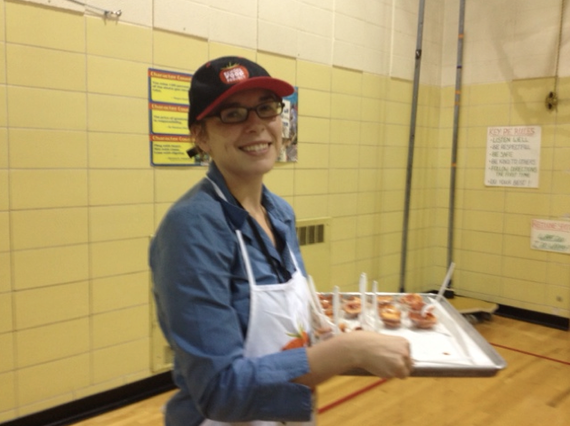 1:30pm: Another meeting –- working on our plan for the new website.

2:30pm: District Manager meeting. Agenda: dirty side towels, software system, eggs, uniforms, extra deliveries & wearing capris to work in the kitchen -– really?? We still have a school that's closed because of the floods and we discussed reopening on Monday.

4:00pm: Conference call on moving the code of the Salad Bar website to new developers -– new SB website needs to be up and running by the end of the calendar year. This program has donated over $6 million in salad bars -– over 2700 bars to schools across the country & we're donating more in the coming months.
5:00pm: Home for a bit –- checking on my garden!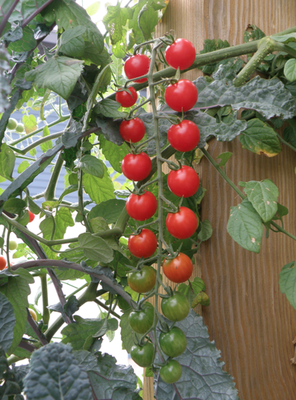 4:30am: Reading through the interview questions for Friday filming in Los Angeles.
7:30am: Meeting about working on getting one of our school's that's been flooded out reopened.
9:30am: Meeting with third and fourth grade classes at Whittier ES to discuss healthy food. What are their favorite items on the salad bars? What fruit or vegetables would they like to see added? Then we discussed their favorite entrees. Burritos, quesadillas, lasagna, burgers, pizza, nachos and potstickers. We discussed healthy food and that none of the food that they eat in our school district contains high fructose corn syrup, chemicals or dyes and that all of our ground meat and burgers in hormone and antibiotic free as well as local. We went on to discuss why that's important and that all of our roast chicken is also local and hormone and antibiotic free. Before the questions finished we had a fire drill -– welcome to the world of school food.
11:00am: At another school for a Rainbow Day. We do 2-3 events per day at schools in our district, they include Rainbow Days, Tastings, Chef Demos and Iron Chef competitions. During a Rainbow Day, we encourage every student, whether they brought or bought their lunch to choose 6 colors from the Salad Bar and when they eat their "rainbow" we give them a sticker.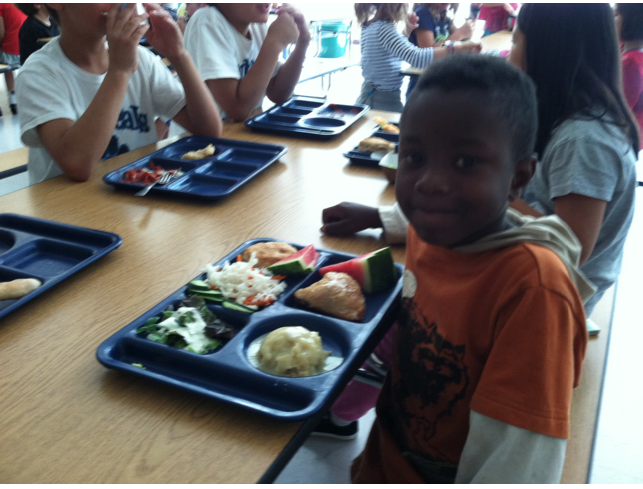 1:00pm: Headed back to the airport. On my way to LA, phone calls in the car working on dirty towels in kitchens, hotdogs that aren't gluten free and should be and our new software system and some "bugs" we're having.
4:00pm: On the plane, working on an assessment contract.
6:45pm: Dinner with Liz McMullen, Executive Director of the Jamie Oliver Foundation in the U.S. We had a nice dinner at Taberna. Chorizo with chick peas, stuffed peppers, sardines, croquettes and more.

9:30pm: Took a brief walk by the beach and fell into bed.
7:00am: Ended up walking from Santa Monica to Venice and back by way of the beach –- stopped for coffee and watched the surfing for a bit, bemoaning the fact that they were in the water and I was not!
1:30pm: On my way to Kids in the House. Over 2 hours of filming -– talking about why we need healthy food in schools. Felt like my TED Talks on steroids!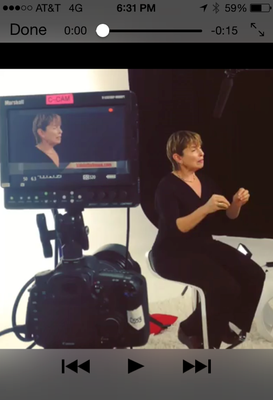 5:00pm: Back in a car on my way to the airport.
Saturday, September 28

9:00am: Headed to the farmers' market for a photo shoot and some shopping. eally nice to talk to the farmers and take pics for the Foundation as well as trying to find a way to help farmer's devastated by the floods.

2:00pm: Need to get some work done on my garden. Still lots growing –- but time to begin the final harvest before the first frost.

My business partner Beth comes to stay the night and we decide to have an impromptu belated birthday for a friend! Leeks, chiles, broccoli rabe, carrots and radishes from the garden. Corn, eggplant, tomatoes and greens from the farmers' market. We grilled the leeks, eggplant, chiles and local lamb.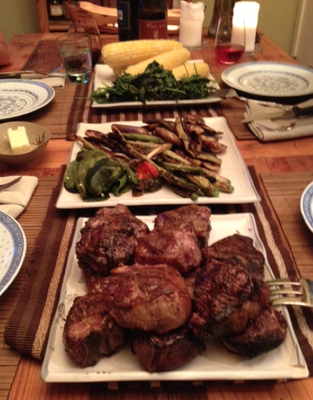 See more Food Informants below: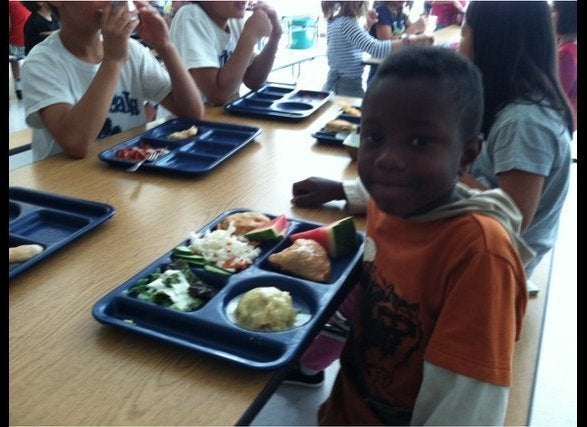 Food Informants
Related