But Act for America's profoundly anti-Muslim message ultimately received strong condemnations from a wide spectrum of American religious and civil rights groups. The "March Against Sharia" also inspired countless acts of love, community service, and interfaith solidarity across the nation.
Before the "March Against Sharia" even began, a coalition of 129 national and local groups sent letters to 29 mayors condemning the marches and calling on the politicians to firmly reject "forces of hate and bigotry." The list of signers featured prominent Jewish, Sikh, Muslim, Protestant, Catholic, and interfaith organizations.
And on Saturday, many interfaith counter-protests actually outnumbered the anti-Muslim groups. In Minnesota, counter-protestors dwarfed anti-Muslim activists three to one. In Seattle, the anti-Sharia group was reportedly 10 times smaller than the number of activists who came out to support American Muslims.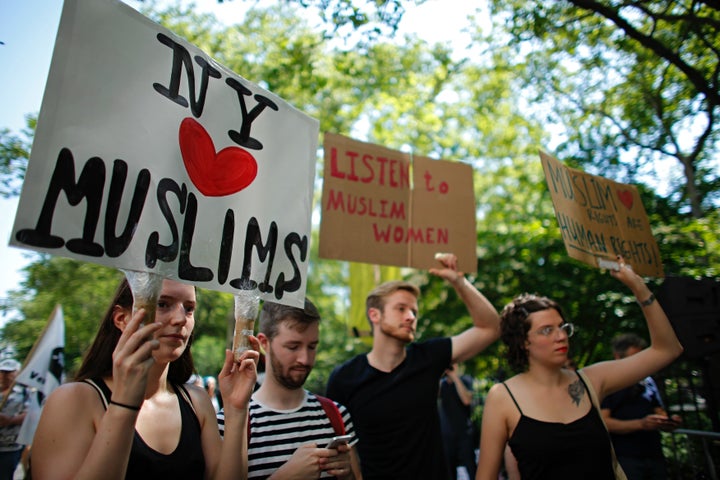 What The Anti-Sharia Movement Gets Wrong
Act for America claimed to be defending human rights and standing up for its "moderate Muslim allies." But in fact, the group's egregious misinterpretation of Sharia actually spreads harmful stereotypes about American Muslims.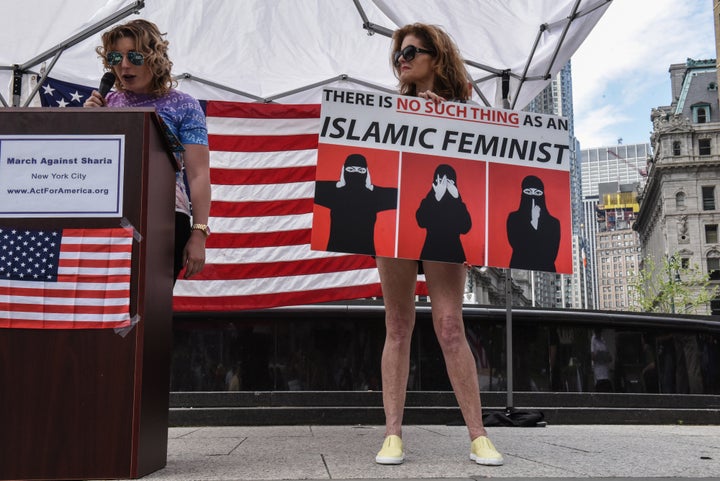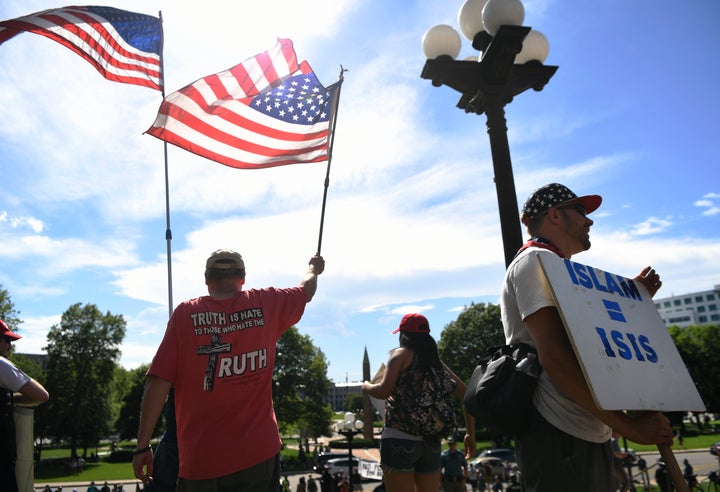 Catherine Orsborn is campaign director for Shoulder to Shoulder, a coalition of over 20 religious groups dedicated to tackling Islamophobia. For her, it's clear that the anti-Sharia movement needs to be called out for its bigotry. But what's more important is that the interfaith community is coming together yet again to denounce such rhetoric.
"While it is critical to name ACT for what it is- an anti-Muslim organization targeting and creating fear about the American Muslim community with these rallies- we are not responding on their terms," Orsborn told HuffPost. "We are doing what we do on a regular basis, which is to gather in relationship and solidarity with one another, to get to know one another directly, rather than through fear-mongering narratives or hateful tropes."
A National Movement To Counteract Hate
Around the country, the response to the "March Against Sharia" was largely organized by local Muslim organizations and interfaith leaders. Many tweeted out photos of their activism under the hashtag #CounterACTHate.
In Seattle, hundreds of counter-protestors marched to City Hall banging drums and holdings signs. According to the Associated Press, they shouted, "No hate, no fear, Muslims are welcome here."
Terry Kyllo, director of the Christian ministry Neighbors in Faith, told HuffPost he estimated that 500 people showed up to the counter-demonstration, while about 50 came to the anti-Muslim event.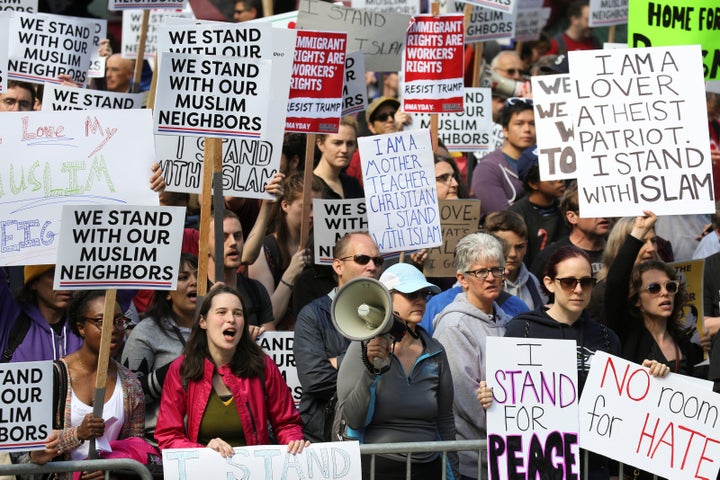 "When I was asked why I was there, I said that Jesus calls us to love God more than our tribe or tradition, and to love our neighbors as we love ourselves," Kyllo told HuffPost Saturday evening. "I want my Muslim sisters and brothers to know that they have so many allies and friends. That while some of these well-funded fear groups are at work, there are more of us reaching out in neighborly love to them and to other minorities in this country."
"Jesus calls us to love God more than our tribe or tradition, and to love our neighbors as we love ourselves."
New Yorkers joined for a counter-demonstration earlier in the day, a few blocks away from a "March for Sharia" rally near City Hall.
The 100 anti-Muslim protestors who showed up at New York City's Foley Square to protest Sharia law were ultimately outnumbered by the several hundred who came to counter-protest, according to The New York Daily News. The counter-protestors banged pots and pans and blew air-horns to drown out the anti-Muslim rally.
The fact that the "March Against Sharia" coincided with Ramadan meant that in many places interfaith activists were able to join Muslims for iftar, an evening meal that breaks the daily fast.
Activists held an interfaith iftar in Brooklyn Heights, New York, joining American Muslims for a evening meal to break the daily fast. Far away from the "March Against Sharia," attendees listened to representatives from Sikh, Christian, Buddhist, and other religious traditions.
Dr. Henry Goldschmidt, director of programs at the Interfaith Center of New York, which helped organize the iftar, told HuffPost that Act for America's "hate-filled rally" catalyzed their efforts to organize the iftar, but that the event "quickly grew beyond that."
"It was a lovely evening ― perfect summer weather and a great night to be out in a tree-lined park together, breaking bread in friendship and solidarity," Goldschmidt told HuffPost. "It was just a nice night to be together ― that's how we roll in NYC."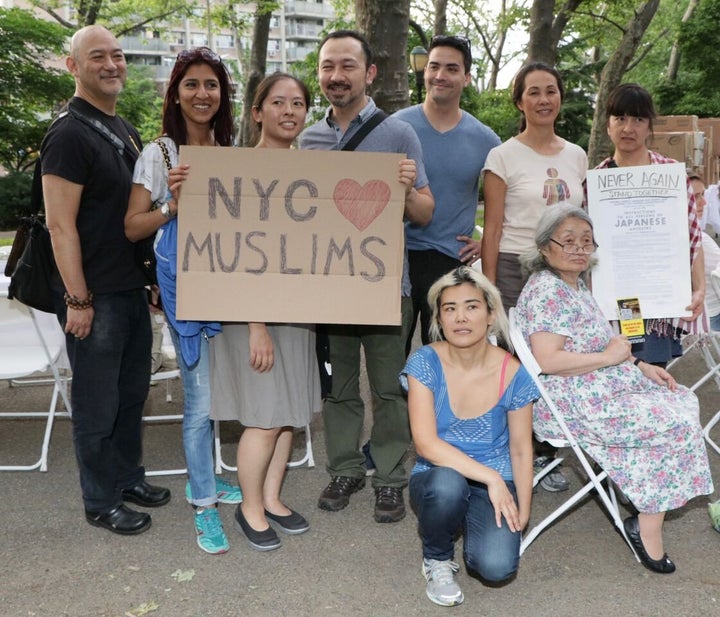 Years later, Arizona's interfaith network moved quickly to response to the anti-Sharia rallies. On Saturday, solidarity iftars were held in Tempe, and Scottsdale, Arizona. The meals were attended by Muslims, Protestants, Catholics, Mormons, Buddhists, Jews, and those claiming no faith tradition at all, according to the Arizona Faith Network.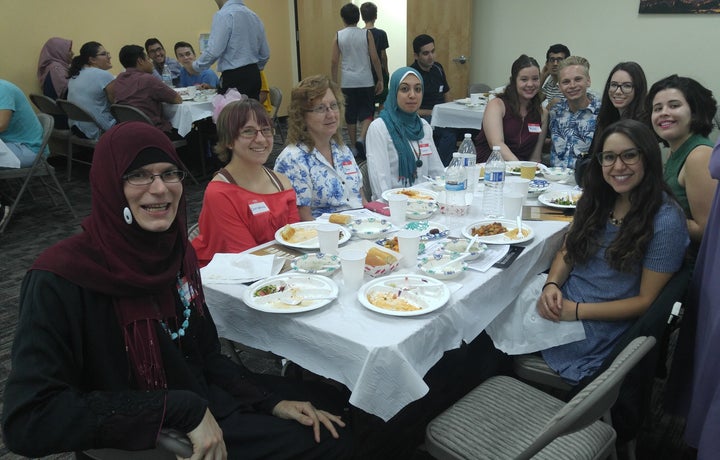 "Which one of us doesn't need to eat, need to drink? We realize through breaking bread, that we all have the same basic needs. It makes it a lot easier to see the humanity in one another, no matter how different we perceive them to be. And then the conversations begin to fill in the rest," Rev. Erin Tamayo, Executive Director of the Arizona Faith Network, said in a statement.
In Chicago, about 30 people came to the anti-Sharia rally outside a Trump building, while twice as may counter-protestors gathered across the street.
Some local families used the day to participate in service projects.
Later in the evening, interfaith activists joined Muslims at a local cultural center to sit down for an iftar. The dinner had to move outdoors in order to accommodate the number of guests who planned to attend.
"It was a huge success and an important moment of how Minnesotans show up and support each other in hard times," Eden Yosief, a researcher who currently works for SEIU Local 26, told HuffPost.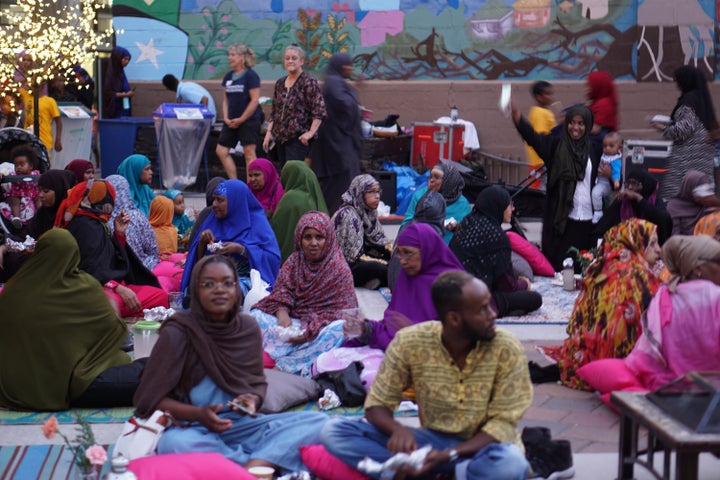 A Unity Rally in San Jose, California, drew hundreds of people, according to Zahra Billoo, executive director of CAIR San Francisco Bay Area.
Billoo told HuffPost that they didn't organize the rally to send a message to Act for America. Instead, their intention was to "ensure that local Muslims knew they have friends and supporters despite the hate rhetoric we are hearing and to send a message to the broader region that hate is not welcome here."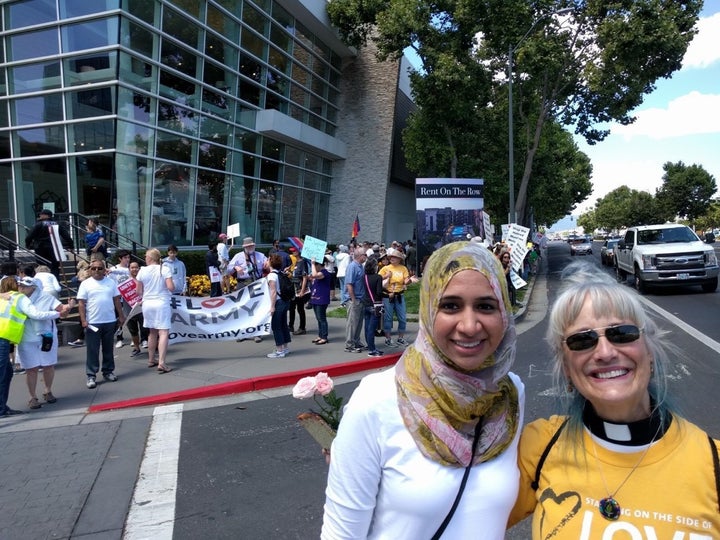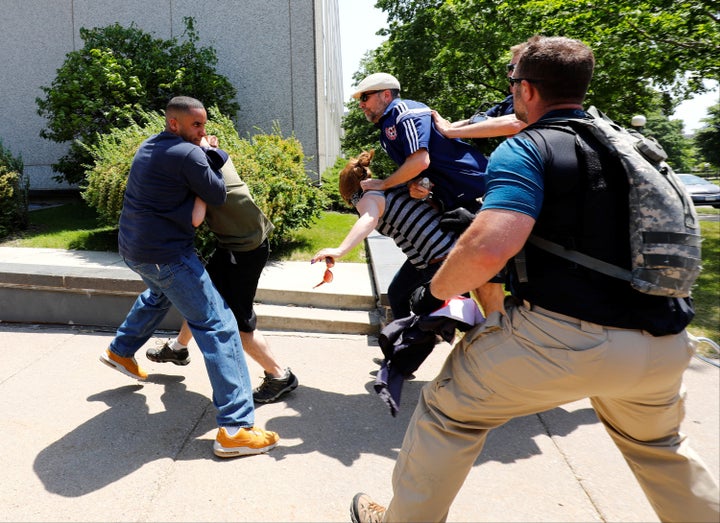 "I was hoping for this whole entire thing to be peaceful," Jaylani Hussein, executive director for Minnesota's chapter of the Council on American-Islamic Relations, told The Star Tribune. "We got a lot of people who were extremely angry; we got a crowd that was extremely tired from the heat."
Focusing On The Good Against A Backdrop Of Hate
The nationwide "March Against Sharia" took place against a backdrop of increased anti-Muslim rhetoric and discrimination. According to a report by the Council on American-Islamic Relations (CAIR), America's largest Muslim advocacy group, anti-Muslim incidents rose by 57 percent last year.
In Atlanta, Muslim organizers deliberately reached out to allies, asking them not to counter-protest.
Ruwa Romman, communications director at CAIR Georgia, explained: "We realized that a bunch of people shouting at each other made no sense. Our commitment is to the betterment of our community through service, dialogue, and advocacy."
As an alternative, organizers held an interfaith rally at a nearby mosque. They held a food drive as well, collecting over 500 pounds of nonperishable food for the Atlanta Community Food Bank.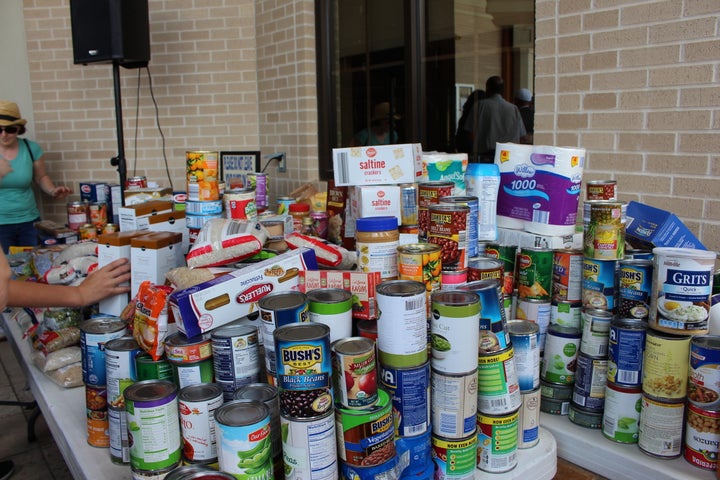 Romman said that over 80 people attended the event.
"We sincerely hope that ACT for America and its supporters understand that Sharia Law is like the Jewish Halacha Law. It is a set of guidelines. There's no one book or constitution of Sharia. It's as diverse as the schools of thought in Islam," she wrote in an email. "There are some things that Muslims do have agreement on. They include, giving charity, praying, respecting the law of the land, equal rights for women, prohibition of FGM, being good to others, etc. While they may point to Saudi Arabia and Iran which have politicized the faith, Muslims living in America love the constitution because it protects everyone."
Before You Go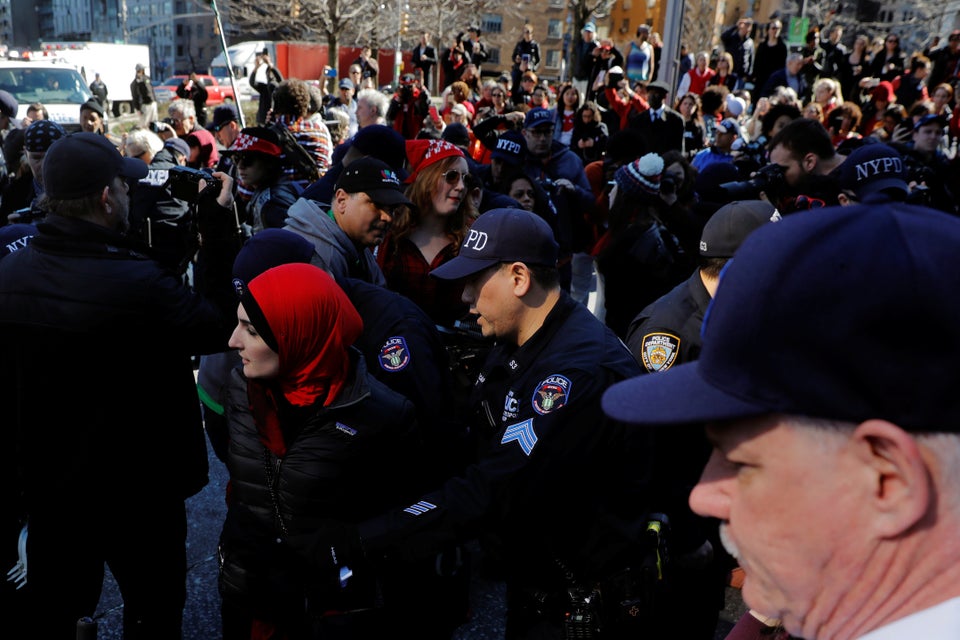 Muslim Women Protesting Around The World
Popular in the Community