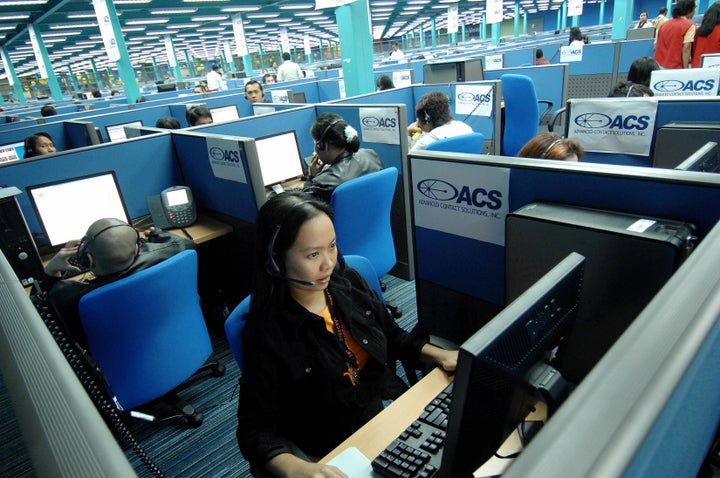 WASHINGTON -- A bill that would punish American companies for sending their customer call centers overseas has caused an uproar in India and the Philippines, where politicians and corporations fear lost business due to the U.S. bill's protectionist measures.
The legislation, pushed by Rep. Tim Bishop (D-N.Y.) and the Communications Workers of America (CWA) union, would make companies that outsource their call center work ineligible for guaranteed federal loans and grants for a period of five years. The bill, entitled "U.S. Call Center Worker and Consumer Protection Act," would also require those companies to report themselves in advance to the Labor Department, which would maintain a public list of the companies who outsource.
Home to the largest call center industries in the world, India and the Philippines would stand to lose the most if such a law succeeded in deterring American corporations from taking their customer operations out of the U.S. in order to save on labor costs.
Last week, a Filipino parliamentarian publicly urged President Benigno Aquino III to dispatch "a strong lobby team" in Washington to stop the bill in its tracks, warning that it would "kill" the industry in the Philippines. Similarly, India's ambassador to the United States has suggested that country also plans to lobby hard on the bill.
When asked about such reactions, Bishop said that the fears in India and the Philippines reinforce the argument for the legislation.
"Frankly, the fact that both the Indian government and the Filipino government are reacting like this says that our bill is very badly needed," he said. Most of the call center jobs lost in the U.S. are "sent primarily to India and the Philippines. So I hope [the bill] does have an impact."
According to CWA statistics, American call centers account for about three percent of the country's jobs, although about half a million such jobs have been lost over the last four years due to offshoring. In a statement released Monday, the CWA called the legislation "an actual, honest-to-God, bi-partisan bill focused on U.S. jobs," as well as "a measured step towards helping foster job growth in the U.S." The CWA represents 700,000 workers in the U.S., roughly 150,000 of them call center employees.
In addition to making them ineligible for federal loans, the call center bill would place stiff mandates on companies that chose to outsource their call centers. Customer service reps working in those companies' call centers overseas would be required to disclose their locations when asked by American callers, as well as provide callers with the option of being transferred to a call center in the U.S. -- stipulations likely aimed at pleasing constituents who are tired of dealing with customer service reps based in other countries.
While discussing the call center legislation last month, Bishop said that "outsourcing is one of the scourges of our economy and one of the reasons we are struggling to knock down the unemployment rate and reduce the number of Americans who are out of work ... We can't prohibit it, but we can certainly discourage it."
So far, Bishop has found a pair of Republican co-sponsors for the legislation in Reps. Dave McKinley (R-W.Va.) and Michael Grimm (R-N.Y.). In a statement, Grimm said, "This bill ensures that companies receiving taxpayer-funded federal aid or tax incentives don't use those incentives to move their call centers abroad." Even so, the bill will probably be a long shot for passage in the GOP-controlled House, where many Republicans who support free markets and free trade would bristle at its protectionist flavor.
To help push the legislation, the CWA released a report last month documenting higher instances of fraud and security breaches at foreign call centers, as well as instances of "sub-outsourcing," in which contractors in India outsource to even cheaper labor markets in other countries.
Popular in the Community