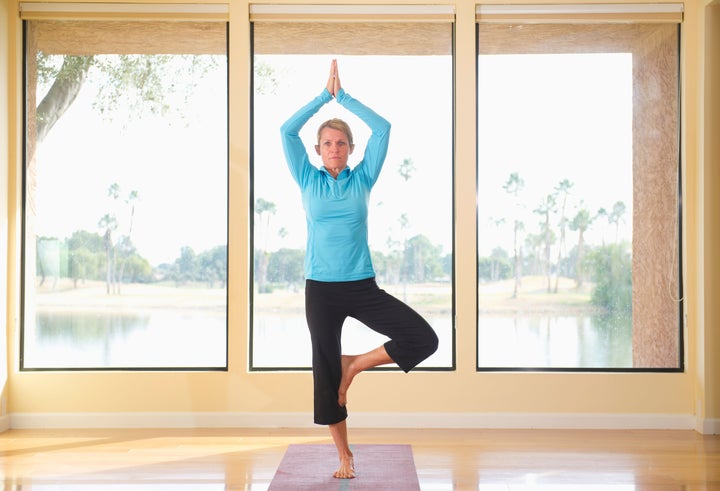 Yoga and "scandal" seem to walk hand-in-hand these days. It's a "union of opposites" that's growing more comfortable with time.
First, there was the controversy three months ago over the posh yoga apparel company, Lululemon. That seemed to lay bare the rapacious greed of its founder Chip Wilson, the boorish ex-snowboarder who's made a mint convincing affluent white suburban women that if they just wear his pricey workout clothes, they'd soon be in Nirvana. Some American yogis, it seemed, were content to serve as marketing props -- if not flat-out apologists -- for a firm whose bizarre organizational culture and lack of basic business ethics had possibly engendered everything from sweat-shops to murder.
And Wilson seemed to have found the perfect way into the yoga consumer market. His employees, many of them fitness junkies, owned 20% of the firm's lucrative stock, giving them a strong incentive to sell, and neighborhood yoga start-ups could piggy-back on the store's customer base to obtain a ready-made clientele for their studios. And with his store customers also getting a discount to attend those yoga classes, the circle of complicity was complete.
Of course, despite its obvious success, many in the yoga world have never really taken Lululemon seriously. Wilson largely admits that he knows next to nothing about real yoga, often comparing its meditative bliss to an endorphin high. And many of his customers and staff, while trained to extol yoga's virtues, don't actually practice it all that much. Lulu's strategy is known in the trade as "conceptual" or "lifestyle" marketing. Consumers purchase a product and get to soak up the positive vibes and aura associated it but they don't actually have to get off their sofa or stop eating bon-bons. The association works, of course, as long as the lifestyle activity retains its clean and popular image.
And it's here that the yoga industry -- and the grassroots movement associated with it -- may soon be facing a backlash of sorts. That's because a new book, The Science of Yoga, by New York Times science reporter William Broad, is about to hit the sales counters. The book calls into question whether yoga is actually the karma-free, healing balm its proponents claim. An excerpt, "How Yoga Can Wreck Your Body," has already appeared in the pages of the Sunday New York Times Magazine -- and the news is disconcerting. The excerpt sent shock waves through the yoga world, leading many long-time yogis to wonder whether their $6 billion industry could suffer a collapse worse than the US stock market crash of 2008, and if so, whether it's time to cash out.
Broad, who's actually reviewed what little scientific and medical evidence is available on the subject, suggests that yoga can often be beneficial for consumers, validating, in part, the thousands of yoga "infomercials" currently floating around the Internet, extolling the virtues of this or that yoga pose. But most of his article, and a good part of his book, details the many ways that yoga, especially the more "powered up" and calisthenic varieties so popular today, isn't good for consumers, and can seriously hurt students and teachers alike, in fact, without them even knowing it.
Broad's not just talking about slight sprains or muscle pulls or minor ligament damage, though these injuries are far more common than people realize. He's referring to permanent and debilitating injuries, including strokes, and chronic hip, knee and spinal cord damage, injuries that can cripple yoga practitioners for life and that may not show up in their body for years, when it's too late to take remedial action.
Many leading yogis have already developed their talking points to defuse any potential fall-out or controversy from Broad's book. Their basic argument: It's not yoga's fault if students get hurt, it's the fault of the students themselves. They're too aggressive and demanding and often push their yoga poses too far, too fast. What's a dedicated yoga teacher to do? Well, Broad, suggests, it's not just students; some of the ones doing the pushing are the teachers. They're young, and poorly-trained -- especially in the intricacies of anatomy -- and they don't know how to tend to their flock, which usually isn't as bendy or body-worshiping, as they are. And many of the more advanced poses -- including headstands and handstands -- aren't really that therapeutic anyway, no matter what your age, Broad argues. If you know your yoga history, these poses aren't even deeply rooted in the yogic tradition. They emerged at the turn of the century when countries like India were developing "fitness" cultures as an emblem of national pride. In short, much of what passes for yoga these days isn't really yoga.
But it's not just Broad's book that's likely to give the yoga industry -- and yoga teachers -- a huge black eye. In the past week, much of the yoga world has been engulfed in turmoil over revelations that John Friend, founder of the yoga brand known as "Anusara," may not be the saintly guru that his publicists have promoted so successfully over the years. It turns out, that he's allegedly a shameless adulterer, sex fiend, marijuana dealer, and small-time corporate thug who probably broke the law by freezing his company's pension fund, in the process betraying the trust and marriages of dozens -- and possibly hundreds -- of his loyal followers.
Rumors about Friend have been circulating for months, as first one, then another, then still another of his long-time female "disciples" -- and business partners -- publicly separated herself from him, citing "professional differences." But the reasons for the splits were left vague, until the online magazine Yoga Dork published an anonymous but highly detailed memorandum in which Friend's wide-ranging transgressions were spelled out in gory detail, with emails and letters describing his fondness for yoga witchcraft, marijuana peddling, and ritualistic sex with just about anyone who might find the pudgy 52-year-old an appealing bed mate -- including, it appears, hundreds of his "followers," as well as dozens of trusted associates over a period of many years.
The memo also recounted details of Friend's attempt to, in effect, steal his yoga company's pension fund, until the Department of Labor was tipped off and threatened to prosecute him, forcing him to release control.
Predictably, the initial reaction from the Anusara world was akin to devout Catholics facing revelations of transgressions by their priests: shock, fear, denial and anger -- not at Friend, but at his accusers, suggesting that they were out to destroy such a beautiful man -- and their beloved yoga "brand" -- out of sheer jealousy, and that the online magazine should be ashamed for publishing what amounted to anonymous and unsubstantiated "gossip and rumor."
A number of Anusara "communities," most notably, the Willow Street Yoga Center in Takoma Park, MD, began desperately circling the wagons, calling on Anusara yogis everywhere to "affirm" Friend and his "pioneering" yoga "system." Naomi Gottlieb-Miller, one of the many spunky and sloganeering Sarah Palin-types to emerge from the ranks of Anusara's "teacher training" programs in recent years, went so far as to compare Friend's critics - many of them veteran yogis twice her age -- to high school "Mean Girls," suggesting that they lacked compassion and should hold their tongues.
But, of course, where there's this much smoke -- and this many names, dates, and salacious details -- there's usually a bonfire raging nearby. How much more about Friend's activities is likely to emerge and the days and weeks ahead is still unclear. However, Friend, sensing that his Wall of Denial -- and Loyal Deniers -- won't hold up, quickly moved to head off the gathering lynch mob by issuing a terse but glib "confession" -- the classic, "controlled disclosure" -- to a long-time yoga associate at Elephant Journal. But in response, a group of Friend's long-time admirers, including Willow Street Yoga founder Suzie Hurley, have decided to stage what amounts to a semi-public "intervention," desperate to salvage not only the man and his reputation, but also the future of Anusara yoga, once described as the "fastest growing yoga brand in America."
Friend, it appears, has agreed to step down, in what amounts to a "preemptive coup," and for the time being, an informal "committee" -- none dare call it a "junta" -- will rule the Anusara organization in his place, until the entire mess that Friend's created can be sorted out, and the company overhauled and its leadership formally restructured.
For many in the yoga world, this latest turn of events is as bewildering as it is disheartening. But the fact is, guru charlatans with bizarre power agendas have ruled the yoga world for generations. Some of the best-known modern yogis, everyone from Sri Ramakrishna to Swami Vivekenanda, the man who first introduced yoga to the West, were known to have a fondness for young boys or to be serial adulterers, according to published accounts. Amrit Desai, the head of the highly respected Kriplalu Yoga Center, who extolled the virtues of traditional marriage, resigned in 1994, after his extra-marital sexual escapades came to light.
And Friend's attempt to build what amounts to an American yoga "cult" has numerous precedents, too, most recently in the case of Dahn Yoga, a South Korea-based organization that bilked thousands of gullible American college students and their families out of their personal fortunes, and whose founder, Ilchee Lee, has fled the country after being charged with raping one of his students. Several lawsuits against Dahn, first filed in 2006, are still pending, but the group -- through an intensive damage-control effort similar to the one underway now at Anusara -- has managed to keep most of its studio doors open.
Again, is any of this really all that surprising? Generations ago, some of India's oldest and wisest sages warned of the consequences of trying to transplant sacred Hindu spiritual practices to American soil. They weren't worried that Americans would reject these practices, but that they would embrace them too wholeheartedly. Yoga and meditation would become engulfed by American materialism, they feared, and its practitioners, ruled by status competition and consumed with an endless quest for personal "fulfillment" through glamor beauty, and sex would no longer be avatars of enlightenment but agents of psychic domination. Little did they know how quickly that painful karmic cycle could begin or how often it might repeat itself.
As the increasingly ugly Anusara scandal unfolds, yoga and yogis in America seem to be approaching yet another defining moment. Do the movement's most sincere and thoughtful leaders have the strength -- and above all, the humility -- to push their industry to reform its ways? To abandon their long-standing opposition to professionalizing their teacher corps, perhaps, and to set up more modern and democratic, and less charismatic, guru-based governing structures?
Time, it seems, may be running out. Market research data suggest that despite an increase in gross revenues, the number of people interested in trying yoga is rapidly shrinking. In fact, slightly fewer are practicing yoga now (about 14 million) than they were in 2005 (about 16 million), before the latest scandals and turmoil began. Apparently, many American consumers have already "caught on" to yoga with some homespun wisdom of their own. Which means that if the industry hopes to survive, it may want to try to recapture -- and re-inspire -- them -- with something more than Manduka's "John Friend-inspired" yoga mats, that is -- before they're gone for good.
Related
Popular in the Community