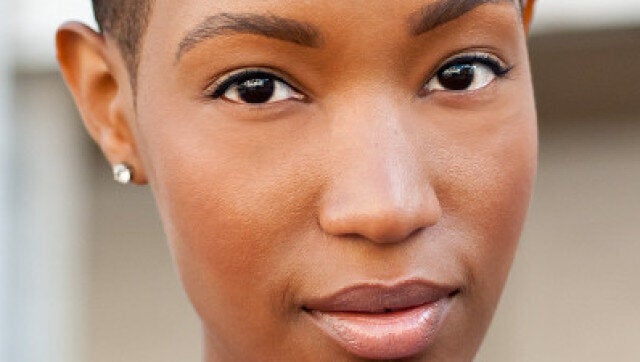 Written by Kirsten Hudson
You may want to start stashing apple cider vinegar in the medicine cabinet as well as the kitchen cupboard. This staple ingredient can do more than dress salads and make pickles -- it's also a fabulous all-in-one beauty product for all of you natural beauties on a budget.
When used in your beauty regimen, apple cider vinegar can help you get pretty from head to toe. And it's darn cheap. Often, harsh soaps and shampoos strip hair and skin of its natural oils, leaving you feeling dry all over. The acidity of apple cider vinegar counteracts that process and actually balances your skin and hair's natural pH levels.
Be sure to get the good stuff. Choose an organic brand of raw apple cider vinegar for the most beauty benefits. Here's how to use apple cider vinegar to get your hair and skin lookin' good.
Apple cider vinegar removes clumpy residue and gunk in hair from product buildup. It also works as a natural detangler. When used regularly in your natural hair care routine, apple cider vinegar can revitalize your hair, leaving it soft and smooth. The vinegar also works by closing the cuticle of the hair, which makes light reflect off of it. In other words, it makes your hair super shiny!
Apple Cider Vinegar Hair Rinse1 part apple cider vinegar1 part water
To revive your hair to its days of smoothness, mix the apple cider vinegar and water together. After shampooing, pour the mixture into your hair. If you have a spray bottle, that works even better. That way you can spritz your hair with the mixture and massage it into your scalp. Let the apple cider vinegar concoction sit for a few minutes before rinsing fully with water. No need to use conditioner! The apple cider vinegar will leave hair feeling smooth and soft.
This simple vinegar can help improve your overall complexion. Because skin is naturally acidic, apple cider vinegar can help restore your skin's natural pH balance. When your pH levels are in balance your skin sits at that optimum level between oily and dry. Apple cider vinegar can also help reduce red marks and blemishes, and soften skin. For all-over softness, add a few tablespoons of apple cider vinegar to your next bath.
Apple Cider Vinegar Facial Toner1 part apple cider vinegar2 parts water
A good toner can moisturize, refresh and purify skin. And, you don't need to purchase a fancy product to do it. One part apple cider vinegar mixed with two parts water creates a refreshing toner that leaves skin glowing. When lightly sprayed or dabbed on the face, the acidity of the vinegar will create a light layer on the skin, locking in moisture. It works best when used just after cleansing. Don't worry, the vinegar smell will dissipate after a few minutes. If you have sensitive skin, you may want to dilute the solution further.
You can also infuse your apple cider vinegar hair rinse or facial toner with fresh herbs for added nutrients and a pleasant scent. Simply chop up a handful of your favorite herbs. Then, bring water to a boil and add your herbs. Reduce the heat to low and simmer for 30 minutes. Finally, strain the mixture through a mesh sieve. Once your infusion cools, use it to replace the water in one of the above recipes.
For more by Organic Authority.com, click here.
Related