Yemen has mounted a tight security plan for the holy Moslem month of Ramadan starting this week in a bid to thwart any new terrorist attacks, the Yemen Times reported.
It said the Interior Ministry had announced the protection of houses of worship, markets and main streets, but didn't say how foreign facilities would be safeguarded, notably since terrorists have had the U.S. embassy and other locales in their sights for years.
"Terrorist groups have the tendency to threaten and carry out attacks during Ramadan against western interests and organizations as well as against Arab embassies like Saudi Arabia and the United Arab Emirates," the paper said.
It's not a pleasant prospect for a country long known as "Al Yaman Al Saeed" (Arabia Felix, or Happy Arabia).
A cartoon in the Saudi-owned, pan-Arab daily Al Hayat depicts the words Al Yaman Al Saeed falling off a cliff, in reference to mounting terrorism attributed to a resurgent Al Qaeda, a separatist movement in the south, and a rebel movement in the northern Sa'ada Province led by the Houthis, a disenchanted group of the minority Zaidi denomination -- an offshoot of Shiite Islam.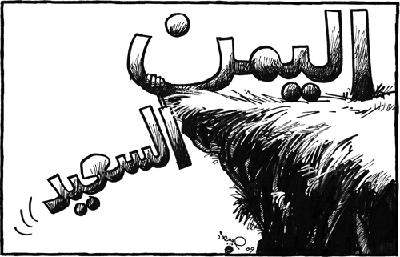 Yemen's majority is Sunni Muslim, but its president, Ali Abdallah Saleh, is a Zaidi.
Orientalist Danish explorer Carsten Niebuhr who visited that country in the 1760s presented a more romantic view of Arabia Felix.
His expedition traveled to Yemen "to explore a frontier that had so far remained elusive to the outside world," explained Shafee Saif in the Yemen Times in 1995 of the historical and Biblical attractions of myrrh, frankincense, and possibly gold.
Self-portrait of Danish explorer Carsten Niebuhr in Yemeni clothes (www.aerenlund.dk)
Fast-forward to the 21st Century and attempts by armed groups to stave off latter-day foreign exploiters of the region's wealth.
Osama bin Laden, whose family originates in Yemen, was especially outraged when foreign forces (including women) were deployed to roll back Iraq's invasion of Kuwait in 1990-91, and "desecrated" the birthplace of Islam, following decades of what he felt was the siphoning of its black gold.
Meanwhile, Nasser Al Waheeshi (Abu Baseer), head of Al Qaeda in the Arabian Peninsula, in May declared his support for Yemen's southern separatists battling President Saleh, in an Internet statement.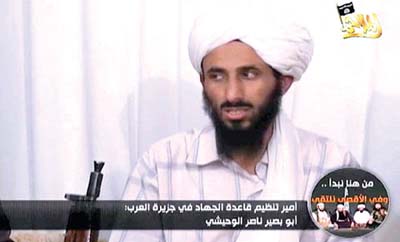 Nasser Al Weheeshi, Al Qaeda chief in Yemen (Asharq Al-Awsat)
But Salah Al Shanfara, leader of the southern Al Hirak Al Jounoubi (Southern Movement) rebuffed the call to arms and told the pan-Arab daily Asharq Al-Awsat: "We have no ties to Al Qaeda and totally reject such talk."
The Southern Movement's position was bound to become more complicated given its insistence on splitting from the rest of the country and Saleh's determination to maintain its unity.
Prior to 1990, Yemen was divided in two, with the Marxist southern republic allied with the then Soviet Union, and the north closer to Saudi Arabia.
Yemeni Foreign Minister Abu Bakr Al Qurbi told the paper the dissidents were people suffering from the union following raging battles in 1994 that led to the north overwhelming the oil-rich south.
Southerns have felt particularly dispossessed by their northern brethren and repeatedly complained that the president had fired many southerners from key government positions, only to fill them with cronies and supporters.
Detractors have also accused the president and his entourage of accumulating wealth and readying "El Walad" (the boy), Saleh's eldest son, for high office. On a tour of the capital, they pointed to several high-walled palaces belonging to the son.
The president has often cautioned that the alternative to his regime is either the devil or a wipeout flood, after the French "après moi, le déluge."
The Sana'a correspondent of Lebanon's daily An-Nahar asked rhetorically in March whether 2009 would be "the year of Al Qaeda," following a series of political and economic setbacks in Yemen.
He reported that the fundamentalist movement had announced earlier this year the creation of an Al Qaeda branch run by a joint command for Saudi Arabia and Yemen (including Guantanamo alumni).
The announcement preceded suicide attacks targeting foreign tourists and diplomats, and promised plans for a series of unprecedented operations.
The correspondent added that Al Qaeda had moved countless young men from Saudi Arabia and had recruited others locally who were then sent to training camps in outlying areas in Yemen.
In recent years, Yemeni women -- most of whom are veiled anyway -- have taken to wearing the niqab (full face cover with slits for the eyes) in larger numbers. Asked for the reason, this writer's veiled guide said it was due to the Wahabi influence of Saudi Arabia.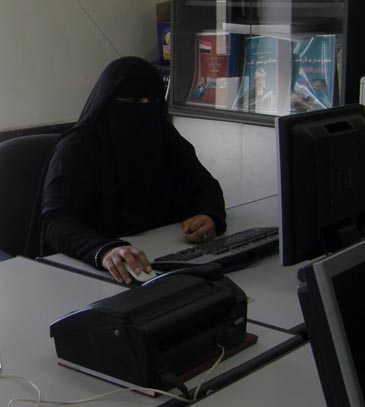 Rising conservatism attributed to Wahabism (Abu-Fadil)
Although President Saleh claims to be on excellent terms with Saudi leaders, some of his countrymen criticize their larger and wealthier northern neighbor, Saudi Arabia, for not doing enough to help them.
A summary of a 2008 study entitled "Yemen: Fear of Failure" by London-based think tank Chatham House said President Saleh faced an intermittent civil war in the north, a southern separatist movement, and resurgent terrorist groups.
"Yemen's jihadi networks appear to be growing as operating conditions in Iraq and Saudi Arabia become more difficult," it added.
Saleh admitted in an interview that terrorists seeking hideouts and refuge in Yemen were aided by the country's difficult terrain of mountains, rocky areas, valleys and deserts.
He acknowledged that worsening economic conditions and falling oil revenues had contributed to terrorist organizations' success in attracting followers.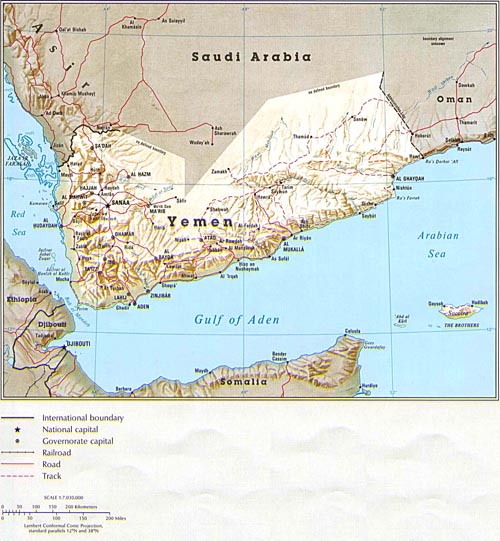 Yemen map (University of Texas Library)
Saleh added that young men drawn to fight the "Red Menace" in Afghanistan had returned to promote the cause of jihad across the region.
The Yemeni government has used a series of traditional and unconventional methods to combat terrorism.
Besides armed confrontations, Yemeni officials have also tried to win hearts and minds through film.
A movie called Al Rihan Al Khaser (The Losing Bet), featuring young Yemeni actors, examines the process of radicalization in an instructive and entertaining (i.e. non-boring) way.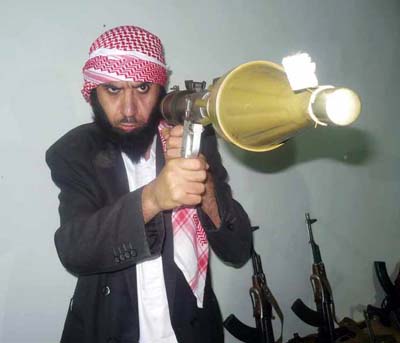 Actor from The Losing Bet film (Rosana Productions)
The film, released last August, aims to dissuade potential recruits from taking the terrorist plunge, destabilizing the country and attacking Western targets.
It followed a crackdown on militants in the southern province of Hadramawt, where Al Qaeda fighters have reportedly been welcomed.
Yemeni young men are increasingly being drawn to such causes through various media, including TV, cassette tapes, CDs and, more recently, the Internet.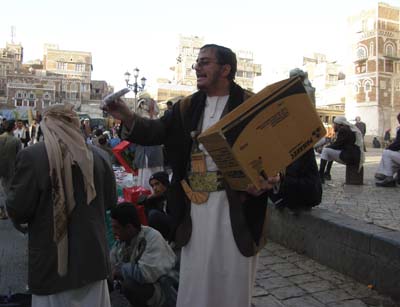 Vendor hawking religious cassette tapes in a Sana'a market (Abu-Fadil)
Hezbollah-owned Al Manar TV is quite popular in Yemen and its leader Hassan Nasrallah has acquired many fans for standing up to Israel during the latter's 33-day summer war on Lebanon in 2006.
So is the Palestinian Hamas movement, for its "resistance" to Israel.
Its fans can even be found in the Yemeni boondocks, with pictures of Hamas founder Sheikh Ahmad Yassin (assassinated by Israel) and leader Khaled Misha'al adorning shop doors.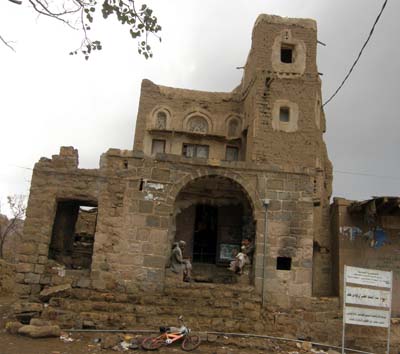 Hamas fans in outlying Yemeni village (Abu-Fadil)
Adding fuel to the extremist fire is poverty.
A number of international organizations have ranked Yemen as the poorest Arab country.
According to the Chatham House study, Yemen's inflation rate stands at 27%, unemployment at 40%, and child malnutrition at 46%.
"Half of its 22 million citizens are under 16 and the population is set to double by 2035," it said, noting that seven million people live in poverty.
The country is heavily dependent on food imports, making it especially vulnerable to global price shocks, the author wrote, with Yemenis' woes compounded by rapidly diminishing reserves of groundwater and oil.
High illiteracy -- some say up to 70%, or higher -- is another major problem, as is the legal chewing of large quantities of qat, a mild drug that literally paralyzes the country, saps users' energy and cuts deeply into people's meager earnings (http://www.huffingtonpost.com/magda-abufadil/qat-increasingly-turns-on_b_164905.html)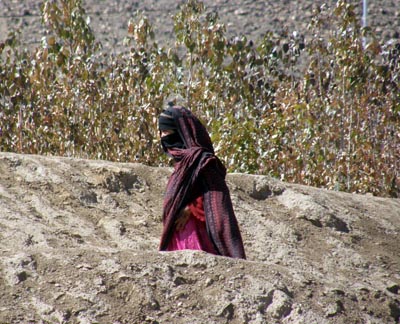 Yemeni woman crosses qat field (Abu-Fadil)
Yemen also hosts hundreds of thousands of African refugees escaping worse fates on their continent (http://www.huffingtonpost.com/magda-abufadil/yemen-hosts-african-refug_b_170732.html) every year, further burdening the country's resources.
"Who will save Yemen from an uncertain future and dark tunnel dug by Yemenis themselves? And who is paying attention to the coming danger to regional, and even international, security emerging from the southern Arabian Peninsula?" asked Yemeni writer Najib Ghalab in Asharq Al-Awsat.
If all that seems a tad complex, stay tuned for Arabia Felix 102.
Related
Popular in the Community