I have to admit that when my buddy asked me to go to a Chicago Fire match last week, I said yes primarily because I've never been to Soldier Field before. For days I imagined what it would be like to be inside the house that Walter Payton (and hundreds of construction workers) built. So imagine my disappointment when I found out on the day of the match that they don't play at Soldier Field, but rather at a stadium named after the maker of the Prius and the Tundra.
Arriving late, we scrambled up the main steps of Toyota Park in Bridgeview last Thursday just missing the opening kick off, and as I reached the main level I braced myself for some soccer/futball hooliganism. It's not that I pictured dudes with shaved heads and gaps in their teeth pushing each other's faces against a metal fence, but I've had some pretty bad experiences at professional sports games over my years in Cleveland to keep me away in Chicago.
Being from northeast Ohio, my football loyalty lies with the hapless Browns. As a kid, I don't remember much from the games I went to except for the drunks vomiting on the stadium stairs and those mooning my family in the parking garage. And that it was cold. Very, very cold.
It was in my early twenties, however, when I decided I would stop wasting my time and money at Browns Stadium. Not only had I found myself at both "Bottlegate" and "Helmetgate," two games that embarrassed the franchise on a national level, but I also found myself seemingly every time surrounded by foul-mouthed jerks of such caliber that I feared I would have to fist fight my way out of my row just for some nachos.
Even though we were all rooting for the same team, I found myself threatened on a number of occasions. And when things were fine around me, it was hard to concentrate on the Browns losing below because of the fights breaking out in my section.
So when my friend and I hit that main level at Toyota Park and I didn't see grown men barking obscenities at each other, my shoulders relaxed. I quickly scanned the Fire fans. Not one T-shirt with a swear word emblazoned on its front. Not one drunk being carried off by security. Not one middle finger saluting a passersby.
We climbed up to Section 209 and the people in our row actually moved their feet for us to pass. Our seats were not covered with beer or someone's shoes. The people next to us: Two young women politely watching the match. Behind us, a group of Latino men cheering with those thunder sticks.
Down on the field the L.A. Galaxy and David Beckham ran around the field with the Fire.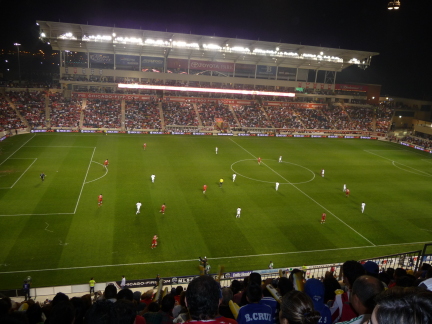 On my left and behind the goal, playing the role of Cleveland's "Dawg Pound," a large group of Chicago fans chanted and danced and beat drums. For. The. Whole. Match.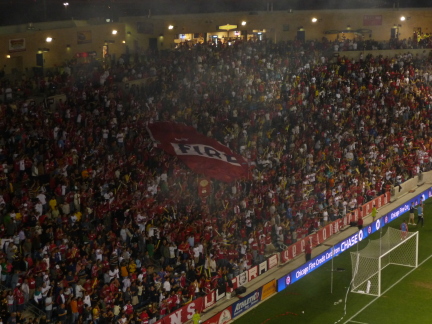 The Fire (12-9-5) won 3-1 that night in front of a sold-out crowd that I found to be polite, good sportsmen, and deeply involved with the game. Much different than a Sunday in Cleveland.
So I ask, are all Chicago fans this gracious and fun to be around at a stadium? Or are the Fire just burning a different candle? What goes on at Soldier Field with the Bears?
And with Cubs fans facing a late-inning alcohol ban while watching their team go for it all, will they revolt/celebrate a World Series win with flipped cars and street fires in Wrigleyville?
**Full disclosure: In my two years living in Chicago, I've attended one Cubs game (and that's because it was a company outing and by going I got a day off of work). Aside from that, I haven't hit a Bears, Sox or Bulls game.
Related
Popular in the Community