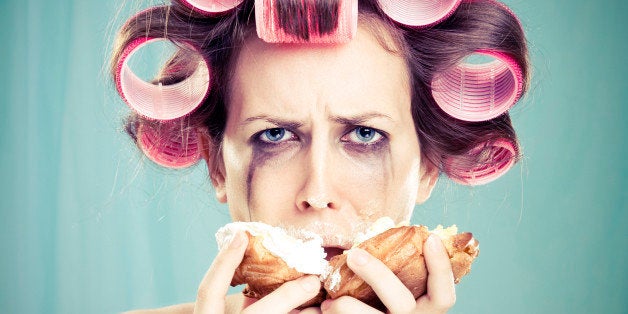 Not that long ago I was on the verge of giving up on love. I was sick of disappointment, broken promises and the "lack" of quality men out there. I made every excuse in the book to wall myself up and just wait -- wait for some man to magically find me or be that elusive missing piece.
"Why?" I asked myself and countless others asked me, "Why are you still single?" The truth is that I hadn't shown up yet. I had not shown up for myself in a very long time.
It wasn't the timing. It wasn't my divorce. It wasn't some man's inability to be faithful or tell the truth. It wasn't that great men were hiding from me. I was the one hiding. Squirreling away my love -- love of self and love for others. In hindsight, I felt entitled to have more than I was putting out. In the present I know better than to expect to receive amazing love when my half-assed effort and pity party did not project that which I wanted.
Are you guilty of this? Have you woke up in your life one day only to realize that you are not actually living and loving the way you were intended to?
When I woke up I was in awe of my own sense of lack, because I was raised to be better than that. My mother didn't tell me that marriage or children or needing a man is the express lane to achieve happiness. My lessons on how to be a happy, complete woman were quite the opposite. The message was simple -- Find you first and then you can give a portion of that to others. When you try to give from a place of lack it's a very unequal exchange. How will a man, a job, a friendship complete you before you have done for yourself?
I fucked up and forgot the lesson. I got lost on the way to being happy and complete. I was detoured into what society expects of us and what "we're supposed to do." It does not matter now what I did or didn't do to put myself in that place. What matters is what I did and do after that.
What I did next was look inside. I did not point fingers of blame or concoct more excuses. I stood in place and had a moment with me. Why did I not feel worthy of love? Why was I allowing temporary relationships and inauthentic men to occupy space in my life? Why was I excusing bad behavior in order to have a luke warm body nearby?
The insanity of it overwhelmed me. I felt like my mother was looking down on me shaking her head in disbelief. I was ashamed to have given my heart, time, attention and body to so many unworthy men.
In that instant I decided to shed that version of myself and to choose to believe that I was more than that. I am worthy of great love. I deserve to find someone who equals my effort and chooses me over and over again, every damn day.
You deserve that too! You deserve to shake off that old way of thinking and narrate a better, more loving and happier story. You get to choose the ending to your fairy tale. Not the stuff of unicorns and princes, but a reality that is true to your own personal joy.
Those thoughts that you've been thinking, the negative ones, have trained you into a system of "un" belief. The longer you tell yourself that you are undeserving the longer that happy ending will evade you. It is a self-inflicted wound.
Practice instead believing that what you want matters and it is out there and waiting for you. All you have to do is catch up to it. Run to it instead of away or standing still, polarized by fear. When you allow the good thoughts to meet you where you are and you keep up with them, the bad thoughts become a distant memory. Chances are you won't even recognize who you once were, but you will be ecstatic to unveil the new you to the world.
I, for one, would be pleased to meet you.
Lisa Schmidt is a Dating and Relationship coach in Detroit and the author of her own blog. She is a regular contributor to several online publications. Dating and relationship questions can also be sent to her directly Ask Lisa Here Grab this free resource to work on your own dating reality.