Davidson shared an Instagram on Wednesday of himself and the pop star sporting their Hogwarts finest complete with sweatshirts repping two different houses. The comedian is a self-identifying Gryffindor, while Grande opted for the Slytherin house.
Davidson captioned the photo, "the chamber of secrets has been opened."
Grande seemingly has no qualms about Davidson making their relationship public ― they've been consistently flirting on social media the past week ― commenting multiple times below the photo.
"u tryna slytherin (i'm deleting my account now)," the "No Tears Left To Cry" singer wrote.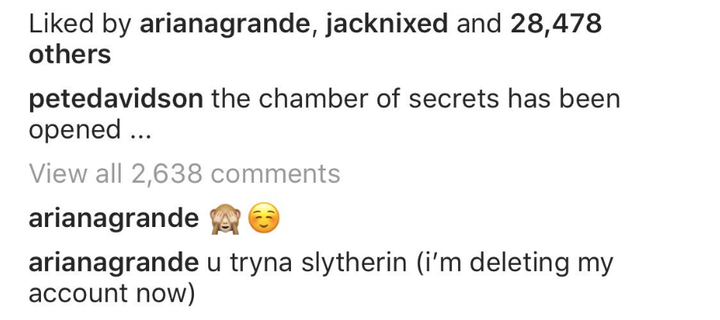 The day before she posted a "Harry Potter"-themed photo of her own featuring the Slytherin sweatshirt, writing "in case you forgot" in the caption.
Rumors about their romance swirled earlier this month after both stars split from their respective partners. Grande broke it off with rapper Mac Miller after two years together, while Davidson recently announced that he and comedian Cazzie David had gone their separate ways.
And for those who just jumped aboard the Grande train, she's been a longtime "Harry Potter" fan. Apart from boasting about how many times she's read the series, the 24-year-old has also posed for pictures with a handful of cast members from the movies, as well as naming her dog after the character Sirius Black.