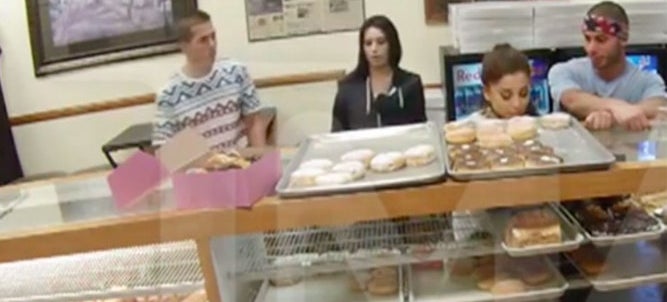 A rep for the Riverside County Sheriff's Department told the website that the owner of Wolfee Donuts, where the incident occurred, doesn't want to press charges against the pint-sized pop star. 
Still, the 22-year-old singer hasn't come out completely unscathed. While she may not be facing any legal consequences, the long-term damage to her reputation has yet to be seen. 
After the security footage was published online that showed Grande licking the donuts and saying "I hate America" and "I hate Americans," she released two separate apologies.
First, she released a statement to the press saying, "I am EXTREMELY proud to be an American and I've always made it clear that I love my county (sic)," adding, "As an advocate for healthy eating, food is very important to me and I sometimes get upset by how freely we as Americans eat and consume things without giving any thought to the consequences that it has on our health and society as a whole." 
 Later, she released a four-minute video apology. "I'm not here to justify my behavior or make any excuses, because I can't. I'm just here to apologize, and tell you that I love you, and I appreciate being able to talk to you like this," she said. 
She added, "I'm 22 years old. I'm human. I still got a lot to learn. And I make mistakes and that's how I'm going to learn ... That's how we grow, you know? That's how we get better. "
PHOTO GALLERY
Ariana Grande 100 Sexiest Pics
Calling all HuffPost superfans!
Sign up for membership to become a founding member and help shape HuffPost's next chapter