With every politician jostling for his endorsement and because his birthday is just around the corner, it made perfect sense to spend this week showcasing artists who like to use Jesus as their subject matter. In light of the fact that any image, even cartoons and naming teddy bears after other Abrahamic prophets-- for example, ones that start with the letter M-- causes riots and storms and often murder-- the sheer abundance with which Jesus is depicted is profoundly curious and fascinating.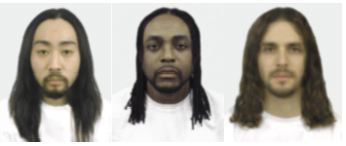 'Guys Who Look Like Jesus,'. 2002. Each 13"x16", verso archival inks on vellum. Nancy Burson. The artist placed an ad in the Village Voice calling for "Jesus look-alikes of all Ethnicities." The third portrait, on the end, is a 'composite' of the nine, or what would be the 'melting pot' Jesus. Shown at CLAMP ART, NY. www.clampart.com
I myself have a special relationship with him. Soon after I graduated college, I moved to Paris to paint and at the time I was obsessed with medieval music and Beethoven. Pre-iPod, I played the same CDs in my Walkman of Hildegard von Bingen, Josquin de Prez, and Pallestrina and anything by Ludwig van for a year until it must have formed permanent grooves in my cerebral cortex. In between going to museums and worrying about how I was going afford my next meal, I attended concert after free concert in churches and cathedrals all over Europe and became an unwitting connoisseur of Jesus in all shapes and sizes. Eventually, we --me and Jesus-- became friends. And when I saw him I would wave and say hello.
Every year, there's a competition for Religious Art in Australia called the Blake Prize. This year's winner is Tasmanian-born artist Rodney Pople and his "Last Supper". The Last Supper is positioned at the long end of a theater hall in a blur and it instead the chandelier is the star of the show.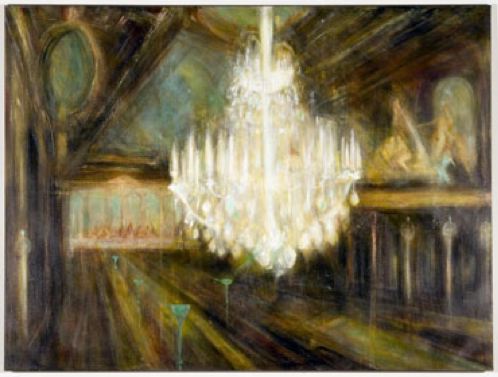 "Last Supper". Oil on canvas. 183x204 cm. Rodney Pople 2007 The 2007 Black Prize winner
But it was the finalists who drew the most ire, seen here with artist Priscilla Brack's "Bearded Orientals: Making the Empire Cross." It's a holographic Jesus/Bin Laden double-portrait that flips. 40x40" Lenticular image.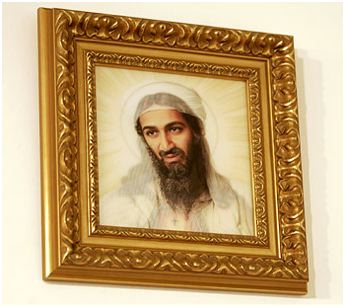 "Bearded Orientals: Making the Empire Cross."40x40" Lenticular image. Priscilla Brack
Luke Sullivan, another finalist, caused a stir with his "The Fourth Secret of Fatima" a life-sized sculpture of Mary, head and torso obscured by a blue burka.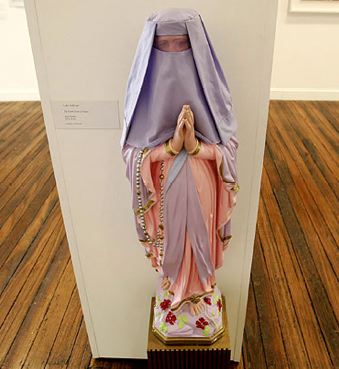 "The Fourth Secret of Fatima". Ceramic, silk, costume jewelry 2007. Luke Sullivan
Cloistered nun and Oxford-trained art critic Sister Wendy Beckett claimed to see deep meaning in Andres Serrano's highly controversial "Piss Christ," a photograph of a plastic crucifix submerged in his own urine. She said to her it represented the irreverence people have shown to Jesus and his teachings over the centuries.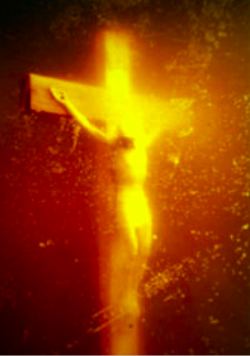 "Piss Christ" Photograph of plastic crucifix in Urin. 2007 Andres Serrano.
My favorite is the Jesus depicted by artist Chris Roth who makes him a co-hero to not only Superman but Santa. His latest work returns to the intricate process of stained glass elevating the villain-snatching comic hero to the holy and iconic. We'll be featuring his interview in the coming weeks for his group show in early January.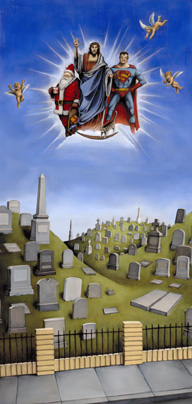 "The Holy Trinity", 2002. Oil on canvas, 19"x42" Chris Roth
REAL LIFE. REAL NEWS. REAL VOICES.
Help us tell more of the stories that matter from voices that too often remain unheard.