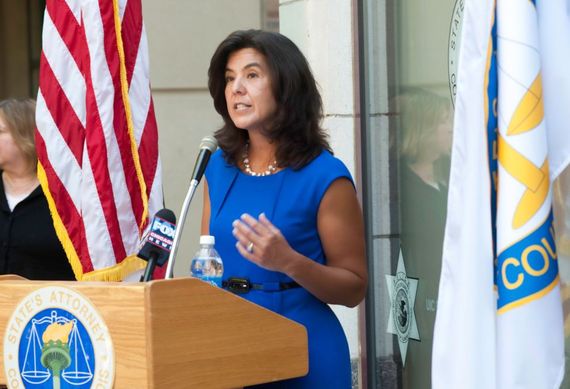 CHICAGO--Limited services, understaffing and poor data keeping are all criticisms being pointed at the Cook County state's attorney via a new study examining the effectiveness of a county program offering alternatives to incarceration for first time felons.
Conducted over the past year, the study-funded by the Illinois Criminal Justice Information Authority-evaluated a deferred prosecution program, originally unveiled by Cook County State's Attorney Anita Alvarez in 2011, aimed at keeping non-violent, first time felony offenders out of jail. At the time, Alvarez's office hailed the move as a "first of its kind." The yearlong program benefits those who complete it by helping them avoid both jail time and the black mark of a felony charge.
While the ICJIA study had positive things to say about the program, including its strong support from both the Cook County Public Defender's office and Cook County Circuit Court Chief Judge Timothy Evans, it also pinpointed several weaknesses. That information becomes especially valuable as Alvarez prepares to expand the deferred prosecution program, this time targeting low-level felony drug offenders with prior convictions (the current program only accepts offenders with no prior convictions).
Staffing issues are a problem, both for Alvarez's office and the Cook County public defender, the study found. Should the program expand in any way, Alvarez's office would have to hire new staff, reallocate current employees or face a decline in quality, according to Christine George, an associate research professor at Loyola University who worked on the study.
"So far, [the state's attorney] has done it without having new resources," said George. "But if more people come in, they're going to need more money."
On average, the study said, some 35 individuals are admitted into the felony deferred prosecution program each month, with almost half of all participants referred from Chicago courtrooms. Most participants had never been arrested or convicted for a crime. As of February, close to 98 percent of those in the program avoided rearrest for a felony within the first year of completing the program, according to data from the state's attorney's office.
While that figure initially sounds impressive, the study found that, ultimately, due to a lack of data-keeping on the part of Alvarez's office, ICJIA could not determine the program's overall effectiveness. Because no data is kept on individuals who opt out of the program, the study could only compare individuals who went through the program to a similar group that had never been offered the program. Some 70 percent of individuals who completed the program avoided rearrest one year later, compared to 63 percent of those who were never offered the program - data which suggests that participating in the state's attorney's felony deferred prosecution program did not have a large impact on whether an individual is more or less likely to face rearrest.
Considering those findings, the study went on to recommend that the state's attorney provide additional services for program participants, including expanded services targeted at education, employment, and mental and substance abuse needs.
The study also found that defendants who were male, younger, and had more prior misdemeanor and felony arrests were more likely to be rearrested within 18 months. In addition, the program had a significant effect among women charged with theft, reducing their likelihood of rearrest by some 76 percent.
Other criticism comes from program participants who have concerns around their initial arrest, the mark on their file that doesn't automatically disappear with the program's completion. Despite the charge often being dropped from their records (be it retail theft, burglary, fraud), it's often an entirely separate process to remove the record of arrest, involving even more of participants' time and money. For individuals looking for a job, that means still having to check that box saying they've been arrested for a crime.
Additionally, the study found that participants who had to pay restitution (some 22 percent with average fees around $1,500) took the longest time to complete the program and had only a 35 percent success rate as of the study's completion.
As to participants' concerns about expunging their arrest records, the Cook County public defender's office plans to partner with outside organizations to streamline that process, according to Cook County public defender spokeswoman Kim Sorrells. With regard to staffing, Sorrells would only say the office could "always benefit" from increased staff.
Alvarez's office did not respond to repeated requests for comment for this story.
(This story was first reported on legal service site JTM Legal)
Popular in the Community